The following are testimonials from a variety of sources – emails, comments on blog posts and ICA articles, and  Facebook comments on the ICA facebook page. Some refer to specific profiles that Jennifer or other contributors have created for members.


---

---

---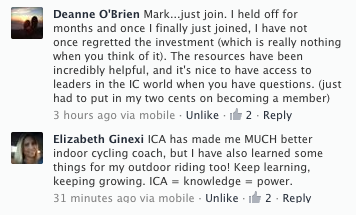 ---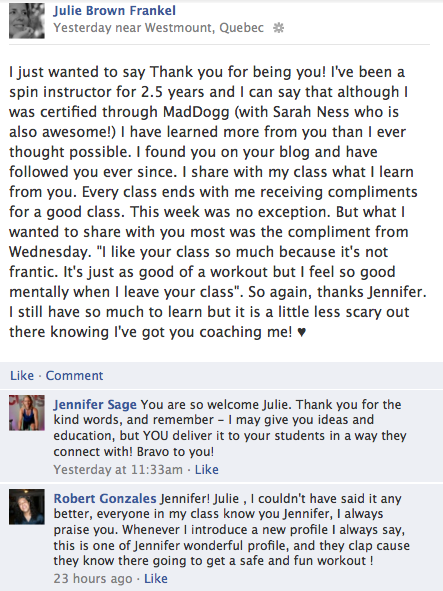 ---
---

---

---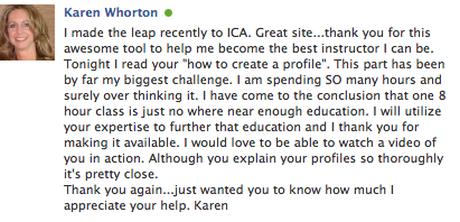 ---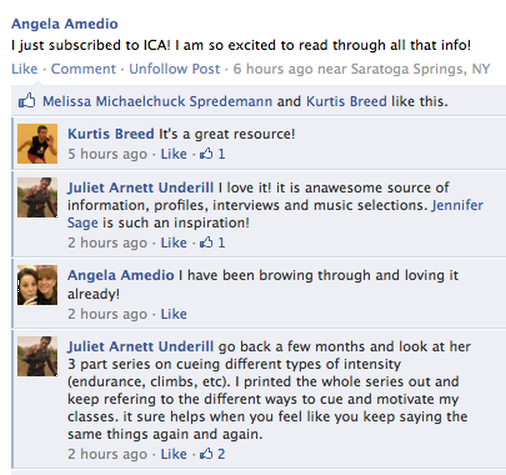 ---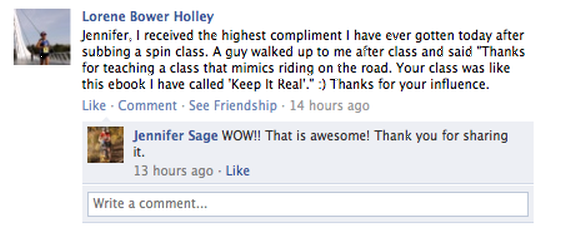 ---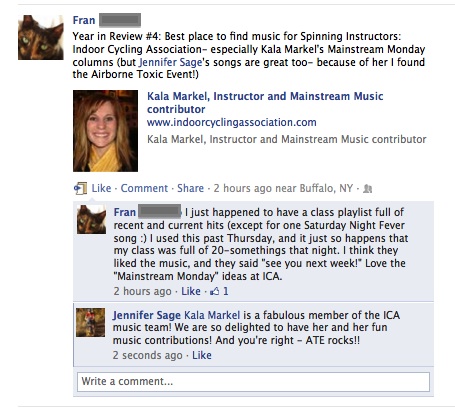 ---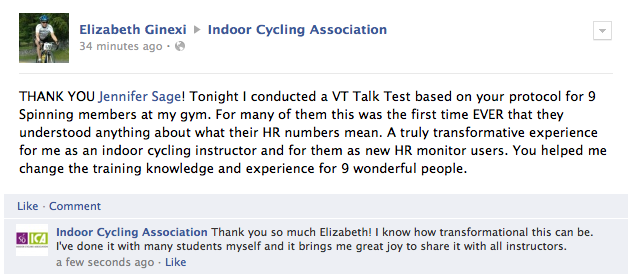 ---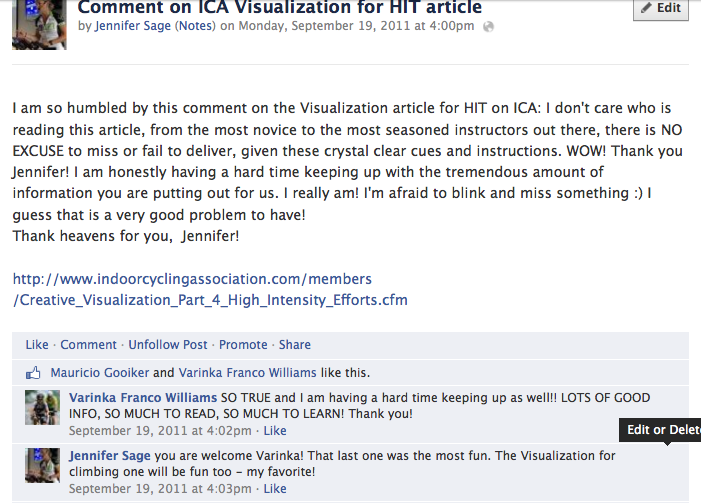 ---
Hi folks, Oh! Can i just say that I am SO APPRECIATIVE for all this amazing knowledge you offer?! I am an avid cyclist and triathlete who adores teaching spin and do as much as i can to inspire them: whether it's to dust off their bikes and get outside, begin to understand the Tour, or to bring it all together in the spin room – you help me so much to accomplish this. Thanks to the info you dole out so beautifully…me, and every other instructor who is smart enough to be a member of your site, can't help but look good and be the BEST instructor out there. Thank you: for raising the bar; and for taking us with you. Many many thanks, Marjorie
---
the words would not be enough as I am not a English native. I would like you to know that "diving" in the sea of information you and your colleagues are providing for us is like gathering a treasure, every time. You are answering all my questions, my fears, my weak points – and much more than that. Getting an account on ICI pro few years ago and now ICA was the best investment in indoor cycling education I have ever considered. Thank you million times!! Yours, Voichi Peters, The Netherlands
---
Ciao Jennifer, Grazie for the passion and dedication you put into your work. I can never thank you enough for helping me in becoming a better Instructor. And your ability to reach people in the deepest part of the heart, well, that is for sure unique to YOU! Thank you again Jenn.
---
I want you to know that I am so appreciative of everything you do and for your wisdom, experience and guidance! I have a science background and LOVE bringing that aspect to my classes. Your ICA posts are great; I feel like a kid in a candy store when I'm logged in. Indoor cycling is my passion and I will always 'Keep it Real'! So THANK YOU for all that you do! Carole
---
Jennifer, I have to tell you that I love this site. You are awesome. I love all the audio profiles and have actually used several of them. I am always excited to see the next one! I am a Spinning certified instructor and have just started road biking. I am always looking to get my hands on anything and everything I can find to make me a better instructor and rider. I have purchased and downloaded "Keep It Real". That was a very enlightening read. I have to say I have learned so much from you. Thanks for everything! Dawn
---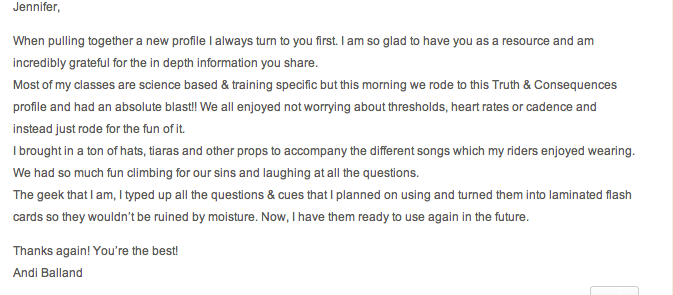 ---
Jennifer, I really value what your knowledge and contribution to spinning and the ENTIRE indoor cycling "world" has been. You have a true gift and your light definitely shines brightly! Kala
---
(This is an email from a member who watched the live broadcast of rides filmed at the Cycling Fusion Launch October 2011, in which Jennifer taught one of the classes) Jennifer, I am so glad I had the chance to watch the rides. Thankful for Gene's brilliance and his well supported technology. To watch these rides live, was the next best thing. Your ride was the usual "Jennifer's ride"; enlightening and eye opening, instructional, motivating, inspiring, safe, effective, ….. all of that. You looked wonderful, your signature rhythm and powerful delivery should be bottled up and preserved. I loved listening to your cues, your words, your calming tone that you carry your verbal instructions with. You should never stop talking during your rides. Your voice and verbal cues turn the ride into a "journey" and not simply an excellent workout. The profile was an excellent choice! It is amazing how true that is, that most think every ride should be a "kickbutt-breathless" ride, the biggest misconception. Thank you for emphasizing that with your ride and your words. Those lucky riders there!! I wonder how many of them realized what they were getting. I'm glad I was able to join the ride-virtually! Hurray for the internet!! Much love, and thank you for all you do. Shirin
---
(Also following the Cycling fusion broadcast, this time from Italy) Hello Jennifer, Sorry for my English but I don google translation. Thank you so much, I was able to view videos. Do you have an amazing skill! I watched the video 3 or 4 times and I was thrilled .. Thank you and 'a real pleasure to be part of ICA A big hug from italy David
---
Jennifer, I have been an indoor cycling instructor for 6 years and now have become totally addicted to road cycling. I owe this new found passion to you! I have been an avid follower of yours for years (ICI/PRO, ICA).  Your methodology of teaching indoor cycling is so applicable to outdoor riding that I would encourage ALL indoor cycle instructors to get outside to ride and see how everything that you coach is spot on!  Not only have I become a much better instructor because of you, I have tried a new sport and I am loving it! Kristen
---
Jennifer, after each great class I thank you for all I learned since I joined! My evolution is BIG, also I want to say that every time I read something in your e-book Jennifer, my classes are awesome. I highly recommend ICA to everyone. I'll be waiting for the next audio profile. Roberto
---
Hi Jennifer, I've been a fan since the first time I heard you on ICI pro, and was heartbroken when you left, but completely understand that things aren't always what they seem from the outside. I was so happy to find you were still posting on your blog and have been following that way. I've improved leaps and bounds as an instructor and owe much of that to you! Thanks! Shannon.
---
Thank you for this post! It is so nice to hear how experts cue high intensity efforts! I feel as if I always repeat the same wording to coach and challenge the students. I used many of your cues after reading this and it was great! Thank you! Kristen Dillon (on the post Cues to Push Beyond Limits)
---
Jennifer Thanks for being so helpful and approachable. It means the world to me. It also tells me that you are a true master trainer because you respond to students when they come to you for help; this is often times not the case. You also want others to become better and challenge us to do so in a fun and positive way. I really appreciate your time and look forward to learning much more from you. Thank you!:) Jessica
---
Hi Jennifer, My name is Tina Centofante and i have been teaching for 10 months now. I'm actually good friends with Melissa Marotta, and she was the one who encouraged me to teach and I consider her a mentor. Since then I have absolutely fallen in LOVE with instructing indoor cycling, as well as with the concepts of exercise physiology, heart rate training, and educating. I am currently studying to become an ACE certified personal trainer, and it's all thanks to my indoor cycling instructor experience! I am an avid road cyclist, triathlete, rower, and skier. I must say my journey to becoming certified and instructing has opened my eyes to my own training and I have improved light-years using my HRM! For most of my life i was overtraining and putting my body through hell for all my races!! training has become so much more ENJOYABLE. This is the concempt of what i would love to educate my students/clients with, and thus has made me passionate with motivating and inspiring people about fitness. I am a member of ICA, and I must say I'm addicted! I have followed your funhogspin blog for some time now, read your ebook about 3 times, and i have so say that you are an incredible coach and educator. I look up to you as an idol and someone who i'd like to become (I'm 22 yrs old!).
---
Regarding the Energia Magica (Magical Energy) Profile (Probably one of the most emotional and inspirational audio profiles so far) I have had the chance to take 3 Master Classes with you. I was thinking I was working hard to make my profiles, but it is nothing compare to what you do. This is just awesome; you put words on your music; I put music like you do, that talks to our people [students], but I still need to learn to add words. In one training I have done; I have learned to use my instinct and feel; for me it is how I make my profile; you just add words on it – that is just great. I really hope to take one day another experience (with you) because you do not teach class, you bring experience.  Pascal
---
Also from Energia Magica: Jennifer, I just taught Energia Magica for the first time, exactly as you wrote the profile. Epic and AMAZING! All of my students were "giggly and floaty" after the ride. Total euphoria. Comments: "Wow." "That was amazing/incredible." "Let's do it again!" "The class went by SO fast. I was concentrating on the moment and before I knew it class was over." "The music was inspiring and helped me get up the hill." "The music totally matched what we were doing, where we were riding." Tomorrow I'm teaching it again (perhaps even off the bike as I have a wait list for my class and might let a wait-listed student have my bike). I'll let you know how that class likes it. Thanks for sharing such a fantastic ride with us! Keep up the fantastic work. I'm hooked.
---
From the ride Got Strength? Hi Jen, Just got home from doing the class. What a ride, what a ride, WHAT A RIDE. This went over really well. All of the regulars were right on task, cadence was was right and intensity terrific. At the top of the second hill I could really see the it in the faces of some of the riders. But I don't think anyone went too far. I probably mentioned control about ten times going up that hill. There were three new people in the class this AM. One said she and her husband are cyclist and ride a lot outside. I was watching her in particular in the beginning. Fantastic, she tore this up. The other two well they struggled, one quite a bit. This one had to cut the resistance several times. Which was a good thing. They followed the direction to keep with the rhythm and were not too far from it. When we hit cooldown and I had a whole group of pearly whites staring at me, I knew we did it. Thank you very much for sharing this profile. It was a hit! Bill
---
This is about the How Big Is Your Why Profile: Jennifer, Today was the "First Sunday" of the year, so I used the profile "How big is your Why?" and called it "Revolutions." I used all the song selections, and paraphrased your text to fit my coaching style, and even injected some personal examples. The class loved the ride! I even got a request to teach it again tomorrow night! As I was leaving the gym, the owner got rave reviews at the front desk, and said "I want your notes!" Of course, I'm referring her to your site! Thanks for such a great profile, and I'm so glad I joined your site. Looking forward to more w/ Cycling Fusion/Tom Scotto too! Sincerely, Chuck Gauran
---
These are some comments/testimonials on Jennifer's first blog Funhogspins: Hi, Jennifer, I want you to know that I have been instructing since 2005 and just in the past month have been tuned into your website using your rides. In the last month, I have filled all 35 bikes in my classes thanks to your rides and your music collaboration between the ride and the sound. I take my teaching seriously and hope that my students are empowered by the challenges they overcome in class and take that with them in their life outside those doors. I started cycle to overcome stress and to strengthen my character to deal with life's setbacks and I teach my students to use this class as a conduit to mental / body strength. I thank you so very much for your willingness to so freely help us instructors! You are inspiring! Paula Renfro
---
Dear Jennifer, I visit your blog about 1-2 X a week and direct all of the instructors who work at our facility (30 of us!) to go to your site for many reasons. The two main reasons I go to your blog is that you are extremely accessible and you so readily share the love! Secondly, you research your subject so thoroughly, that I know if I quote you or use you as a source, it's totally legitimate. Couple that with all your work at WSSC and your outdoor and European experiences and I guess you could say that you had me at hello. Jonnie
---
Once again, thanks for ALL that you do with the Spinning program. You are a special person to give so much of your time and creative energy to so many people. If there is ever a hall of fame for Spinning, I hereby nominate you, Jennifer Sage. With kind regards, Alan Bonzer
---
Hi Jennifer, I wanted to say thank you for your fun and insightful profiles. I used your Stage 20 for my class today making a few adjustments to reflect the actual finish. In addition to my normal riders, I had 4 spinning instructors join the class today because of the exciting profile. Needless to say, everyone was pumped throughout the ride. They all listened closely to the story and the songs while working within their strength zones. At the end, the consensus was the hour passed so quickly and a fantastic profile. I told them to check out your web site for great inspiration! Thank you again! Sincerely, Carole
---
Hi Jennifer, Just gotta tell you-you are my spin/coaching idol. I am hooked on your site. I have done a bunch of your rides and really feel like it has kicked my teaching up a notch. This Sunday I am doing your Alpe d'Huez ride. Last race day ride I handed out glow sticks to every rider. Once again thank you for all of your support, encouraging words and wisdom. Spin on Leah
---
I just wanted to say, you are a TRUE BLESSING, thank you so much for sharing your talent. Irislyn
---
Hi Jennifer, You inspire me so much!! I'm enjoying reading your posts on the Giretto as I enjoy all your posts. Got your book too & am incorporating some of your moves in my class. I'm a newbie (realtively) to indoor cycling instruction. Got trained by Schwinn & then recently took Heart Zones training with Sally Edwards. I think you are really amazing. You help to keep me motivated both in keeping my classes new, interesting & fun and in my own pursuits as well. I'm a newbie triathlete too – its all relative – been doing those for about 6 years – did my first 1/2 iron tri last sept & plan on doing it again this year (I know I could do some things better this time round). Thanks for helping me be a better instructor. Amy Brunk
---
Hi Jennifer My name is Regina Whalen and I have been a certified instructor through Mad Dogg for the last 2 1/2 years. I started following your blog awhile back. And I wanted to let you know how much I appreciate all the info you include. This is my 3rd summer I have been taking my class through the Tour De France and they love it. I teach at a local gym called Freedom Fitness in Cave Creek, Arizona. Yes it is hotter than you know what here right now and tons of people are away on vacations but lucky for me I am still teaching to full classes. Sadly I have had to turn people away from my class. Tomorrow I am taking my class through the infamous Stage 20. After watching the stage yesterday on Versus and then your post about "11 things to know about Mont Ventoux" my class will have plenty of visual images running through their head. Thanks again for all you do!!! You are AMAZING. Take care, Regina
---
Thank you Jennifer! I look forward to chatting with you at WSSC… you are truly inspiring. Thank you for being such a great resource to Spinning instructors. I really appreciate your time and dedication. Your blog is what really gets me going some days and keeps me inspired when it feel like the balls-to-the-walls crowd gangs up on me. I love intelligent/individualized training and share as much of my passion about that as I can with my athletes. I often feel discouraged when I see blank expressions and constant requests for "a hard one" or "a killer" day-after-day. It takes strength some days to feel confident and motivated to continue offering "the next level" to folks who may see little or no value to it. So, I just wanted you to know that I am always listening and learning from your posts and am extremely grateful for an M.I. like you:) Sincerely, Laurel Schaefer
---
Hi Jennifer. My name is Brenda Kennedy and I want to thank you very much for your blog. I am a relatively new instructor and your blog has been a huge help, helping me with my coaching skills and profiles. I started out teaching 4-5 students and now my classes are full, 14 bikes, and I know I would have never come this far this quickly without your help. Thank you, again, for the blog and for all the help you are providing new instructors! Brenda Kennedy
---
And while I was still a Master Instructor at Mad Dogg Athletics and Spinning®, this email was sent to HQ who then forwarded it on to me. Laura is an Italian Spinning® instructor: Hello, my name is Laura Sgroi Carron, I have been a JG SPINNING Instructor since 2001. The great program Mad Dogg has been offering, has made me who I am. A passionate, dedicated Instructor ; committed to the SPINNING program willing to learn more and more to offer the best I can to my students. And this could have never happen if I didn't get all the education and training from MI as Jennifer Sage. Since I started attending WSSC, I never missed a session with Jennifer. Every year I have been bringing other Instructors with me at WSSC , and when asked who I would recommend as MI and sessions, without discriminating any one of course, I ALWAYS told them to include for sure sessions with Jennifer. There is always so much to learn form her. They all did, and they were thankful for the suggestion. They were all impressed ! Just like me. She is like a good disease! She is infectious! 🙂 She is on top of everything. Presentation, riding skills, technique, motivation, cueing, communication, passion , dedication. Her knowledge of physiology, kinesiology, and all that science that is fundamental to understand the human body, and how it works when you ride…ask Jennifer she will have an answer! What more can I say. I absolutely love her! And I always get so thrilled when other Instructors express the same comments as mine towards her. In addition, she is always ther for you. All year long, not just at WSSC. I hardly get MI writing me back when have a question. Jennifer replies to EVERYBODY. Always! I wonder seriously how she manages her life time so well! This year, I had the great opportunity to ride on stage with Jennifer during one of her session. I was aestatic! I could not believe that between so many people that could have been with her, she picked me! For sure an experience I will never forget. Ever! MI comes and goes. I miss Sunny Davis, I miss Giba Ambrgi, and if Jennifer Sage would decide to leave one day, I am sure a lot of SI will be very disappointed. Thank you for having Jennifer Sage for us. Please pass her my appreciations words, my compliments, and tell her that WE thank her so much for all she does for us. Without Jennifer Sage, the program will not be the same anymore . And please do not get me wrong. There are so many other outstanding MI, but JENNIFER SAGE to me is the BEST you have. Thank you for your time, thank you for the great program. Laura S. Carron
---