I will admit turning 50 was somewhat of a mind game for me. Apparently, you're supposed to do something "big" to commemorate this milestone on the road path of life. So, to avoid any large-scale spectacles, I loaded up my English bulldog, Baldwin, and headed out for a tour of the Upper Midwest.
Omaha to Madison. North to Appleton. Down to Milwaukee and south to Chicago, the heartbeat of the Midwest. Along the way, I dotted my route with Google's most-recommended indoor cycling studios. I have to confess I was more than surprised by some of the on-bike, middle-of-America maneuvers I encountered. Admittedly, it was my first time to mimic freestyle swimming while pedaling a bike!
Upon my arrival in Chicago, I had two goals in mind. Even above Nordstrom's flagship store, I was determined to try out Equinox's brand new, immersive indoor cycling game, The Pursuit.
Introduced earlier this year in limited Equinox facilities, The Pursuit currently comprises two iPad-driven games designed to use individual and team competition to build community and challenge riders to meet and exceed their personal goals. The Pursuit: Burn offers five precisely timed HIIT stages and The Pursuit: Build maps three separate climbs to build strength and increase endurance.
Fortunately, my 2014 WSSC cycling buddy, Christian Noni (recently named group fitness manager of Equinox in Huntington Beach) was able to secure my "fast pass access" for The Pursuit: Burn at Equinox's Gold Coast location.
"It is THE BEST and most unique cycling program in the world. No one has anything like this. Equinox is the first company ever to use data from cycling to play games and create a fun, engaging, competitive and interactive experience."

 Christian Noni, Group Fitness Manager, Equinox Huntington Beach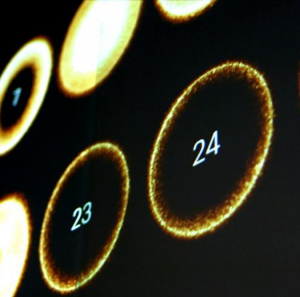 From the moment I arrived, I found The Pursuit to be the most technologically engaging class I've come across. When riders register online (or in person via an iPad application), they select which bike they would like to ride. Wanting a front row seat, I chose bike #4. When I arrived in the studio, I noticed a multitude of numbered "rings" with centered numbers projected on the wall at the front of the room. Some were spinning, some static. And others appeared to be on fire! As I began to pedal, bike #4 became RING #4, and as I began to spin, the projected ring replicated my pace. The more resistance I added, the more RING #4 would glow. Everything I did was reflected on the wall in front of me. Distance, wattage, and speed metrics became a visual representation for all to see.
And, as with all things Equinox, it was sexy as hell. (Well, as long as you kept that ring ablaze!)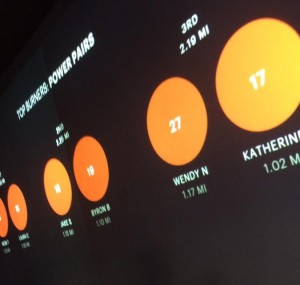 Feeling a little like we were departing for TRON, the instructor pointed us toward the digitally landscaped sunrise and explained our tribal goal (35 bikes) was to burn 12,800 cumulative kilojoules. Once we were warmed up, the onslaught of five challenging interval stages ensued. Each game, driven by outstanding live-time video graphics, created friends and foes alike. And at the conclusion of each interval set, the top eight male and female riders were ranked and displayed, as well as the tribe's progress towards the cumulative goal.
While The Pursuit definitely plays the competitive card, I found the combined energy within the room so much more engaging than a typical (or atypical!) cycling class—especially during pairing games and team challenges. When others rely on you for their success, the effort becomes so much more important. On more than one occasion, I noticed I was self-coaching: "RING #4, get your heart rate back under control or you're going to embarrass yourself!"
The packed studio and the average rankings presented after each game made it clear both recreational indoor cyclists and competitive outdoor cyclists are embracing The Pursuit. No matter your rank, it is all about maximizing pace, power, and distance for optimal effort in this studio. And trust me, you work way too hard to want to "party on a bike" during these games! This is pure cycling, the right way.
What I found brilliant was Equinox's choice to only project the top eight men and women at any given time. You always knew who was in first place, but never knew who was in last place. I loved this! It left room for constant hope and increased efforts for every rider in the room. Nobody lost.
Individual results don't disappear once class has ended. As Christian noted, "Within 10 minutes of leaving the studio, registered members receive an email with their workout data and the information is also stored in their Equinox account so they can privately track their progress."
Ducking my head after class, I admitted to Julie, our Pursuit coach, "Yeah, I am an instructor and I just got handed seventh place (!) on a digitized Equinox platter! However, as I considered the demographics—and my recent birthday—I'm pretty confident I won my age division?!"
She laughed and offered absolutely no support for any "age-driven data" to confirm my consolation.
In my opinion, The Pursuit is a game changer. It's simple and real riding, with a matrix and mechanics to support rider improvement and community building. And the Disney-esque imagineering makes it an unforgettable journey.
For this just-hit-50-year-old game chaser, it was a butt kicker and an inspiration.
I can't wait to conquer my age division again next time. Right, Julie?
Photos provided by Equinox
---
Have you tried The Pursuit? What do you think? Let us know in the comments below.