Make the Time for YOU
We all struggle with time. There's never enough of it. But when it comes to our health and well-being, we have to make the time to exercise. A good friend of mine showed up to my cycle class today. Katie is my BFF, someone I talk to and see regularly. And she knows that I teach cycling but is one of those people that says, "Oh, I'd love to come to your class sometime" and never shows up. But for some reason today she did. Katie is someone that has a hard time at making time for exercise a regular thing. Knowing that, I was delighted to see her walk through the door and even though she was a few minutes late, I welcomed her with a sweaty hug and ran over to set up her bike. After class I told her how much it energized me to have her there. She loved the workout and even though it was tough for her, I am pretty sure I made a positive difference in her day. What a great feeling as an instructor.
But the reason I wrote this story is to acknowledge the struggles people have with making exercise a priority. As I said, Katie has a hard time making it a regular thing. I've talked with her about this and even though she knows what she should do, actually making the time to exercise seems like an impossible task most days. Things get in the way of exercise…there are kids to deal with, a house that needs cleaning, a car that needs to be fixed, laundry, food shopping, work, volunteering, family commitments…the list of to-dos is truly endless. For Katie, "time for me" is almost never an official "to-do." It very rarely makes the list.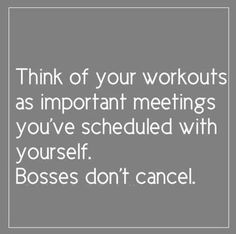 I don't fault her for trying to get everything else done. She is a terrific mom, wife, friend, daughter. But what I see happening with her isn't unique. It's easy to put everything else first—everyone else first—and leave ourselves off the to-do list. It's easier because oftentimes the things that we know we should do are personally tough things, like making it through a workout. Tough is something that can be scary, challenging, exhausting, and we might want to put anything else on the to-do list to avoid having to go to that place. And at the same time, all the more reason to make it a priority.

Seeing Katie come to my class today and reflecting on the effort it must have taken for her to get there made me appreciate the many regular members I have, for whom exercise is a routine that they make the time for. And it also made me have more empathy for the folks that show up to the gym here and there, never seeming to make it a habit. We all have to-do lists and any day that we can put "taking care of me" on the list—maybe even at the top of the list!—is an amazing day. No matter what else we accomplish, that act in and of itself says a lot about who we are and what we value. So take a look around your class next time and think about what it took for your riders to be there, to make themselves the priority for that hour. What a great thing.