Celebrate All Women this Mother's Day
Mother's Day is right around the corner for those of you who still need to buy a card or a gift. (You're welcome!) But this isn't just a day to celebrate moms and show your love and appreciation for everything they do; it's a day to celebrate all women who play important roles in our lives. Don't be fooled! Moms come in many shapes and forms. Some are stepmoms or foster moms. Some are single moms who pull the entire load. Some are sisters, aunts, grandmas, or even friends—who gracefully fill the cracks as much as we'll let them. Still others are teachers, coaches, or scout leaders shaping the futures of our children one interaction at a time. 
Some of us were born to "mother" everything, including our kids, our pets, and maybe even our spouses, while others are new moms finding their way and their voice. It is the nurturing, compassion, love, and caring that makes us mothers.
Being a mother is a 24/7 job that is both the hardest job in the world and also the most fulfilling. 
We have a theme ride for Mother's Day, the Tribute to Mom profile by Susan Lafond. This metaphorical profile exemplifies two critical times in a mother's life: bringing a child into her life and raising that child. The climbs are steep at times, symbolic of the struggle mothers endure and the adversity they face. The flat roads are reminiscent of the passage of time—reaching developmental and life milestones and how quickly the child grows up. The single recovery, strategically placed between the two hills, is a peaceful moment of pure joy. The cool-down and stretch contribute to a period of poignant reflection where riders look back to assess their strengths, weaknesses, and areas of growth. 
A Mother's Day Bucket Playlist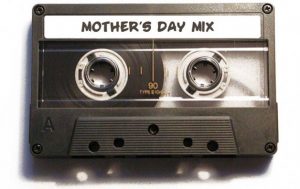 The role of a mom is an all-encompassing job that never lets you take a day off, so let's celebrate these women by giving them some much-deserved recognition. Our Mother's Day playlist (currently with over 200 songs) encompasses everything from pop to hip-hop to country, boy bands to '90s rock ballads, and Boys II Men to Bieber, so you're sure to have something for everyone. Use this large collection of songs to switch a few songs from one of our two profiles or create your own. 
And here's my favorite oldie from our playlist. Enjoy this flashback from the early '70s by The Intruders. This would be a fun one to put on as a pre- or post-class track, and even more fun if you can show the YouTube video on a screen at the front of the studio.
Now go call your mom!