This is the first part in a series by ICA contributor, Cori Parks. Cori is a Spinning® instructor based in the Philippines.

Indoor cycling began with Johnny G's inspired quest to train better, both physically and mentally, long before it was ever about incinerating calories or vying for instructor or program popularity. Now that indoor cycling has made its name in the realm of cardio conditioning and proven its ongoing relevance in the fitness industry, the cycling instructor has a unique opportunity to reach a wide spectrum of participants. This can range from the completely deconditioned beginner to the dedicated fitness junkie, elite competitor, pregnant participant, weekend warrior, youth, and everyone in between.
This unique opportunity rests in the very nature of cycling. Because cycling is a repetitive, large muscle group activity requiring little attention to coordination and agility, the participant is perfectly primed for work "in the zone." Riders sink into training feeling safe in a non-competitive but highly energetic environment. This lays the foundation for transformative training that is mindful, purposeful, and deeply satisfying. To be clear, transformative training contributes to the quality of the participants' lives across the other 23 hours of the day. Not only are their physical abilities and stamina enhanced, but their self-efficacy and curiosity are piqued in ways that can carry over into other areas of their lives. When instructors realize that quality coaching can have a profound effect on their riders' lives beyond the class, the stakes are higher.
In this series of articles on coaching we'll examine:
The Coach: Education and Self-Care for Sustained Inspiration

The Rider: Being Receptive and Coachable

The Coach/Rider Relationship: Communication Styles, Building Trust/Rapport, and Reciprocal Connections

Community Outreach: Growing Indoor Cycling through Inspired, Authentic Living and Communication
First, we look at what it means to be a coach.
Coaching: What it is and what it is not
The role, scope of practice, and credentials required of a general group fitness instructor are clear. Professional group fitness instructors are required to have training and a nationally recognized certificate that indicates the instructor is qualified to work with the apparently healthy population to improve the participants' level of fitness. The body of required knowledge for a competent instructor is continually expanding, and instructors are positioned to be experts who can inform the public on safe and effective fitness-related activities.
Often, specialty certificates do not require evidence of this broad certification. It is incumbent on the professional who seeks specialty certificates to have the foundational training in anatomy, physiology, kinesiology, sports psychology, and more. The general population has come to expect this level of knowledge from professional trainers.
In that vein, professional coaching assumes the foundational expertise, yet is not a delivery of this expertise that distinguishes a great coach from an adequate instructor. Coaching indoor cycling, unlike other group fitness leadership roles, need not be instructor-centered at all. In fact, truly great coaching fades the coach from the participants' frame of reference and positions the riders to be completely tuned into the goals they set for themselves.
The concept of coaching is used in a variety of ways for different professional relationships. In athletics, coaching takes an individual or team to a sought-after seasonal win. In the corporate world of professional mentoring, coaching escorts an office team or individual toward growth and enhanced output. In life coaching, typically individuals or families are supported to make healthful lifestyle changes that bring balance, health, and life satisfaction. In all cases, the desired outcome is not stated or initiated by the coach, but rather by the client. The coach is a facilitator and the expectation is that the coach wants what the client wants. The coach will partner with the client to help determine the best route toward that goal, holds them accountable, and helps track their progress in real, measurable ways.
Ultimately, coaching involves eliciting the best performance out of the client and that can be achieved in the cycling studio as well when there is a balance between industry expertise and authentic coaching technique. The challenge to the studio coach, however, is that the relationship between rider and coach is not as clearly defined as it is in the other examples of coaching. There isn't a singular goal in a class of participants like there is on an athletic team. Also, there is not always continuity of coaching because of participants' irregular attendance.
For the purpose of this series of articles, "coaching" is defined as the partnership between the indoor cycling coach and participant to:
Discover the full potential of the rider, even if showing restraint serves the rider best

To improve the overall fitness level of the rider

To enhance the exercise experience

To engage both rider and community in the interest of growing participation in indoor cycling
In the next article, The Coach: Education and Self-Care for Sustained Inspiration, we examine ways an indoor cycling instructor can enhance their participants' experience by first growing beyond being an expert, or simply a technician of a class. Masterful coaching requires self-care and participation in personally challenging activities as well as clarity of what it means to be in a coaching frame of mind in order to deliver a transformative indoor cycling experience.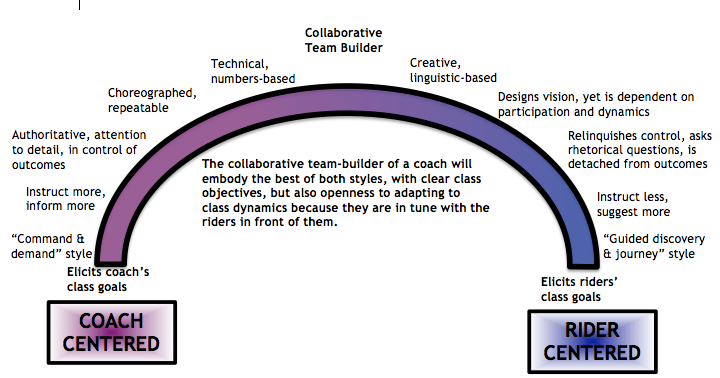 ,