Last weekend I got the chance to visit with one of my favorite instructors and people, Kathy Ehrlich-Scheffer. Those that have met Kathy know of her dynamic personality, wisdom, and passion for cycling indoors and out. Over the last couple of years, Kathy has become a dear friend to me on both a personal level and business front. Those that call Kathy a friend know exactly where I'm coming from—she is there for people and will support them to the end. She and her husband, Matt, worked tirelessly to launch an incredible indoor cycling studio, Cycledelic, in Rochester, NY. Considering the place she has earned in the indoor cycling community, it was shocking and hard for most of us to learn that Cycledelic closed earlier this year.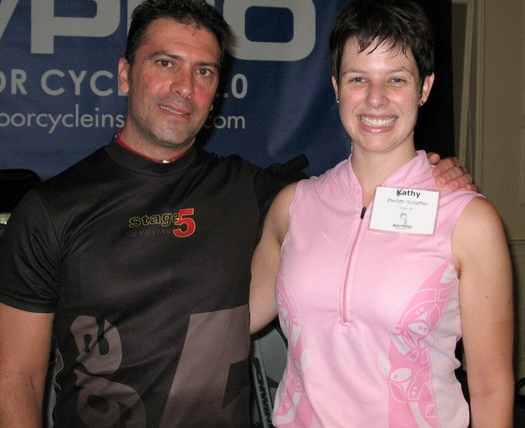 Kathy and I met in person at an indoor cycling conference in 2010. Her passion and ability to pull someone in and harness their best drew me to stay in contact with her. There is an incredibly fun side to everything Kathy does. Fortunately, I've had the chance to teach a number of classes and workshops at Cycledelic, including Cycling Fusion's Hawaii virtual ride premiere and an Extreme '80s ride where I dressed up as Richard Simmons to support (more like heckle) my girlfriend and instructor, Mia Bink, dressed as Jane Fonda. While she is always seeking to provide hilarious good times, Kathy is also one of the strongest advocates for "Keeping it Real" in indoor cycling. I've ridden outside with Kathy, Matt, and many riders who formed the heart of her studio, and bringing the outdoors indoors was a foundation of what they did at Cycledelic. In fact, two riders from her studio traveled to Hawaii and starred in Cycling Fusion's virtual training videos. That is about as real as it gets.
Last Saturday I attended Kathy's class, taught at a local gym in Rochester. True to her style, she didn't choose a typical mixed-interval class. No, the day's ride was a team time trial. She explained how each of us would be working as part of this powerful team and taught us how drafting and aerodynamics played a roll in our success. She instructed us how to gauge our efforts. It was a hard ride, and a fun ride, and the music was great.
After the class, sitting down over a cup of coffee, in usual Kathy style, she hit me with two beautiful insights: protecting one's first love, and it really is about the instructor.
Protecting One's First Love
Considering everything Kathy has been through with Cycledelic, she has not lost an ounce of her passion. Instead of crumbling and losing enthusiasm, Kathy returned to her initial love of cycling and teaching. That is how you know passion is real. Setbacks have no affect on that which we love. We will always find a way bring what we love to people and that is just what Kathy has done. I asked her what words of wisdom she has for others who currently own or desire to launch an indoor cycling studio. She stressed how much effort and energy it requires to keep a strong hold on what got us excited about teaching in the first place—the love of the ride. As a studio owner, the joy of teaching can get buried beneath business administration, marketing, program management, training instructors, and finances. Kathy doesn't believe the responsibilities of running a studio should be a reason for discouragement, but rather something to remain aware of so owners remain motivated by their initial fire. Even after her studio closed, just as she has done everything else in her life, Kathy returned to her first love, instructing indoor cycling with passion, dedication, fun, and excitement.
It Really IS About the Instructor
As I remained laser-focused on my effort in our simulated team time trial, I found myself transported to that euphoric place that great indoor cycling instructors can take us. Kathy kept us motivated and on course with a class profile, one which quite frankly would intimidate most instructors. She maintained the delicate balance of creating the big picture while delivering the small details, inspiring all of us in that studio to give it our all. This is not easy to do, particularly when leading an often feared "steady-state" profile which many find "boring."
While Kathy and I were talking afterwards, another insight came to light: there was a massive contrast between teaching at Cycledelic and this other gym. Though Kathy is the same dynamic instructor, the contrast lies in her environment. Cycledelic was state-of-the-art in every way. Kathy ensured that her studio had the best bikes available, a killer sound system, video, well-trained instructors, and the design was nothing short of perfect. In contrast, she taught Saturday's class on bikes that were old and poorly maintained, she had to bring her own visuals and a portable stereo because the one provided sounded terrible and frequently cut out. The only constant was Kathy…and the class was incredible despite the lack of high-tech bikes, sound system, or gadgets.
It is no surprise that my visit with Kathy led to refreshing insights. That is just how it goes down when you hang around her for any length of time. We can make all the excuses we want for why we are not able to put our heart and soul into what we do; we can blame our environment and the tools we are given. In the end, however, we are responsible for tapping into our passion and using it to pull the best out of everything we do, regardless of the circumstance.
As always, thanks Kathy. Those who know you have learned—and continue to learn—so much from you. But the most important lesson you have taught us is to "enjoy the trip."