Many of the instructors I know give a ton back to our community. In addition to going above and beyond preparing our regular classes (even though the pay we receive often does not come close to compensating us for our effort), hundreds of instructors participate in charity rides and events to help organizations with their mission. Like many, I've had the honor of leading and participating in indoor cycling benefit rides. Although the cause and mission is serious, these events are some of the most fun and inspiring times I've spent on an indoor bike.
Last weekend I again had the honor of being asked to lead a charity ride. Gene Nacey (Gino) of Cycling Fusion and Global Ride Productions asked me to head the pack for the Tour de Cure. I love charity rides, but I'm particularly fond of them when they are outdoors! The event premiered Global Ride's latest DVD, Maui Madness: Speed Thrills in Hawaii. Since it was a virtual ride, and outdoors, the ride started at 8:00 pm to ensure it was dark enough to project on the big screen. The atmosphere was perfect in the Square of downtown Pittsburgh on a beautiful 74 degree evening. Cities have a special energy to them, which only enhance the purpose and spirit of a ride like this.
As the head coach for last year's Global Ride trip to Hawaii, leading this virtual ride was a reunion of roads, memories, and friends. In addition to getting some long overdue time with Gino, I got to spend time with powerhouse rider and coach Michelle Simons, and our fearless cameraman and expert driver, Peter Guellard. The night ended in a frenzy as Michelle joined Gino and myself at the front bikes during the famous helicopter scene, where she challenges both a helicopter and charging cattle to a epic chase.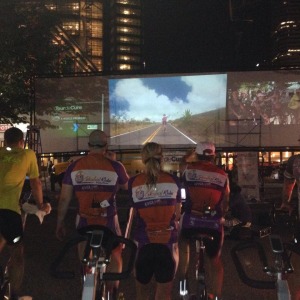 It was a great cause, a fantastic event, a fun reunion, and an excellent workout. In the process, I made an interesting observation about leading events such as this. As the stage, lighting, and sound crews were setting up earlier in the day, I sat in a nearby café and reviewed the DVD to refresh my memory and take notes for how I would coach the riders that evening. I spent two hours reviewing the video footage and took two pages of notes. However, as soon as the event started, my notes and prep were tossed aside. This was far more than an indoor cycling class with a virtual ride; everyone was looking for more than a workout. They wanted an experience that connected them to the ride, event, and cause.
I've asked Gino for some live video coverage of the ride so I can post a follow-up to this article. We are pulling that together now. I believe the live video of the event will demonstrate another layer of presentation skills indoor cycling instructors can add to their repertoire when more than a class and workout need to be delivered.