On October 17, 2017, Gord Downie, lead singer of the Tragically Hip, lost his battle with brain cancer. It was a day that Canadians were dreading. When the band announced in May 2016 that Downie had been diagnosed with terminal brain cancer, the clock began to tick.
The Tragically Hip, often referred to as "the Hip," were formed in 1984 in Kingston, Ontario, and in their more than 30-year career, they released 14 studio albums, two live albums, an EP, and 54 singles; Downie also released five solo albums. Nine of the band's albums have reached number 1 on the Canadian charts. The Hip was inducted into Canada's Walk of Fame in 2002 and into Canada's Music Hall of Fame in 2005. In 2012, one block of a downtown street in Kingston was renamed "The Tragically Hip Way."
Downie also became a crusader and a passionate advocate for indigenous rights and reconciliation, often taking Prime Minister Justin Trudeau, a longtime fan, to task on these issues. In December 2016, the Assembly of First Nations honored Downie at an emotional ceremony for his work on reconciliation, where he received the name Wicapi Omani or "walks with the stars."
Despite immense success in their native Canada, including 16 Juno Awards, the Hip was never able to cross over into the American rock music scene apart from a small, devoted fan base centered in border cities like Buffalo, New York. A mural depicting Downie was recently unveiled in North Buffalo.
As a Canadian, it is difficult to explain the impact and appeal of the Hip, and in particular lead singer and frontman Gord Downie. Theirs was a distinctive sound— simple, poetic music that often depicted Canadiana. Often referred to as Canada's house band, they sang about us—our towns, our lives, and our country. They were "the most Canadian band in the world." They were ours and ours alone.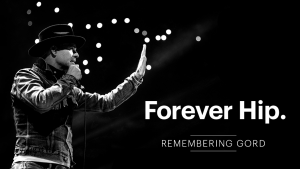 On that fateful day in May 2016 when the band announced Downie's diagnosis, they also announced that they would be embarking on a 15-date tour of Canada in celebration of their newest album, Man Machine Poem. They never said it was a farewell tour, but the writing was on the wall. The final concert in Kingston, Ontario, was a national event that was broadcast globally as a cross-platform television, radio, and internet-streaming special. Canadians gathered and we openly wept along with Downie, as we watched what we knew was our last opportunity to see our beloved band in concert. Less than 14 months later, Downie was dead.  
Gord Downie and the Tragically Hip were special. They loved our country, and we loved them back. Losing Downie was like losing our best friend, our brother, a member of our family. It felt like a very personal loss. One online eulogy spoke for the entire country. It read, "Sorry, USA friends…Canada will be closed today due to a death in the family. Condolences may be sent to almost any person in our nation." Our country is in mourning, our hearts broken; a legacy has come to an end, and a Canadian icon is gone.
As for their music, I could not choose just a few songs. Instead, I offer you this list and encourage you to listen to each song. I suspect many of you may be more familiar with their music than you realize and, if not, it is my hope that you may come to appreciate their sound and perhaps begin to circulate some of their music into your classes. It is my honor to offer you the following suggestions:  
"Boots or Hearts" (121 bpm)
A fun song perfect for an upbeat climb.
"Blow at High Dough" (122 bpm)
The perfect beat for a challenging climb.
"Locked in the Trunk of a Car" (129 bpm)
Another song with a solid climbing beat.
"Courage" (133 bpm)
Works well as a moderate climb.
"38 Years Old" (98 bpm)
This song is great for a fast flat.
"New Orleans is Sinking" (110 bpm)
Works well for a fast flat.
"Wheat Kings" (160 bpm)
A great cool-down song.
"Scared" (114 bpm)
A great cool-down song.
"Ahead by a Century"  (127 bpm)
A great cool-down song.
"Fiddler's Green"  (136 bpm)
A great cool-down song.
For a full list of Julianne's favorites, please listen to the Spotify playlist she curated.