This year marks not just the 50th anniversary of mankind walking the moon, but is also the 50th anniversary of the Woodstock music festival, which took place August 15–18, 1969, and had an audience of more than 400,000 people. And while many of us think it was held in Woodstock, NY, it actually took place on a 600-acre dairy farm in Bethel, NY, which is 43 miles southwest of Woodstock. Thirty-two bands played despite on-and-off rain throughout the weekend, but take a look at the list below of artists that declined to play or canceled their appearance for this historic music event. Some of them didn't think it would be a "big deal" worth the effort!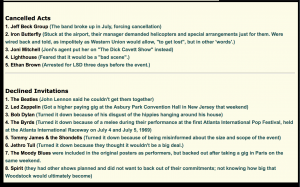 Fast forward 50 years and the same trials and tribulations of finding a venue to host this planned anniversary music event that plagued Woodstock 1969 were happening again. We initially planned to post this article a few weeks ago, but the venue and the likelihood that Woodstock 50 would take place were still up in the air. Then magically, Merriweather Post Pavillion (MPP) in Columbia, MD stepped up and offered to host the iconic event. While MPP is a much smaller venue than where the original Woodstock was held, it has been home to many three-day music festivals in the past. Word on the street was that the festival will be free. But many were left wondering…who's on the bill since so many artists had dropped out?
Then, right before we had planned to post this playlist, on 7/31, Woodstock 50 was officially canceled.  
We decided to post both the Woodstock 1969 and 2019 Spotify playlists we created for you anyway.
First, for the 1969 collection, we pared down the original playlist since some of the tracks aren't that "spinnable," so we made sure to include just the ones that work best for a cycling class. I created this Woodstock Revival profile for the 45th anniversary, feel free to use this or modify it with other songs from the set list of the original Woodstock. 
Believe me, if you have riders on the north side of 50 years old, they will be delighted if you created a profile based on these tracks, or at least threw a handful of the most well-known songs into your next ride to honor this iconic event. 
Our 2019 Spotify playlist of the on-again, off-again, now-canceled 50th anniversary concert includes all of the originally booked artists. Alas, how about a profile about the concert that might have been? It could be fun to mix a few tracks from each, 50 years apart. 
Let us know in the comments if you do a Woodstock ride and what your riders think of it. What are your favorite tracks?