Happy April Fool's Day!
We're nearing the end of March and that means April Fool's Day is right around the corner. It's a day where everything is about humor, nothing is taken too seriously, and you can let the prankster inside you come out to play.
Here are a few hoaxes you can have up your sleeve as you start your class.
Tell your class that the stereo system is broken and you'll be singing to them today.

Tell your class you have a new playlist of all Michael Bolton songs and actually start the class with this song.

You have decided to make the class a 3-hour race effort, and nobody can leave until it's over.

You believe everyone needs a few weeks of recovery, starting today. No heart rates above low zone 1.

You have decided to give up all your classes, and this is your last one.

In honor of all the mothers/fathers/parents in the room, you have decided to play all Disney movie soundtracks, beginning with "Let it Go" from Frozen.

Instead of riding today, you thought you'd lead meditation session (off the bike).

You heard that Bikram-style cycling was good for you.

You're going to do a weight workout on the bike (now THAT'S scary!).

Tell your class you made them brownies, and hand out the

se: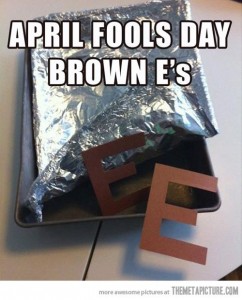 And of course, you can always Rick Roll them…
There are a lot more great trickster ideas in the comments over the year, don't miss them! And please add your own favorite way to fool your riders in the comments.
Whether you're a big trickster or not, you might want to throw a few songs about fools, foolishness, and lies into your playlist on April 1 to celebrate the holiday. We've got just the bucket playlists for you below…one specifically for April Fool's Day (about 180 songs) and one about Lying and Liars (over 260 songs). We try to update these every year so if you have any suggestions to add, please let us know.  
What have you done, or might you do, as an April Fool's joke with your riders? Please share in the comments below!