The world lost another music icon yesterday morning—2016 hasn't been good to the '80s, has it? First David Bowie, then Glen Frey, and now Prince. Even if you aren't a fan of the '80s, or of Prince, I think everyone can appreciate how amazingly talented and creative this man was, and that his influence on the music world will be felt for eternity.
Your class will either be eagerly awaiting a tribute ride, or they might cringe at hearing another Prince song. The success of a tribute ride like this totally depends on your market, your relationship with your riders, and how you present it. If you are passionate about Prince and his music, it will come out in the love you project in your coaching. Can't stomach a one-artist playlist? Then just do a few of his iconic songs—your riders will likely appreciate the nod to this genius!
I threw together a playlist and profile just a few hours before my class yesterday. My planned ride was threshold climbing intervals, so it was easy enough to use Prince songs. Although, I didn't always stay to the beat on the recoveries. I've added this profile below for you to download.
By the way, you won't find any of Prince's songs on Spotify. He had them pulled from most streaming services over six months ago (except Tidal). He has always been a staunch defender of artists' rights and felt online music services cheated artists. You will have to purchase his songs from a legal source like iTunes or Amazon.
Every song was either a prayer or foreplay.
The beauty of Prince's music is that it merges genres and so much of it works well in the indoor cycling studio. While he first became famous in the 1980s, not everything is retro in style. Many songs have a dance rhythm and fall into the climbing bpm range, and some, like "Let's Go Crazy" at 97 bpm, translate to a faster cadence on flat roads.
What many people don't realize is that Prince was such a prolific songwriter and that he penned many songs that helped other artists make a name for themselves. Chaka Khan, The Bangles, Morris Day and The Time, Sheila E, Sheena Easton, and many more. For a list of Prince songs to consider for your tribute, here are his 40 biggest Billboard hits, and here are all his songs on Wikipedia, including the ones he wrote for others.
This means that you don't have to do a tribute of all Prince songs; you can add other artists.
But here's another option…why not do a profile that includes songs from the iconic musicians we lost in 2016 and have "one helluva show"? (Although, you may be hard-pressed to find a Merle Haggard song that works well in the cycling studio!)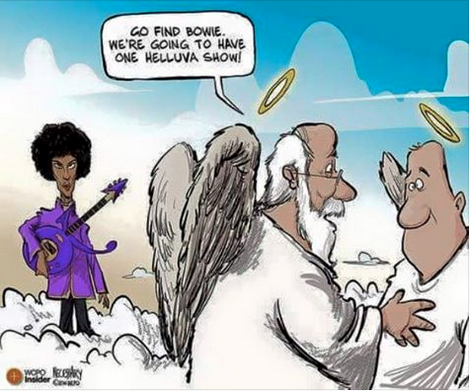 Prince's level of talent was legend, as were his eccentricities. He won 7 Grammys and was nominated 30 times. He played 27 instruments, occasionally even playing every instrument on an album. This is an excellent article in The Guardian about his enormous talent, and this article discusses some of his quirks. Here are some of his most iconic moments, and here are some more of his eccentricities. You can have fun with this trivia in your Prince tribute ride.
What is coming out after his passing is that he was an amazingly generous man who gave and gave and gave but didn't talk about it—and he didn't want others to talk about it either. Watch the video of this interview with Van Jones to understand the depth of his generosity. Often he put on small concerts in communities, but they were fronts for his goal of helping those communities behind the scenes, like Baltimore (after Freddie Gray's death) and Chicago. He put other people's faces as the leader of some of his initiatives, but he was the driver behind the scenes (and the money). His ex-wife—whom he met through his philanthropy—is building schools in his name.
Here are my tips for teaching a Prince tribute ride:
Intersperse a few other artists who sang songs he wrote

You must play "Purple Rain"—I suggest toward the end of the ride, use the long version, ask them to climb in silence on their own, and shut up. Be prepared for tears…

Wear purple, and ask your riders to wear purple (via social media or email).

Can you find purple lights?

Cut out some doves from white construction paper, draw a tear in their eye, and put them on the wall, the entrance door, maybe even one on each bike.

Go crazy!

Create a flyer and put it up on social media and throughout your facility (see examples below).

If you have video capabilities, there are many options on YouTube, but be sure to include Prince on The Muppet Show and his Super Bowl halftime performance in the pouring rain (videos embedded below).
Here are a few ideas for flyers: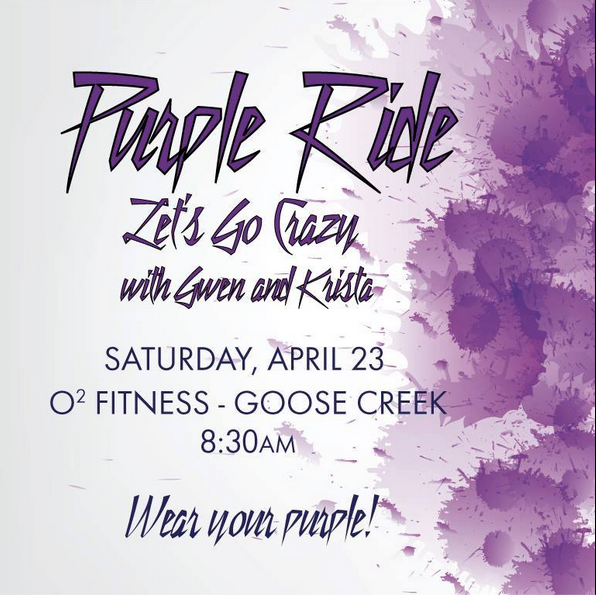 Flyer created by Gwen Slade Bouchie. The ride will be team taught by Gwen and Krista Leopold.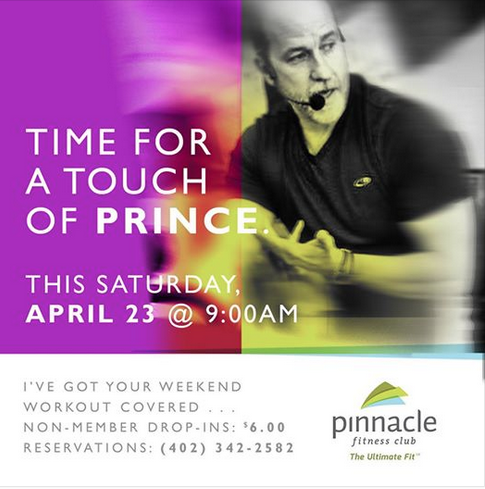 ICA contributor Billy Coburn will be doing a Prince tribute of course!
Prince on the Muppets

Prince Super Bowl halftime show
(This is the full version; you can also find an edited version.)

Remixes
Do you prefer remixes, so your songs are different than everyone else's? Peter G is a DJ and instructor who specializes in remixing tracks specifically for indoor cycling. They can be purchased on Legitmix, which is a legal site for remixers. You either have to have the original in your library, or purchase it at the same time. These are a great way to add unique, fun remixes to your library. Here are some of Peter's favorites: