As most of you know, the Indoor Cycling Summit was posted this past weekend for live streaming. We had thousands of instructors from around the world viewing! You can still purchase the Indoor Cycling Summit through the end of the month (March 31). We've received many questions about the CECs that are available, which I will talk about in a moment, but first, I am simply blown away!
The response has been nothing short of fantastic. Instructors everywhere are talking about this Summit being the single most educational, inspirational, and interesting conference (or any education period!) for this industry.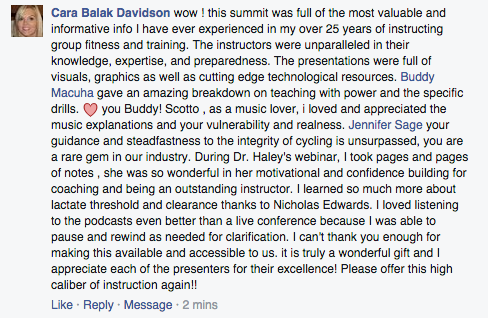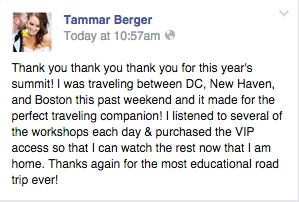 And this one sent in by email from Noni Petty, a brand new instructor who told me her certification did little to prepare her to teach:
Awesome summit! I feel a bit overwhelmed with the responsibility of putting together workouts that are fun, goal oriented, safe, and helpful to everyone! It's gonna be great! I feel like I've been drinking from a fire hose all weekend! Such GREAT info! I am so glad I purchased the VIP pass so that I can "attend" all the classes without life getting in the way (i.e., kids, husbands, and life's interruptions), I have the time to absorb the information, AND I can go back and review what I didn't quite absorb the first time! Invaluable!
Continuing Education Credits
I've received dozens of questions about the CECs that are available with the Indoor Cycling Summit, so I thought I'd share the answers with you JUST IN CASE you have similar questions. It's all GREAT news!
What if you don't need or want CECs but just want great information to advance your skills as an instructor?
Heck yeah! You can save $50 if you don't care about the CECs. Click here to purchase! (Scroll to the very bottom.)

However, consider this…
The 1.9 CECs that you receive for the Indoor Cycling Summit is the lowest cost per CEC you will find almost anywhere! It's just over $10 per hour credit. Typically, for this many hours, you can expect to pay from $300 to $600 (for a conference), which translates to $16 to $32 per hour credit.
Considering that most organizations WILL ACCEPT these CECs (as you will see below), what are you waiting for?
The Indoor Cycling Summit is simply the best
educational value for cycling instructors anywhere! 
Are the ACE CECs transferable elsewhere?
It's important to realize that every certifying organization has their own policies about accepting other organizations CECs. While we cannot possibly know how every organization will respond, the good news is that most of them allow you to petition for CECs, while still requiring you to obtain a certain number directly from them. Typically, .1 ACE CECs is equivalent to 1 hour. The Indoor Cycling Summit offers 1.9 ACE CECs, equivalent to 19 hours of education.
Spinning®? Many have asked if Spinning accepts the Summit CECs. For our past two Summits, MDA and Spinning did accept credits from the Indoor Cycling Summit; simply petition for them via your online account.
AFAA? In the past, AFAA did not accept credits from online courses, but I am happy to announce that they now do! You should be able to petition AFAA with your Summit credits!
The following organizations also allow you to petition for credits:
NASM, NSCA, NETA, ACSM
To find out if your certifying agency will allow you to petition, please call them directly.
How about Canada, or other countries?
While there is no way for us to know every rule by every organization, ICA member Sandi from Canada posted this on her Facebook page and explained how her Canadian certification accepted her Summit CECs. I am assuming other countries may have similar policies.


How to petition?

Every organization is different, but they will all require you submit a petition online with your Certificate of Completion and a list of the Summit sessions. Most require a small fee to do so. You can download the list of Summit sessions here. 
When will you receive your CECs for the Indoor Cycling Summit?
We will send out the Certificate of Completion with CECs in PDF form after April 20, 2016. There is a 30-day money back guarantee for the Summit, so we cannot give them out until that period is over. (Note: You can message us if you urgently need them before that date because yours is about to expire.)
Any other questions about the Summit or the CECs, please ask away in the comments below!
And if you are still interested in launching your indoor cycling coaching to the stratosphere (that's no exaggeration, as those comments above express!), then click this button below. You can purchase with or without ACE CECs, either way, it's the least amount you'll pay for this quality content anywhere!