From your heart to theirs…
Cori Parks is a Spinning® master instructor from California and an ACE-certified personal trainer and group fitness instructor. She considers herself a global nomad and has lived and worked in the US, Canada, Namibia, Kenya, Madagascar, Egypt, Cambodia, Thailand, and she currently resides in Manila, the Philippines. Typically, her fitness career has focused on the expat community in these countries.
Obesity, smoking, high blood pressure, diabetes, and more are all a growing global problem. The Philippines is beginning to feel the impact of socio-economic development, which ushers in fast food, sedentary lifestyles, and medical intervention for otherwise avoidable issues and unprecedented stress.
Cori told us, "I'm excited to expand my fitness coaching into corporate wellness here in the Philippines. Of course, I love working with people who reach out to me, but I feel there are many people who are reluctant to even take that first step, thinking that the stress and sedentary nature of their work and commute are par for the course. So I'm going to them with educational seminars, workouts, and the support of local business that promote healthful living."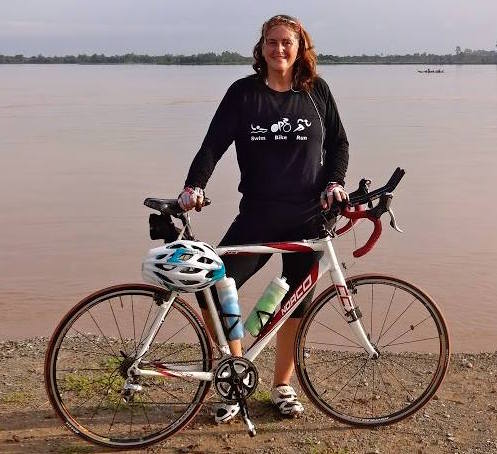 To support the education component of her corporate wellness program, Cori is appealing to the indoor cycling instructor community to donate any spare, used (but still functioning) heart rate monitors, or other fitness tracking devices (pedometers, Fitbit, etc.). You can use this opportunity to buy the fancier new one you've been thinking of and pass your old one on. Cori is not looking for new ones—she wants your old ones!
If you would like to donate your spare heart rate monitor, please follow these directions:
Wash the strap

Clear off any saved data (if applicable) and restore it to factory settings

Change the battery if possible

Place the device and any parts (chargers, instruction manuals, cases) in a small zip-lock bag.

Put your business card with your name and contact information in it so we can share the stories and adventures your old pal makes in the coming months and years. (If you would like to remain anonymous, that is fine too. Your ID on the shipping package will not be saved—only what is found with the device.)

Please package it in a small shipping envelope (with bubbles for protection).

Mail it (ASAP) to the address below. Packages must be received this week (by June 1, 2016).

Jennifer Sage
Indoor Cycling Association
PO Box 1208
2367 Eagle Ranch Road
Eagle, CO 81631
Cori will be at WSSC in Miami the first week of June. If you are attending WSSC or know someone who is, please follow steps 1–5 and get it into the very grateful hands of Cori at the convention. Send her an email (see below) so you can make arrangements to meet at the conference.
Your donation and generosity are very much appreciated. It will be cherished as you cherished it and well cared for. It will be loaned cost-free to participants of the wellness program and will never be sold.
Note: I will arrange to mail all the HR monitors I receive via priority mail to Cori before she returns to the Philippines. This is why we need them sent to me as soon as possible and is how we can avoid the high cost of duties on products into the Philippines (even used products). To avoid any possible additional costs here to the US, we do not recommend sending from another country besides the US or Canada.
Got questions? Contact Cori Parks (on Facebook) or cp.bodyofwork@gmail.com