Here are the first four of eight finalists for the ICA Facebook photo contest. Please click here to vote on Facebook for your favorite. Today is the last day to vote!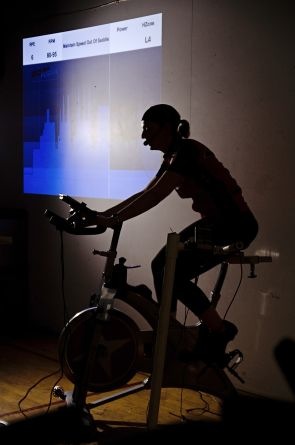 #1: Amy Goodrum from Syracuse, NY. We chose her photo because the unique silhouette perspective strips down all but the essentials of being a good instructor. With the Class Builder app projected in the background, Amy is using one of the most effective tools available to instructors- a great visual motivator for students and guide for coaches.
This is what Amy told us about herself and this photo:
My name is Amy Goodrum, and I teach 3 lunch-hour cycle classes a week at the Downtown Syracuse YMCA. I have been teaching indoor cycling since the fall of 2011. I hold teaching certifications from Stages Indoor Cycling, Cycling Fusion (Level I), and I am a Lifetime Star 3 Certified Mad Dogg Spinning Instructor.

This photo is taken at our humble Downtown Syracuse Y cycle studio, and I am using the Class Builder program from Cycling Fusion for this and every class that I teach. Our studio is hardly ideal; it is in an old converted racquet ball court that you take a very circuitous route to find. You must leave the studio and walk to the end of a long hallway to control the fans, lights and audio equipment, and we do not have bikes with power. Nevertheless, we have the ability to use video to teach our classes while most of the newer, slicker studios in town do not. And, what really makes the program great is that we have a fantastic group of students and members. I am very passionate about teaching at the Downtown Syracuse Y teach because the students are extraordinary-motivated, hard-working and very caring and supportive of each other. They are part of an urban environment that promotes mutual respect, commitment to excellence, and compassion. The Downtown Syracuse Y is a great community, and I am lucky to be a part of it.

I am a current ICA member, and had the opportunity to meet and train with Jennifer in October 2011 at the launch of the new Cycling Fusion studio in Oakmont, PA. Jennifer and ICA have been invaluable in helping me advance my skills as an instructor. I often share Jennifer's blog with my students via email. Thank you for the opportunity to participate in the photo contest!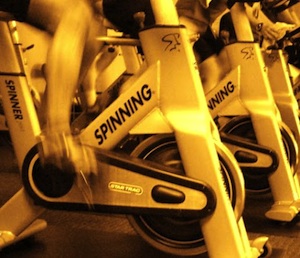 #2: Lois Loyd from Illinois. We chose this fun and unique photo of a rider's blurry legs because it highlights the movement and action inherent in Spinning. The angle of the photo is nice, with the sequence of bikes and riders visible behind the bike in the foreground, and we loved the sepia tone. This is what Lois, from Illinois, tells us:
I teach Spin/Cycle at Golds Gym in Gurnee IL, Centre Club in Gurnee, Libertyville Sports Complex in Libertyville, and Lake Bluff Park District in Lake Bluff (the picture was taking at the Lake Bluff facility).

I have been teaching Spinning for over 12 years, since October of 2000 – and am a certified Star 3 Spinning® Instructor. I'm not sure I know whose legs are in that picture but its a great group of Saturday morning cyclists, many of which are triathletes and ride outdoors.

I have been a Jennifer fan for years…..all the way back to when she was Jennifer Ralph. I consider her my professional mentor and often use her as my first point of reference. I have gone to CE workshops that she has presented and an occasional dinner afterwards. I consider her a resource that is always knowledgeable, helpful and available. She has consistently personally answered my questions and has been there to encourage me (whether she knew it or not) when I needed it. I use her name (not in vain!), her information and the ICA profiles on a regular basis in my classes. OF COURSE I'm an ICA member-that is what helps me keep my classes SAFE, Fresh and REAL!

OH yeah …… and Jennifer, like me, is a borderline crazy cat lady….what's not to respect? 🙂

I'm having a lot of fun with this photo contest and it's giving me a bit of publicity for being concerned about safe, effective and beneficial cycling classes!

Thanks so much!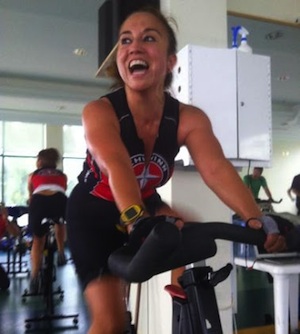 #3: Luz Lovern, from Qatar. Why did we select Luz' photo? Well….have you ever seen such joy? Such a smile? It makes you want to fly to Qatar just to take her class, doesn't it? Luz means "light" in Spanish, and I can't imagine anyone more aptly named, as her light definitely shines through (and you can feel it in her words below). Here is what Luz told us:
My name is Luz Alejandra Lovern. I am Schwinn Indoor Cycling Coach Gold Level from 2008. I am the first Gold Level here in the Middle East. I am originally from Spain and an American Citizen, and living in Qatar for the last 7 years.

I am teaching since 2006 here in Qatar Indoor Cycling non stop. I am Teaching at the Sheraton Hotel Doha Qatar since then. I also teach at International Conventions in Spain, Prague and Slovakia, also in Middle East.

I am a Spinning Instructor, Yoga Teacher 800 TTY, Pilates Senior and Garuda Method Senior Teacher from 1997 until now. I have a Private Studio here in Qatar where I am teaching Indoor Cycling, yoga, Pilates and Garuda Method.

The person who took this picture was one of my clients and friend at the Sheraton a couple weeks ago. His name is Burak ozdal, he is very nice person and good student.

I follow all the great advice of Jennifer, every time that she post in her page. She has all my admiration and respect!
I will love to be able to attend a Jennifer Workshop, that is my goal.

my web site is www.luzlife.com
Sending good energy from Qatar,
Luz Lovern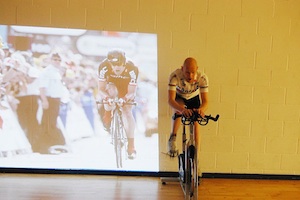 #4: Stephen Keppie from Edinburgh, Scottland. We chose this photo because you can see how inspiring a virtual class can be. If you haven't yet explored virtual rides, hopefully this will inspire you to do so. In this photo, Stephen's body language is similar to Cadel Evans (BMG rider) in this time trial (I'm assuming it's the Tour de France). The same leg is up and his mouth is open like Cadel's, his form is excellent. Stephen wants to win. Even more, I think he wants his students to win! This is what Stephen says:
I am a Spinning Star 3 Instructor. My website is www.keppiefit.com

I have been teaching indoor cycling for over 10 years. I teach 6 indoor cycling classes per week at Virgin Active, Nuffield Health and The University of Edinburgh.

I carry my own projector to classes and use visuals to support my particular theme that week as well as offering some virtual rides. The picture was to promote an event I presented at Energy Gym, Edinburgh.

I have followed Jennifer's forum posts and blog for many years; she has educated and inspired me to become a better instructor.
The next post will introduce the next 4 finalists.