Queen Elizabeth II passed away on September 8, 2022. It got me thinking that a royals-themed ride might be fun to do. I have been collecting songs about kings, queens, princes and princesses, castles, and anything having to do with royalty for a few years. In honor of the Queen and the passing of the torch (crown?) to Charles III, I am making that bucket playlist public here. 
However, if you are going to do a royals-themed ride, be careful—not all the songs in this playlist are complementary of the Queen or of the monarchy. 
In other words, this is not be the time to play "God Save the Queen" by the Sex Pistols. 
Regardless of how you feel about the monarchy and its long history, Queen Elizabeth II was an amazing woman who was loved all over the world. If you want to interject a little trivia in your ride about the Queen, here is a good resource for historical moments in time, here are 45 of her best quotes, and here are 10 fun anecdotes about the Queen. My favorite is this one:
The Queen's handbag had an unusual secondary function – as a signalling device. Handbag placed on the dinner table meant, 'I want to leave in five minutes.' Handbag moved from arm to arm said, 'It's time to talk to someone else.'
While I don't think there is anything wrong with doing a ride about kings, queens, castles, and the like, some people may think it's too soon and will want to refrain from this type of theme ride. If that's the case, another good use of the bucket playlist below will be when King Charles III is crowned—perhaps that event will be a little less controversial and you may feel like you can explore a wider range of songs from the playlist below. The coronation could be several months down the road…I'll be sure to remind you all of this playlist when the time comes!
However another, more passive way to honor this moment in history is by using songs from British artists. Back when London hosted the Olympics in 2012, I created two fun profiles called The British Invasion #1 and #2. (That was ICA's 2nd year!) 
We have hundreds of profiles in our archives. All of them are still valid, of course, but I admit, some need to be cleaned up a little; maybe one of the songs is no longer available on Spotify, or that profile may only be available in the long-form master profile format (that format is awesome because it comes with great cues, but it is too cumbersome to teach with). These two profiles fall into that category…so my goal over the next week is to update these two profiles soon and provide a shorter Express Profile for each one so they are easier to teach from. But in the meantime, I want to give you the links to the two original British Invasion profiles now. (Note: Both these rides can be done any time of the year; you don't need a reason to have fun with British artists.)
The first profile can be found here. It includes songs from the 1960s to the 1980s and provides you with the background on the two distinct musical "British Invasions." Yes, that is the specific term given to these moments in cultural and music history that changed music around the world, first in the 1960s and then in the 1980s. This profile also contains some history of the specific songs and artists used.
The second profile, called the Modern British Invasion, can be found here. This uses songs from the 1990s to the present. It's not an official "invasion" in musical or cultural history like the first one, but I had fun with the idea. This one includes artists like Adele, Faithless, and The Prodigy. 
Since the Beatles were the instigator of the first British Invasion—music-wise—it would be fun in your ride to give a little trivia about Paul McCartney's numerous experiences meeting the Queen (nine times!), including when he was knighted at Buckingham Palace in 1997. He called his knighting the most important day of his life. Paul posted this tribute to Her Majesty Queen Elizabeth II on his website the day she passed away. 
And finally, I want to share with you an idea that Doyle Armstrong posted in the Indoor Cycling Instructor Facebook group. Doyle is the UK business manager for Intelligent Cycling and former master instructor and program director at ICG International (Indoor Cycling Group). This is what Doyle said in the group (posted with permission):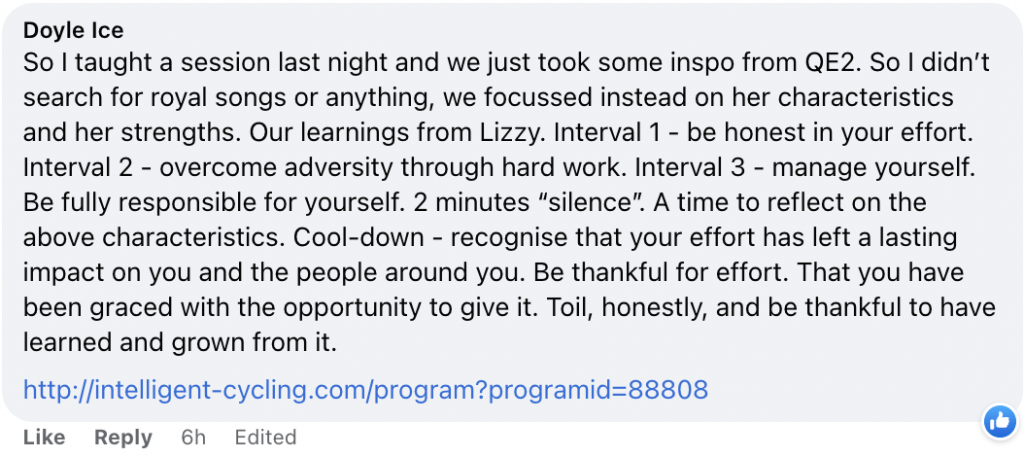 What a beautiful idea, Doyle—thank you for sharing it with the indoor cycling world! You can find Doyle's Intelligent Cycling profile and Spotify playlist here. (The Intelligent Cycling app is available for instructors to use for free.)
Here is my bucket Spotify playlist for King/Queen/Princess/Prince/Royalty/Monarchy for you to peruse when selecting songs for a royal-themed ride. It currently has 162 songs. If I've missed a perfect song for this playlist, let me know in the comments and I'll add it!