The term "flipping" was a relatively unknown term outside of real estate circles until 2007, when BRAVO TV launched their ever-popular series Flipping Out. The idea is simple: substantially improve the status and condition of a property and the new value of what you create will far surpass the investment.
This past week I engaged with a "flipper" of a different breed. His investment is not in real estate. His profit is not for personal gain. As a life coach, Dane Boyle is about helping people change and grow. And, fitness is his chief cornerstone. "When life is completely out of control—which it is for many of us, much of the time—if we can help our clients take control of just one area of their lives, it would be their fitness. It is the one thing they can own every day."
The overturning or flipping of life has begun in a manageable, approachable fashion.
Early on, Dane thought the people in the cycling studio were insane! But, once this Gen Xer's feet hit the pedals, his attitude flipped. The combination of music, power, and sheer will inspired him to complete his Spinning® certification in 2007. While rummaging the internet for IC information, he stumbled upon Funhogspins, Jennifer Sage's forerunner to the Indoor Cycling Association, and found "a coach that wanted everyone to win at indoor cycling." He's been following her ever since.
Recognizing people prefer the familiar and set patterns they have established, Dane utilizes cycling as a great metaphor for life. "You can coast and just get by, or you can push past your comfort zone and see what you are made of physically and mentally. Most have not pushed their limits in either area." As coaches, we have the unique opportunity to flip familiar patterns towards these limits, while realizing "the push" doesn't look the same for everyone. For some of Dane's clients, he doesn't expect them to finish a 45-minute cycling class. "It might only be 5 to 10 minutes per day," he says, "but they are moving more today than they were yesterday. They crawl before they walk and walk before they run. I want everyone to achieve success."
His goal is to build up their confidence and physical fitness one day, one class at a time.
"Remember, it's ALWAYS a market segment of ONE." Dane's father, a physician, instilled this coaching principle into his core being.
So, how do you engage the "market segment of ONE" principle when you have a cycling room full of 35 people? First and foremost, Dane says, "You have to make a connection. Having been a school teacher for ten years, I was always in the hallway greeting the kids. Similarly, I greet every rider before my class. I'm the guy waiting in the hallway for the previous class to finish, so I talk to everyone!" Doing this, he says, helps you as coach to create a standard well above average.
Secondly, Dane believes that cycling instructors must remember they are coaches. "I know my profile. I know every beat, and every song. I can cue my riders on or off the bike. When I get off the bike, it's because I want to be in their space."
Dane's advice to younger instructors: "You have to realize it's going to take more time than you are ever going to get paid! Class is only one hour. Outside of that, there is profile building, music, research, and study." According to Dane, all of these ingredients are necessary for being a good instructor.
Relational coaching is how you build trust. "When you put so much of your personhood into what you do, it shows." Dane believes this is what makes us successful as coaches, and what takes us beyond simply being an instructor. "Our riders know we believe in what we are doing. So they trust us."
In his cycling classes this summer, Dane is flipping the tables, calling it the Ultimate Trust. He is encouraging his students to bring their high school–aged children to class. "There is no greater commodity in life than your children. So, if you're willing to bring your kids to class, it really does say, we believe in our instructor." This is a fantastic idea for maintaining class numbers for those studios that experience seasonal attendance disorder.
To understand the impact that Dane has on his students and training clients, all you have to do is look at Mary Shahan, his favorite client. Approaching her sixties, her long-term sedentary lifestyle caused body weight issues and life-restricting health conditions requiring multiple prescription drugs. It was hard for Mary to find value even within herself. Then she met Coach Boyle, who turned her life around. Mary trusted him enough to help her make a significant flip towards something she'd only imagined—to be an athlete.
Within ten months, Mary kicked her drug habit (as she fondly refers to it). When her doctor took her off of all of her meds and proclaimed to her, "You are an athlete," she knew she had arrived. Three months later she participated in her first half marathon—having never completed a race prior. (Half-marathon was not a typo!) That flip happened because of Dane.
"Dane became my mentor, my coach, and my friend. Together we fulfilled my dream of being an athlete." Mary fondly refers to her newfound affliction as "adult-onset athlete syndrome." Throughout Mary's conditioning, indoor cycling played a vital role in reaching her goals. While Coach Boyle was the first to get her on the bike, he is also quick to note, "Four years later, I'm no longer the ONLY instructor she likes to ride with! That shows her progress towards health."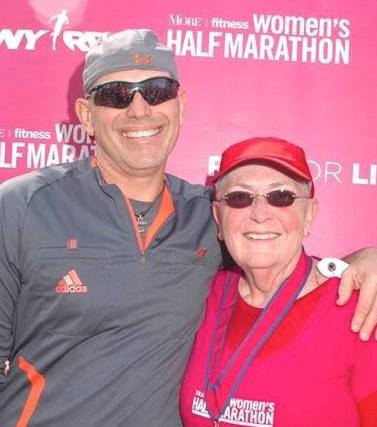 You can read more about Dane's journey with Mary in this article.
Coaches who flip help others step outside of their routine ways of thinking long enough to take a completely new look at their lives. This is the gift that Coach Boyle gives each of his students. No matter the size of the class, he has a way of attending to each individual in the room and making them feel special, while also creating a sense of togetherness.
Just this week, our seasonal attendance disorder began to kick in at the club where I teach in Omaha. There was about 50% fewer than normal. I caught myself wanting to ask the class, "Where is everybody? We were full Monday night! Where did they go?" (Ah, I used to be popular!!!) In a flash my thoughts were drawn to Coach Boyle's words. The "market segment of one" was right in front of me. She's been sitting there as a student of mine for years. I know her story—she's seven months pregnant. And I know how much more complicated it is about to become  as she handles this pregnancy alone. My focus flipped from worrying about who wasn't there to who was there and who needed me. I realized that I was there to be an anchor for her. In the process of focusing on her, I remembered the other individual stories around me, and it brought my investment back to those present. It turned out to be a particularly gratifying class, and I want to thank Coach Boyle for reminding me that my focus as a coach is always on those we serve.
Rarely is there a quick fix to a flip—physical or mental. And surely there will be surprises along the way. But just as in real estate—to gain the greatest investment when flipping a client or rider, it takes time, resources, patience, sacrifice, sweat equity, and good communication. But the new value of what is created far surpasses the investment.
Just ask Mary.*
Now Dane and Mary, on to writing your New York Times Bestseller! ICA is committed to your journey, just as you have graciously supported our endeavors for so many years.
---
*Visit www.examiner.com/article/women-run-the-world to catch a glimpse of Mary's fantastic journey.
You can connect with Dane at www.daneboyle.com or on Facebook at https://www.facebook.com/daneboylefitness