I will be at Off Road DC Cycling Studio in Washington, DC (Capitol Hill location), the weekend of April 6–8 doing some videos and riding for part of the studio's annual Quest for Knighthood Challenge.
On Friday, April 6, I'll be leading a workshop and master class on how to create successful theme rides for your classes. I hope if you're not too far away, you'll come join me, either for the Friday night workshop and master class and/or the Quest for Knighthood on Sunday (see below for more information on the latter). 
Friday night is going to be fun! You'll leave with loads of new ideas for creating exciting theme rides that your riders will be clamoring to get into! Then we'll ride to one of my own theme rides, filled with mental-strength music and inspirational coaching.
How to Create Successful Theme Rides for Your Indoor Cycling Classes
Theme rides in indoor cycling classes have become all the rage—and for good reason! When done well, they can be exciting, engaging, and add great variety to your classes. But when done poorly, they can backfire and cause your riders to roll their eyes and decide to skip your class when you announce it. In this workshop, you will learn how to be more successful with your theme rides and how to avoid the 5 things most instructors get wrong. You'll also get dozens of new ideas for creative themes as well as different ways to employ them. We'll then get on the bikes and experience an empowering theme ride called LIFE IS GOOD with Jennifer Sage.
The workshop is from 6 to 8 p.m. and is only $49. Click here to register.
NOTE: If you don't see the workshop, double check that you are in the events tab and the the LOCATION dropdown is set for Cap Hill and not U Street! 
After the workshop and ride, for those who are able to join us, we will walk to a nearby restaurant to grab some much deserved dinner!
Even if you don't normally teach theme rides, you will be sure to gain some excellent insights into putting together engaging rides.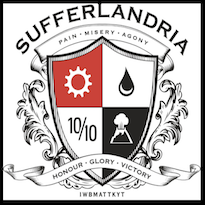 Quest for Knighthood
On Sunday, April 8, from 8 a.m. to 6 p.m., Off Road DC is holding their annual Quest for Knighthood Challenge using the Sufferfest videos. You can register here. I'll be riding for a few hours in the morning so I hope to see you there. (The registration for single drop-in videos will be open on April 1.)
Here's the scoop on what the quest is all about: