I want to introduce you to our new contributor at ICA, Noël Nocciolo. She has had a unique journey that is different from many of the other ICA writers. While she's now been teaching for almost a decade, her early experiences on a stationary bike were with some of the popular and successful studios that we've all heard about, that have been using questionable pedal speeds, techniques, and choreography. But thankfully, she discovered you can still "have fun" while riding correctly to great music. As you will soon see, "fun" is a big part of the indoor riding experience for Noël. She now works globally, training new instructors to lead effective, fun, music-driven rides and consulting with founders to realize their boutique studio cycling brands. In early 2017, she co-founded Rhythm Cycling Project and its RCP Lab, which distills key aspects of her studio trainings down to a one-day course, open to any instructor to attend and any facility to host.
Noël will be writing articles targeted at instructors who perhaps don't come from a cycling or fitness background and who sometimes struggle with staying true to themselves or meeting the desires of the uneducated public that wants to dance on the bike. Noël will show us that you can indeed please large groups with an entertaining experience that is both safe and effective; I think everyone will enjoy what she has to say!
Now, let's learn a little about her background.
---
I started riding a bike to nowhere in early 2007 while living in NYC. After about six months of being cajoled to come to an indoor cycling class, I finally joined a friend who worked behind the front desk for a class. The studio was in the rear lobby of a nondescript building on the Upper West Side of NYC. There was no sign; you either knew it was there or you did not. At one point, there was an illegally parked rickshaw on the sidewalk out in front of the building to advertise the studio, which racked up both disdain from the NYPD as well as a daily fine. I walked down a long hallway and into a tiny reception area; here there were lovely, welcoming people working the front desk, two humble changing rooms, no showers, and one toilet.
I became a regular. This was the beginning of the boutique gym phenomenon that would reach its fever pitch in NYC a few years later.
I wish I remembered the details of the class, knowing now what I did not know then, but what I do remember are the intangibles most studio owners wish to emulate; it was a top-notch experience from the moment I checked in to the moment I left. The instructor was twice my age, kind, accessible, and played the most fantastic music. We rode to the beat and it was awesome. I did not grow up riding a bike, nor did I grow up on a sports team. Instead, I took dance classes and worked in the theatre. I felt (and sometimes still do) like a fish out of water at a gym. I often say that I am a "class person," not a "gym person." One isn't more correct than the other, but one is me and the other is not.
When that instructor started a competitor studio downtown, I rode at both studios. I attended several boutique cycle classes weekly for about four years. In early 2011, I decided I needed a new day job and a general re-boot of what I was doing with myself professionally. I realized I was happier on a bike to nowhere than I was in other facets of my life. I was raised by two kinesiology majors who played collegiate sports and went on to coach high school teams. I spent a substantial portion of the 1980s watching my mom teach junior college aerobics classes as I did homework. I knew I could probably figure out how to teach an exercise class. "How hard could it be?" I naively thought.
I made the leap from rider to instructor and auditioned into teacher training at the studio where I had first stepped onto a stationary bike. At the time I believed working there was my dream job. I spent the better part of eight months taking an insane amount of weekly classes, attending training sessions, supporting my colleagues in their community rides, and teaching my first classes.
While undergoing my first studio instructor training, I was told I needed to attend a mainstream certification. I can only assume that they wanted us to attend this outside training day for business liability insurance, but I also think it may have been to show us an example of what they wanted us "not to do." I will never really know. Interestingly, they told me to feel free not to listen and absorb what was taught and also said I was sure to be bored. I would later learn that contrary to what I was told by my studio leaders, the science presented in this certification was not wrong. And to deny it would be like denying climate change.
At the end of the studio training program, I was the only person in my cohort who was not granted a job with the company. While I was incredibly upset at first, looking back with the gift of hindsight, it was the absolute best thing that could have ever happened, and I say this for several reasons.
The biggest reason? My physical health.
After riding in the style of this studio a few times a week for about four years, and subsequently riding about 10 classes a week for those final eight months of teacher training (yes, you read that correctly—it was eight months from audition to schedule)…my body hurt. A lot. Every day I woke up and my back would ache. I was 29 years old and something felt very wrong. Instead of ignoring it, instead of figuring that pain and discomfort were the same thing, I started to read and ask questions. I also decided to take another indoor cycling certification.
I attended the Schwinn certification with master trainer Rachel Vaziralli, who changed my life for the better. I began to slowly realize that the classes I was accustomed to attending and leading were not the only way to have fun and move rhythmically on a stationary bike.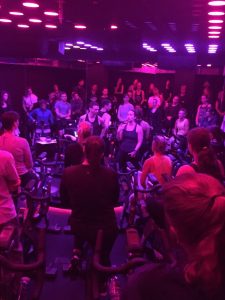 My own level of engagement in a class is always dependent on the music combined with the execution of the ride and the personality of the teacher. I will go with my teacher to the ends of the earth, be it in wattage drills, distance intervals, you name it…as long as the music is bangin' and used brilliantly, and the teacher makes me FEEL something beyond simply a burn in my legs. That comes with time, mentorship, and each teacher's drive to create an immersive experience, not simply give a basic class. I was lucky to connect with such a fantastically charismatic and knowledgeable mentor like Rachel. Had my experience been anything less than that, I wouldn't be sharing my story with you…because I would have moved on to something else entirely.
I spent the next two years running around New York City teaching full time, my schedule spread across several gyms and studios, experimenting, failing, succeeding, learning.
Thanks to my unique resume, it was by accident that I fell into training instructors to teach at some of the first international indoor cycling boutiques. I took my first project in early 2014, thinking it would be a one-time thing, and not knowing if I would do well at training teachers or even enjoy it. Teaching a great class and teaching others how to give a great class are certainly two different skills.  
I went on to work with eight boutiques, most of them long consults over many weeks to months, for three and a half years, during which I trained future indoor cycling instructors and worked with new studio owners on realizing their vision, building their brand, and creating their culture. It has not been without headaches, heartache, and the occasional feeling as though I am banging my head against a wall to truly be heard (it IS consulting, after all!) but it has been rewarding.
In early 2017, I co-founded Rhythm Cycling Project with a good friend and colleague who went through a similar experience at the same time I did with the other big NYC boutique brand. We put our heads, hearts, and resumes together and created RCP Lab. The Lab is a bridge training—picking up where the mainstream certification leaves off. It is an in-person opportunity for any new or veteran instructor or studio owner to put into practice what they've learned in a certification. Like ICA, I believe next-level education, feedback, tapping into personality and coaching, and creating a dynamic experience should be available to every instructor wanting to level up their presence and coaching in person…not just those in the major markets teaching classes people pay handsomely to take.
I've been bringing aspects of the NYC boutique experience with me wherever I go. I believe firmly that the ride journey many people wish to emulate globally has nothing to do with dancing on a bike and everything to do with creating a hospitality brand within the fitness space. I look forward to continuing to share my experiences and "life in the gray area" with instructors, wherever they may be. And I can't wait to connect with members of the ICA community!