Stage 19 is the second-to-last massive mountain Alpine stage of the 2019 Tour de France. If the GC (general classification) leader is only a couple of minutes ahead of his closest opponents, it could be an explosive stage. In this simulation of this stage, there will be an early breakaway but the "heads of state" will let them go because there is no one of importance in the break (in other words, they aren't close enough in time to the yellow jersey to be a threat). But rest assured—that doesn't mean the peloton won't hunt them down in the second half—get ready for some drama!
For the first part of the race, the focus is on the breakaway riders as they work together to maintain their lead. There is an intermediate sprint at the halfway point. After the sprint, the focus shifts to the peloton working its way forward to reel in the breakaway. The cues in this profile help you be the announcer in this race, keeping your riders on edge as they play the various roles in this very exciting stage.
Am I allowed to say how much I like this profile? (I am going to go ahead and answer and say YES!) The playlist is so much fun and perfectly simulates the profile of the race. Often in my TDF profiles, I will just do one segment of the stage in my classes, such as one major climb or a couple of the big climbs, but this playlist covers all 126.5 kilometers of this stage. I even created this image to show where each song comes in to the profile (the numbers correspond to the songs).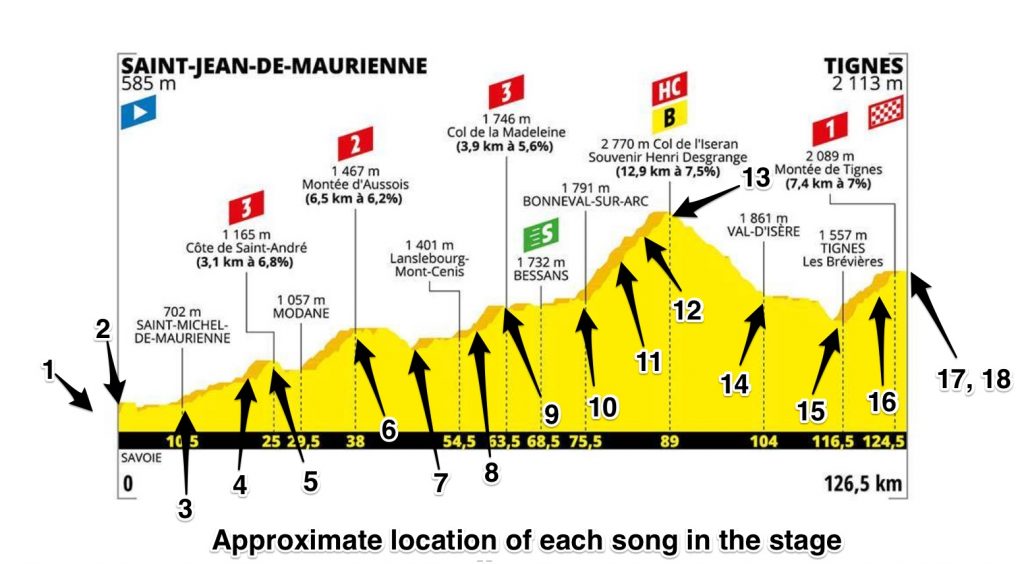 This race has it all: moderate climbs, long climbs, attacks, fast flats with pacelines, an intermediate sprint, more attacks, downhills, and a hard leg-burning and lung-busting push to the finish.
I listened to the playlist on an outdoor ride yesterday during a long climb and I have to say I am obsessed with it! I even hit replay to listen to the whole thing a second time. It includes French songs from many different genres (pop, dance, rock, alternative, hip-hop, and classic), along with four non-French songs, two of which will light up your pedals to the two major cols (summits). 
I can't wait to hear how you enjoyed this profile. Please let me know in the comments below.