As we usually do at ICA when a musical icon leaves us, we have created a playlist of what we feel are the best songs to use in a tribute ride in your indoor cycling class. 
Aretha Franklin has been ill for a while, and last week it was announced that she had been moved to hospice, so her passing wasn't unexpected—but it doesn't hurt or shock any less. She was too young to leave us at 76. She was the Queen of Soul and helped change music around the world since the 1960s. 
The best tribute I read this morning was in the New York Times—take a moment to read it and discover more about this iconic woman. "In a musical career of more than five decades, Aretha Franklin had more than 100 singles on the Billboard charts. But more important, says Jon Pareles, chief popular music critic for The New York Times, she freed other singers to let their voices fly."
Aretha performed at Barack Obama's inauguration in 2009 and at the White House in 2015. She and Obama had a very special bond, and his Tweet this morning was beautiful.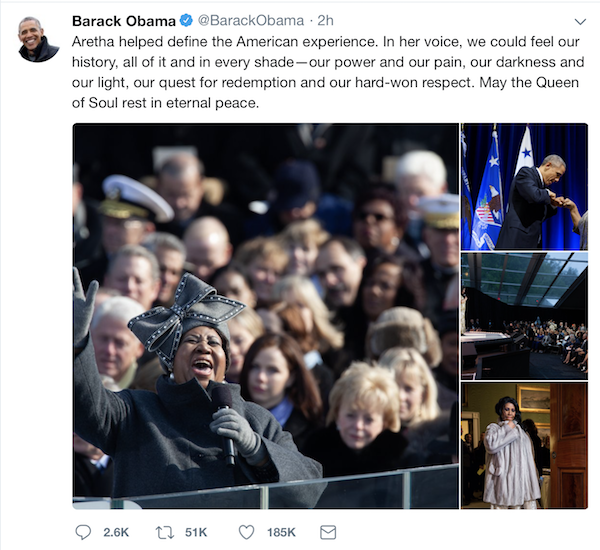 In this CNN tribute, Brandon Griggs calls the song "Respect" a "warning shot."
The song was actually written by Otis Redding, who had recorded it two years earlier. But Franklin reframed it from a female perspective and tweaked the lyrics, spelling out its title to underscore its defiant message. She also sang it like a house afire, infusing the song with an urgency that Redding's version lacked.
This was no coquettish plea by a doting housewife — this was a warning shot by a strong woman demanding better treatment from her man. Many observers think Franklin's tenacious vocals reflected her stormy marriage to first husband Ted White, from whom she separated a year later.
Here is a timeline of her achievements over five decades.
Aretha in the Cycling Studio
Don't be fooled into thinking there isn't enough energy in her music for cycling classes—I think you'll be surprised! 
If you are unsure about an entire playlist of only one artist in your classes (I rarely ever do that), a great way to employ Aretha's songs is to use them for warm-up, cool-down, and recoveries. As was the norm at the time that her earlier songs were released, there are many that are between 2 and 3 minutes, perfect for those short efforts where your goal is just to lower heart rate, drink water, and prepare for the next hard effort. Riding on the beat is less important. Her later songs are longer and work well for intervals, climbs, and warm-up and cool-down. 
Aretha and Covers
Aretha performed a lot of covers—many don't know that "Respect" was a cover of an Otis Redding minor hit. Slate calls it the greatest cover of all times. Your tribute ride will be more fun if you include some of her recognizable covers of other artists. You can find her top 20 covers in this article. 
Here is a Spotify playlist with 28 of our favorite tracks suitable for cycling class. You can do a search on Spotify to find many others.
Below are some of the tracks I find are best for indoor cycling classes and what to do to them. 
Sisters Are Doing it for Themselves (with Annie Lennox of The Eurythmics), 5:54, 137 bpm
I'll start with my favorite. This is a celebratory song, great for any profile but essential if you are doing a theme ride to honor women. It's a great moderate to hard climb; sit on the verse, stand on the chorus. Go ahead, ladies, pump your fist in the air when they sing, "Sisters are doing it for themselves"! 
Don't forget to stop everything at the end and say out loud, "Thank you, I'll get it myself."
Respect, 2:27, 115 bpm
What's an Aretha tribute ride without her most famous signature hit (even if it is a cover)? The bpm of this song makes it a little challenging in a cycling class. It would correspond to about 57 rpm, which isn't *too* slow considering it's a short song, so you can either do a slow, heavy climb, or just use it as a recovery and disassociate from the beat. 
Think, 2:19, 109 bpm
Like "Respect," this is one of her signature ballads that works very well as a recovery. You can also use it to surge the legs all the way to 110 rpm. I have used this track in Cupid is Stupid (anti-Valentine's) theme rides, focusing on the "freedom" in the lyrics.
The version in The Blues Brothers film is a little longer (3:15) and faster (it moves between 124 and 129 bpm), making it better for a climb.
Chain of Fools, 2:43, 117 bpm
Recovery or climb at 58 rpm.
Freeway of Love, 5:51, 126
In the 1980s, Aretha's R&B fit right in with the energy of the era. This song is a perfect example. Use it for a climb.
Rock Steady, 3:16, 106 bpm
Good for leg surges up to 106 rpm or for recovery. 
If you have video capability, you MUST use the Soul Train version because, well…that's pure 1970s! 
Jump To It, 6:41, 119 bpm
Such sweet rhythm in this track, perfect for a slow, moderate climb. If you're into jumps on a hill, go ahead and jump to the entire song, keeping them at 8-, 16-, or even longer at 32-count. 
Until You Come Back to Me, 3:27, 95 bpm
Fast flat, good for a second song to wake up the legs. Also good for a cool-down.
Day Dreaming, 4:01, 147 bpm
Here is your final cool-down and stretch, hands down.
A Change, 2:27, 90 bpm
This is a little-known song from the 1960s, but it's perfect for a cycling class! Great for a fast push at 90 rpm. Use it for a high-intensity interval.
Jumping Jack Flash, 5:05, 122
Aretha performed a lot of covers. This is one of her more well-known ones from the Rolling Stones. Medium climb; stand and push on the chorus: "It's all right now."
A Deeper Love (Sam Halabi Radio Remix), 2:48, 123 bpm
A great high-energy short climb. Use it for short intervals. 
Do you have an Aretha favorite we haven't posted? Let us know in the comments, especially remixes we might have missed!