The premise of this profile is to compare and contrast high-end steady state aerobic efforts with high-intensity anaerobic intervals. Both have benefits and should be part of every athlete's training regimen. They are both hard. However, one or the other may be more difficult for an individual, depending on their muscle composition. People who are genetically endowed with a higher percentage of slow-twitch muscle fibers will tend to perform better during longer bouts of high-end aerobic activity, while those oriented more toward HIIT will have more fast-twitch fibers. As an example, compare the bodies of a sprinter like Usain Bolt (fast-twitch) to a distance runner such as Meb Keflezighi (slow-twitch). In the cycling world, there are distinct groups. Mark Cavendish and Andre Greipel typify sprinters, while Chris Froome and Nairo Quintana are very strong climbers.
A simple explanation, which you can share with your class, is that there are basically two types of muscle fibers in every individual—slow-twitch (Type I) and fast-twitch (Type II). Slow-twitch muscles are packed with mitochondria using oxygenated blood and provide their own source of energy, so they can contract for an extended period of time. But, they are not able to generate a significant amount of force. That's best handled by fast-twitch muscle fibers, which are activated only when the force demands are greater than the slow-twitch fibers can meet. These muscles are much quicker to fatigue than slow-twitch.
We all have both types of muscle fibers, but the distribution can vary significantly with each person. Although trainable, with some limited ability to convert one muscle type to the other, an individual's body composition is heavily influenced by genetics. If you want to be a great endurance athlete, it helps to have parents with a preponderance of slow-twitch muscles. Conversely, if your goal is to be a sprinter, powerlifter, or physique competitor, you'll hope you have inherited a lot of fast-twitch muscles. Choose your parents wisely.  
Ride Inspiration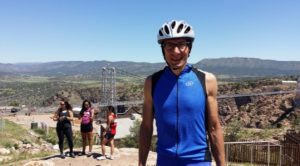 The inspiration for this profile was my own personal experience during the 2014 Ride the Rockies, a week-long organized ride through the mountains in Colorado. On the second to last day, I passed a former professional cyclist on a climb. Me, a skinny old guy with modest athletic accomplishments, climbed faster than Nelson Vails, who was a silver medalist in cycling in the Olympics.
The difference is our body types. (His arms are bigger than my legs!) Nelly excelled on the track, which is about speed and power. I can hold my own in the mountains since it requires long, steady climbs at threshold. My body is made up of predominantly slow-twitch muscle fibers, while Nelly's is primarily fast-twitch.   
This ride is based on my own personal experience. Instructors, you can use it as written, referring to me in the third person rather than the first person, or simply use it as a comparison between "Rider A" who is more slow-twitch and "Rider B" who is more fast-twitch.
---
Note: This is not the first time ICA has offered a profile highlighting the difference between the muscle fibers. Tom Scotto's brutal Betwitched profile is similar in concept, but he presents it in a very different way than Bill Pierce's practical application on the Ride the Rockies bike tour. 
Enjoy!