Here it is, an updated version of my popular British Invasion ride. I originally created this profile after the London Olympics in 2012 and have taught it many times over the last ten years. This theme will never, ever get old and has always been a big hit…but it was time to update this profile and present ICA Members with a much better and easier-to-use version.
(My original profiles were, dare I say…a bit wordy; 2012 was before I hired an editor to clean up my writing!) 😀 
In the new version, I retained many of the original songs but changed a few of them out. You can probably teach a version of this a few times a year, switching out a few songs to keep it fresh. I combined the two "invasions" in my profile (and included a few tracks from some of those artists that were released in the interim 1970s), but you might even decide to create two completely different profiles solely using songs from each decade. To help you do that, I've curated two bucket playlists below, one with songs from the first invasion (1960s) and one with songs from the second (1980s). 
I taught this profile twice in the past few weeks to two separate groups, both times to rave reviews. A few of my riders were even belting out "G-L-O-R-I-A" as we rode!
The original version of this profile (warts and all!) is available here. In the new version, I turned some of the artist and song information into optional fun trivia questions you can pose to your riders to make the ride even more engaging. 
Below is what this ride looks like visually as depicted on the Stages Studio software. Blue is Zone 1 (easy). Green is Zone 2 (somewhat easy), yellow is Zone 3 (moderate), orange is Zone 4 (threshold, hard), and red is Zone 5 (very hard). (There is no Zone 6 or Zone 7 in this profile.)
You can see how the work is laid out as longer, moderate intervals (yellow) with a few harder pushes (orange and a little red). The blue sprinkled throughout the middle of the ride is the recovery that is taken at the beginning of the flat road songs. As you'll see in the profile, you can invite your riders to extend that as needed.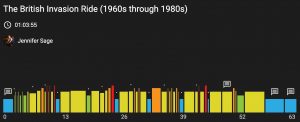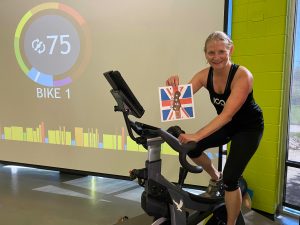 The new playlist and profile can be downloaded below, both as a Quick Profile and an Express Profile (Excel). Let me know what you think of this ride!
(Reminder…I also have a second profile created back in 2012 called the Modern British Invasion; I'll be updating that in the near future but the original still rocks!)