If you've been following me for a while, you're probably aware that, besides my love for cycling both indoors and outdoors, I have a soft spot for our feline friends. In fact, some might even go as far as to call me a crazy cat lady—a title I wear with pride. My social media feed is often flooded with adorable snapshots of my three fur-balls: Izzy and Gibby, who recently celebrated their 15th birthdays, and Maddie, the ever-playful and mischievous 7-year-old.
(My cats are named after Alpine mountain passes used in the Tour de France—but of course! Their full names are Izoard, Galibier, and Madeleine.)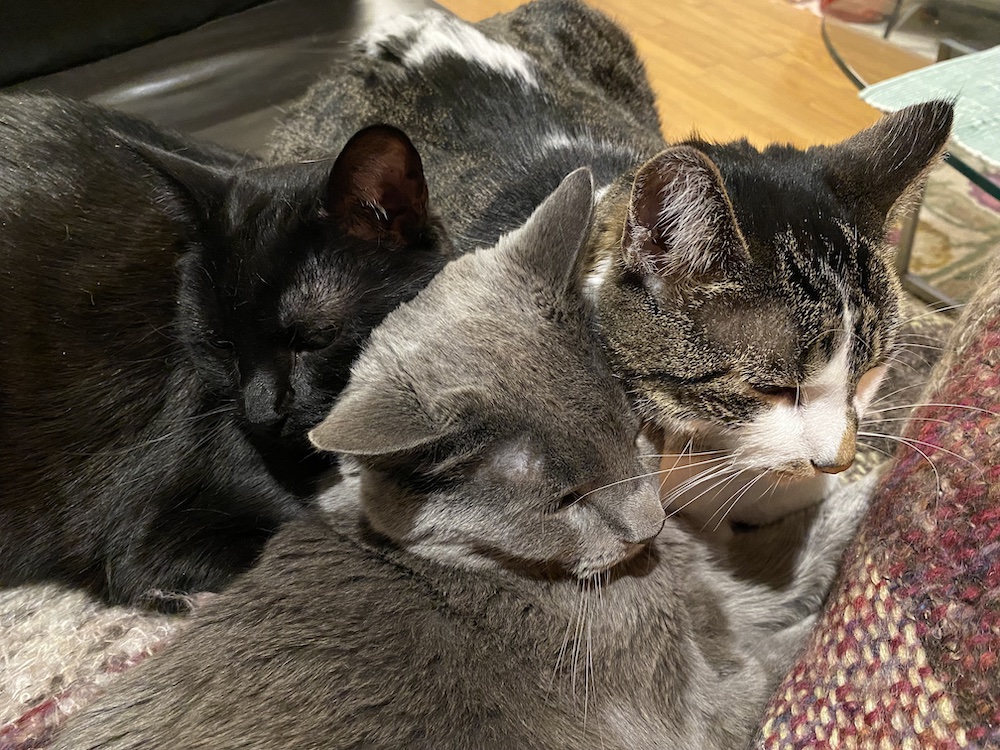 While I haven't yet dedicated an entire profile to my whiskered companions, I've occasionally spiced up my playlists with a song or two from a purr-fectly curated cat-themed playlist I've been nurturing for years. I once threw an impromptu cat-themed ride in honor of Izzy and Gibby's birthday (OK, it was just three songs, but my riders loved it!).
There are a few special dates on the calendar that are tailor-made for celebrating our furry pals. In the United States, National Cat Day pounces on the scene every October 29. This feline-focused holiday, established in 2005 to spotlight shelter cats in need of loving homes and boost adoption rates, has since gone global, being formally observed in at least seven countries.
You fellow cat lovers may also want to make sure to mark your calendar for next August 8, when International Cat Day graces us with its presence. Who knows—by then, I might have a full-fledged cat-themed cycling experience ready for you to enjoy. 
My cat bucket playlist below has 150 songs, including songs about wild cats such as lions, tigers, and leopards. If you're looking to spice up your indoor cycling class with a feline twist, this cat-themed playlist is the purr-fect way to do it. A few songs are serious, but many are just plain silly, perfect to use as pre- or post-class music or to throw in for a recovery track. 
Here are a few of my favorites from the bucket playlist:
Love Cats, The Cure, 3:40, 92 bpm 
This is one of the tracks I've played on my cats' birthday! It's a quick cadence that can be used at almost any intensity from a recovery, to a moderate tempo effort, to a harder interval.
Puddycat, Nadia Rose, 3:11, 102 bpm
I thought I saw a puddycat! What? Where? Over there!
Here kitty kitty, come hither!
Use as a recovery or a high-cadence interval. 
Pads, Paws and Claws, Elvis Costello, 2:54, 84 bpm
Did you know Elvis Costello is a cat lover? (He's actually got several songs about cats!) Use this for a seated effort between climbs or intervals. 
The Lion The Beast The Beat, Grace Potter and the Nocturnals, 5:26 160/135 bpm
This is such an awesome song and is one of those rare tracks that changes tempo; it transitions from a gentle 160 bpm (80 rpm) to a hard-driving climb at 1:40. You can use the first part of the song to recover from a previous effort or describe a flat road approaching a steep climb. Then add a boatload of resistance and climb at 68 rpm when the heavy beat kicks in.
I Got Cats, Mjhanks, 2:40 
This would be a fun pre-class song to your cat-themed ride, or for grins, use it as a recovery.
(The song tempo is not really applicable here!)

Remember, there's always room for a bit of humor and a dash of whimsy in your cycling classes. Why ride with just music when you can ride with paws-itively purr-fect tunes? Happy cycling, and may your cat-themed class be a paw-some success!
As usual, if I'm missing one of your favorite cat songs, let me know so I can add them!