My last post on ICA recounted some comments I received from my manager after she attended one of my classes (A Blow to Your Core). The moral of that story: feedback can be a gift, even if you perceive it as critical or an opportunity for growth. This time I'm sharing the true story of a member comment (sent to my manager, who shared them not only with me, but with our entire club) that not only brightened my day, but positively reinforced one of my strong coaching skills.
Here it is: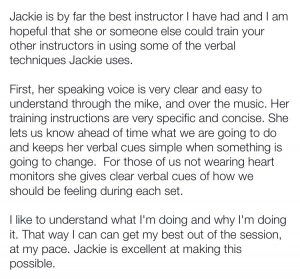 Yes, I do a lot to prepare for my classes. While the training plan and ride profiles are provided to us at my club, I spend hours making playlists. You do it too. As an ICA member, I read articles on physiology and innovative cueing. But there's one thing I do that I think makes a huge difference in my coaching. Any maybe you don't agree with its importance. Are you ready? Get in close to that screen, because here comes my secret:
I turn the music down while cueing.
*Mic drop*
Such a little thing.
In full transparency, I didn't realize how powerful this one little turn of the volume dial could be until I received this member's comments. But then suddenly I was so keenly aware of it. Has someone ever told you, "I love your class!" Undoubtedly it's awesome to hear. Hopefully they tell you why. My riders shared with me that by clearly hearing my cues, they are able to understand and perform the actions I'm describing. And this makes them feel productive.
Yes, music is critical to our indoor cycling classes and we want our participants to enjoy it. But just as critical for me: I want my riders to feel successful when they dismount their bikes. Success is achieved when we give them a goal and coach them toward It. They have to hear us to do that.
What do your riders notice about your cueing style, and what secrets can you share with us?