The final Grand Tour of the cycling season, this year's Vuelta a Espana is a leg-busting, lung-searing, mountainous adventure that winds primarily through Spain's northern mountains, then skirts the east for a few stages, finishing up in Madrid with an individual time trial. The route has 12 days of summit finishes, making this a race for the pure climbers. In fact, sprinters may be dropping off like flies, as they risk not making the cut-off times on some of the harder stages. 
Stage 17 is just one of those stages. 
This is the description of the stage on the Vuelta's website:
Following a rest day, we have a 177.5-kilometre stage with another high-altitude finish in the unprecedented Mas de la Costa, in Llucena. It is a short mountain pass, just 4km long, with an average inclination of 13% but with peaks of up to 22% that may cause serious problems for more than one. It will be a great innovation for the 2016 Vuelta. The race, true to its style, discovers yet another mountain pass that will, undoubtedly, become a global reference after its inclusion in this year's edition of the Spanish tour. The battle among the top classified riders will commence from the beginning of the climb and could put an end to the hopes and dreams of some of the favourites.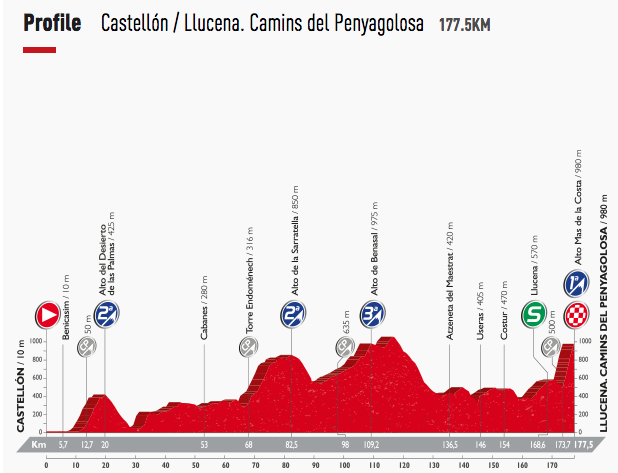 A Very Challenging Mountain Stage
In this profile, you will join the stage after about 50 kilometers, with some very short rollers to wake up the legs. Then you have two challenging climbs: a category 2 steeper climb to Alto de la Sarratella, followed by a longer category 3 climb to Alto de Benasal. After a long downhill, there are more rollers leading to the final vicious summit finish. This is the first time this particular summit has been used in the Vuelta, and at 22% in places (and 18%, 19%, and 20% in other segments!), it's going to be a climb to remember.
You will be encouraging your riders with shouts of "Venga! Venga!" as they attempt to climb this vicious mountain. This profile gives you plenty of encouragement, but also provides the coaching to caution your riders not to go overboard, and gives them an "out" if they don't want to push that hard. 
Spanish Music
When I do a stage of the Vuelta a Espana, I prefer to use music from Spanish artists. But pay attention…don't confuse all songs in Spanish with artists from Spain! You may not care, and you and your riders may not be able to tell the difference, but many of the big hit songs sung in Spanish (especially the ones we hear about in the USA) are from Latin America and not Spain. That's a world away from the Iberian Peninsula! Those with a sharp ear (and especially those who have been to Spain) will detect the distinctive Spanish accent.
If you enjoy this exciting profile, please leave a comment below. This will give you a taste of some of our Tour de France profiles.