Tom Petty left us today. The news hit me almost as hard as when we lost David Bowie in early 2016. Then Prince. A very talented artist and song writer, Petty's music spanned four decades and has filled my indoor cycling classes since my early days of teaching two decades ago.
But after I posted RIP TOM PETTY on social media, I saw reports that no, he hadn't died. This wasn't one of those fake deaths, like Betty White who has "died" in the Internet many times, was it?
Apparently the LA police department gave out incorrect news to CBS, which reported that he had died. But then it was retracted when his death couldn't be confirmed, although it was confirmed he had a coronary, was unresponsive, and was rushed to the hospital. Apparently, hours later, he eventually was taken off life support and yes, he finally "backed down."
After the back-and-forth in social media about his non-death, Twitter did what it (occasionally) does so well: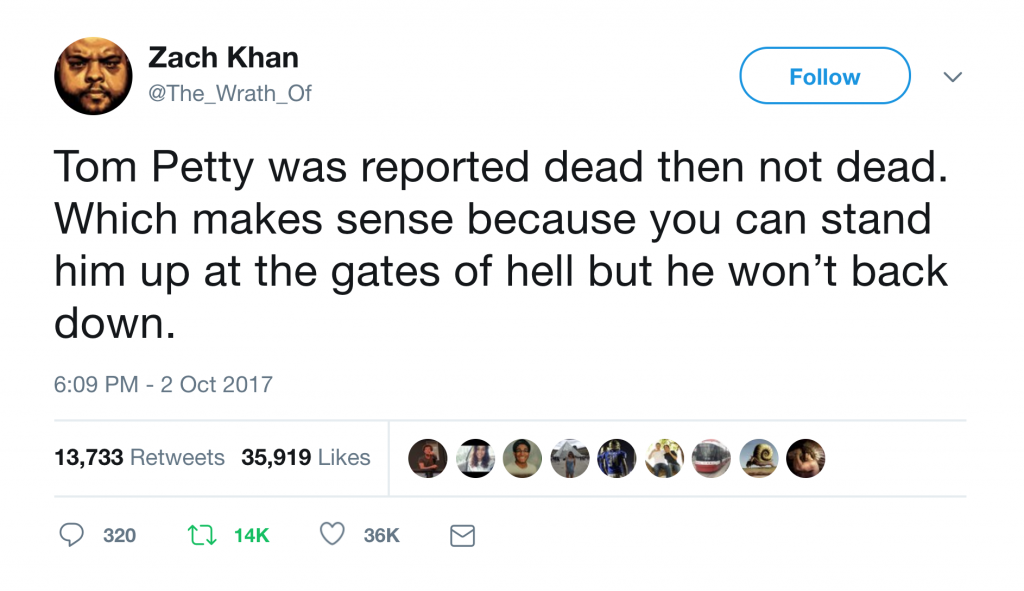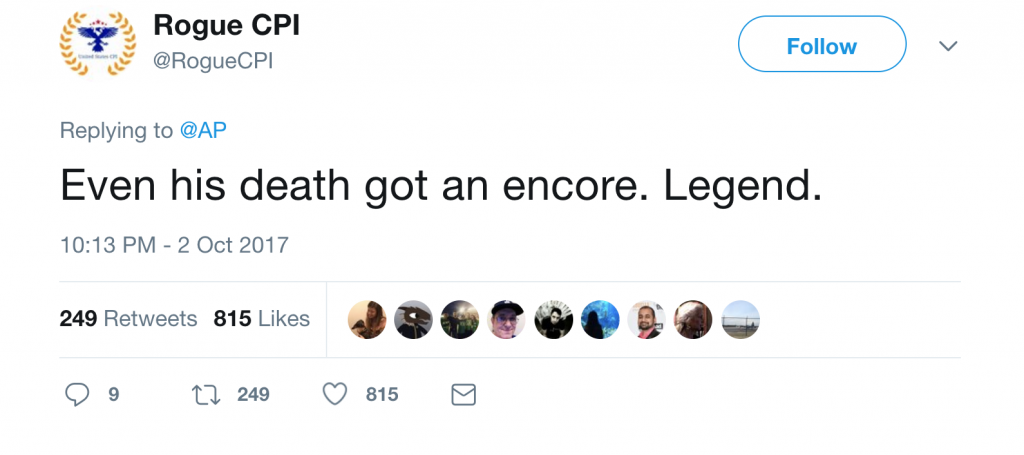 One reason why I love Tom Petty's music for indoor cycling is the variety his songs offered. So many artists' songs are similar to each other and fall into a narrow range of tempo. It's like their "signature" songs are always 130 to135 bpm, especially typical dance and pop artists.
But not Tom Petty. His songs cover just about every tempo and energy you could ask for, and many of them are characterized by his acoustic guitar. 
I've created this Spotify playlist for you with some of my favorite Tom Petty songs that I use in my cycling classes. I've outlined what I do with a select few below. If you've been a member of ICA for long, you've probably noticed many of these in my profiles over the years.
Breakdown
For many of us, the song "Breakdown" was our first introduction to this talented artist. For me, that was back in high school, where I remember slow dancing to this song (oh man, I'm dating myself!). It is 116 bpm, making it good for a very slow climb at 58 rpm (just be careful with your newbies so they don't put on too much resistance).
Wildflowers
My absolute favorite Tom Petty song is "Wildflowers." The acoustic guitar is fresh and bright, just like the lyrics. At 87 bpm/rpm, it is great for a somewhat chill flat road, and at just over 3 minutes, it can't be beat for a recovery or the second song of a warm-up. I've used it for cool-downs as well. Coincidentally, I just put out a profile a few weeks ago called 3-2-1 Intervals that has "Wildflowers" in it as recovery.
I Won't Back Down
This song is great for charity rides for illnesses like cancer that recognize struggle and determination. The bpm is a bit challenging at 114—too fast for most people and possibly too slow as a climb. I'd go for the latter at 57 rpm, but like "Breakdown" above, just be careful about too much resistance.
Well I know what's right,
I got just one life
In a world that keeps on pushin' me around
But I'll stand my ground
and I won't back down
Hey baby, there ain't no easy way out
Hey, I will stand my ground
And I won't back down
No, I won't back down
You Wreck Me
How can a song that begins with the lyrics "Tonight we ride!" not be included in your cycling class repertoire? Even better, it is a high-energy 82 bpm/rpm, a tempo that is often a challenge to find with consistent energy. For this reason, it finds its way into a lot of my interval rides (perfect at just over 3 minutes) and into Tour de France or other bicycle race simulations that need non-climbing, non-sprinting surges (or attacks) mid-way through the stage.
Cabin Down Below
You want to climb? Tom Petty tracks have everything you need. This classic is 124 bpm (62 rpm), helping you create a slow, hard hill at 62 rpm.
The Apartment Song
How about a faster climb at 143 bpm (~72 rpm)? This one will help you turn the pedals up that hill. 
I Need to Know
Amp that climb up to 154 bpm (77 rpm) now! 
Yer So Bad
At 90 bpm/rpm, you can enjoy this track in high-intensity intervals and field tests. If needed, just let the great lyrics distract you from your suffering.
A Mind With a Heart of Its Own
Not as well known as many of his other songs, but this one is so fun in Spinning classes. Do cadence surges up to 102 rpm.
Free Fallin'
The subject matter is sad and heartbreaking, but wow, what a great finishing song this is. It's perfect at 84 bpm/rpm.
I could do this all day—there are so many incredible Tom Petty songs. "American Girl," "A Higher Place," "Learning to Fly," "Even the Losers," "Refugee," "Don't Do Me Like That," and many more.
What is your favorite track? What do you do with it in class?