Riding in the aero position is a touchy subject in indoor cycling circles. In general it is a contraindicated position due to the fact that it is almost impossible to set a rider up in a position that is safe and effective, in which they can ride without discomfort or without reducing power output.
Because an indoor stationary bicycle does not flex or bend underneath the rider, the shoulders are locked down to the handlebars via the elbows. As the pelvis moves with the pedaling motion, this creates a shearing action at the vertebrae of the low back. (Note: This is minimized with the RealRyder bikes, which do move side to side. I wrote a review of the RealRyders here, including a discussion of riding aero.)
Riding aero also compresses the trunk, in a sense "squishing" the diaphragm and making it very difficult to breathe properly. You'll see below that this challenge with breathing is not as pronounced on a bike specifically designed for riding aero (a triathlon or time trial bike, which have an entirely different geometry than a road bike). Suffice it to say, an indoor bike is not designed to ride aero.
Nevertheless, some instructors love riding in this position, and use it regularly in their classes. Some riders haplessly follow, not sure why they are so uncomfortable. Others are attracted to it. Perhaps they feel they are mimicking expert cyclists?
It also does provide a temporary reprieve from sitting upright. It's probably that some people lean on their forearms because they have weak shoulders, and believe it gives them a break.
This article in Bicycling magazine called How Aero is Too Aero? gives undeniable proof that you should NOT be riding in the aero position in your indoor cycling classes. I strongly urge you to read the Bicycling article in full.
Here is an excerpt of the article that is important to indoor cycling instructors and riders (emphasis mine):
Aero is everything…until it's not. On a flat road, aerodynamic drag is your biggest obstacle. You use about 80 percent of your power output to overcome wind resistance when you're hammering down the road. Using aerobars and dropping your torso toward your top tube shrinks your frontal surface area, making it easier to slip through the wind and go faster. But as a new study points out, there's a point of diminishing returns, because it's harder to take full deep breaths and to push the pedals to produce maximum power when you're all hunched over.

To show how dramatic an impact extreme aero positions can have on power output, a team of British researchers had 19 trained cyclists perform a series of power tests, starting at a 24-degree torso angle and dropping incrementally to zero (or as close as possible; not everyone could get that low). Every performance parameter tested, including efficiency, heart rate, cadence, V02 max, and peak power output worsened as the torso angle dropped. Power output fell 14 percent—51 watts—from the highest position to the lowest. Of course, the cyclists' frontal area was also reduced (by up to 14 percent) as they got lower. So the riders would be more aero in real-world conditions. However, the researchers concluded the lowest position hindered performance so much that it should be avoided even by trained competitive cyclists. For the other positions, it's a trade-off between how many watts you lose to impaired performance versus how many you gain in aerodynamic advantage.
Let me repeat that last highlighted line (this time bolded AND italicized and larger font for maximum emphasis!)…
Every performance parameter test, including efficiency, heart rate, cadence, VO2 max, and peak power output worsened as the torso angle dropped.
Did you get that? When you ride aero, and you aren't getting any positive benefits back in return (like faster speeds that you might get if you were outside), then it only serves to reduce your effectiveness in every single way! There is no tradeoff indoors; you don't get anything back for the performance you've lost by riding on your elbows.
These are elite riders they are testing. Riders who are fit and efficient, and likely more flexible than the average fitness enthusiast in a standard indoor cycling class. These riders can comfortably ride with their torso dropped pretty low (and even then they described how some were unable to get as low as others).
Now let's go inside to a typical cycling or Spinning class. Imagine the reduction in power output, and the negative influence on these other metrics with our typical audience! They are going to be negatively affected by a much greater percentage than elite riders. By having (or allowing) your students ride aero, you are assuring that they produce less power than they would if they were not crunched over the tops of their bikes. And as you should realize by now, producing less power means burning fewer calories per class, and taking longer to reach weight loss or performance goals.
Also, our typical riders with less-than-perfect form are not going to be able to maintain good position on the bike when in the aero position, aggravating an already negative situation. Too many of them cannot sit properly on the bike while sitting up, much less hyper-flexed forward; their pelvises are often tipped back instead of forward, creating a large amount of stress at the rounded low back. This is exacerbated when they are urged to drop their torsos even more in an aero position. Throw in poor hamstring flexibility (forcing the knees outward) and you've got a recipe for potential disaster (or at the very least, a recipe for uncomfortable and ineffective pedaling).
Some of the more experienced riders in your class may decide to ride aero because they feel they need (or want) to get used to the position for their outdoor bikes. Following is some ammunition that you can consider telling them (though admittedly they are not always the easiest and most receptive folks to talk to!).
The geometry of an indoor bike is similar to a road bike, which is a different geometry than triathlon or time trial bikes. The latter is designed for riding in an aero position. These bikes have a steeper seat tube (the tube that the saddle attaches to) than a road bike. This rotates them forward, positioning their hips more over the bottom bracket and closer to the handlebars, allowing them to rest their elbows on the aerobar pads and keep their shoulders directly over the elbow. It also opens up the hip angle, so they are less compressed in the cockpit (the area between the saddle and the handlebars, including their hips, shoulders, and hand position on the bars).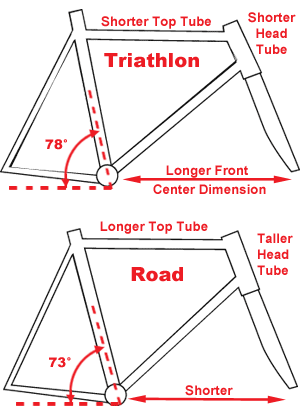 Even if they do not ride a triathlon bike and instead put aero bars on their road bike (not usually recommended, but many do it since buying two different bikes can get really expensive), it's still not anywhere close to their bike setup outdoors.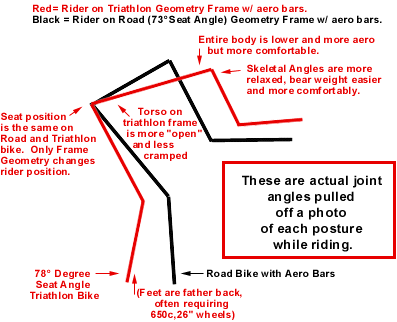 In order to prepare to ride aero on their road bikes, they need to ride aero on their road bikes! I once asked Joe Friel about this (the author of The Cyclist's Training Bible and The Triathlete's Training Bible) and he was adamant: "I would never permit any of the riders I coach to ride a bike in the aero position that wasn't their precise setup."
This Bicycling magazine article confirms that riding aero indoors is not a good idea solely because you are virtually assured that your metrics (power, HR, etc.) will be negatively impacted. But you won't have any positive gains through increased speed, because you aren't going anywhere indoors!