As we approach summer and its increasing temperatures, we're reminded of the Nelly song "Hot In Here." While we're not encouraging students to take off their clothes in class like Nelly suggests, we are suggesting that instructors keep the AC or the fans running. This article, originally posted in 2013, describes the dangers associated with teaching an indoor cycling class without air-conditioning or fans. This is a serious subject. Some instructors still buy into that "macho" image of "sweat until you drop" without understanding the dangers. This article provides the ACSM guidelines as well as the physiology of thermoregulation.
---
An ICA member asked what I thought about an instructor he knew who teaches without air-conditioning or fans in her Spinning class and asked about the potential dangers for the students. 
I know of an instructor who likes to teach her Spinning class without air-conditioning. Could you explain the danger as well as the health issues that this could bring to the class?
This is an excellent question. Every instructor should be aware of the guidelines for temperature and ventilation in an indoor cycling room and should understand the physiology of how the body regulates temperature and the potential dangers of excessive heat.
It's distressing to hear that any instructor would encourage working out without fans or air-conditioning. To this instructor, it is probably a hallmark of machismo to bear with the challenge of heat and excessive sweating, though it really is nothing more than ignorance and ego. This line of thinking is antiquated, backward, and potentially very dangerous. All you have to do is Google "exercising in the heat" and you will find thousands of articles that describe how dangerous it can be.
It's not uncommon for people to suffer heat-related illnesses, dizziness, or even cardiac arrest when their body temperature gets too high. While these are possible indoors, it is still fairly rare. More likely in an indoor cycling studio is the simple fact that heat will cause a reduction of exercise performance. Studies have found that mental and physical performance are adversely affected by heat and dehydration. This earlier onset of fatigue may be due to a thermal limit to exercise performance acting as a protection mechanism to prevent potential damage to the body by limiting further heat production1. Sensation of effort is increased and the individual feels like she is exercising harder than she actually is. It is clear that an instructor who denies students the benefits of cooler air and ventilation is actually impairing the students' workout. This is despite the fact that they may sweat more and feel greater fatigue.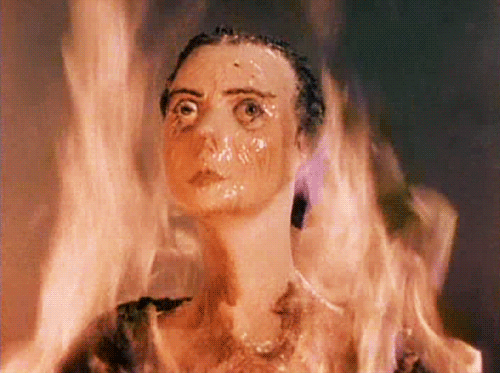 Physiology: How the body regulates heat
Body temperature is automatically regulated through a process called thermoregulation. Our bodies are able to balance heat production and heat loss to keep a relatively stable body temp of 98.6°F/37°C. When we exercise, the body temp rises. Our bodies convert chemical energy from food into mechanical energy (which is what allows us to move) but 25% of this energy is lost to heat. The higher the intensity of the workout, the higher the body temperature becomes.
Exercising in average conditions (indoors or out) allows the body to adjust to the increase in body temperature. But, as the external temp increases, the body cannot radiate heat from the surface of the skin as effectively. If the ambient temperature exceeds 98 degrees, there can be a net gain in heat from the environment, potentially raising the body temp even more2. 
Our body's cooling mechanism is the ability to sweat—millions of sweat glands on the surface of the skin secrete liquid (H2O) which evaporates into a gas form. This process of evaporation lowers the temperature of the skin which, in turn, cools the blood and ultimately the body.
As the body releases fluids through the skin via sweat, it can quickly reduce blood volume due to fluid loss. A lower blood volume requires that the heart pump even faster to deliver the blood to the working muscles, which in turn increases body temperature. This vicious cycle may lead to serious dehydration and is a very risky situation if the body isn't hydrated and cooled down quickly.
Extremely warm and humid temperatures can quickly overwhelm your body's cooling system—particularly when the air is not circulating, as is the case in many studios with inadequate ventilation.
The heat index is an even more important metric to look at than just the ambient temperature.
Heat Index
The National Oceanic Atmospheric Administration (NOAA) developed a Heat Index Chart3 to provide guidance about exercising in the heat. The heat index was created to gauge what air temperature and relative humidity "feel like" to the human body. A heat index of 105, for example, means that the environment "feels like" 105 degrees, even when the ambient temperature is only 90, 95, or 100 degrees. As humidity increases, the heat index increases. The body cannot cool itself as effectively at higher humidity levels because evaporative sweat is less efficient.
"Caution" should be used when exercising in 80°F heat index and above; "extreme caution" when 91°F and above; it is "dangerous" when 104°F and above; and you put yourself in "extreme danger" when 124°F and above.
A cycling studio that approaches 85°F (30°C) with a humidity of 70% will translate to a heat index of 92 degrees. According to the Heat Index Chart, "extreme caution" must be taken when exercising at this temperature, and heat cramps and heat exhaustion are possible. A crowded cycling room without fans or AC and filled with warm bodies can easily reach into the mid-80s or -90s, even if the outside air is much cooler.
ACSM facility guidelines
The following are the ACSM guidelines for temperature and ventilation provided for health and fitness facilities.4
Facilities should provide all physical activity spaces with sufficient air circulation and fresh makeup air (i.e., outside air) which will allow the facility to maintain air quality, room temperatures, and humidity at safe and comfortable levels during times of physical activity.

Air circulation is one of the most critical elements when designing and operating a health/fitness facility. When a room is filled with members and users exercising at a moderate to high intensity, the heat and humidity load increases dramatically. This can place an increased level of heat stress on the members and users and may result in dehydration, heat exhaustion, heatstroke, or (in rare instances) cardiovascular emergencies. In addition to the increased heat load that can result from improper air circulation, a risk of poor air quality exists than can expose members and users to airborne pathogens that can increase the risk of respiratory disorders or other airborne illnesses. Facilities can provide sufficient air circulation by taking into consideration the following factors:

* Maintain relative humidity at 60% or lower in all physical activity spaces. Ideally, a relative humidity level of 50% or lower is the desired goal, but maintaining levels below 60% is necessary.
* Maintain air temperature for all physical activity areas between 68 and 72 degrees F (20 and 23 degrees C). The key is to maintain these temperature ranges whether the room is empty or fully occupied by members and users who are engaging in moderate to vigorous physical activity. This guideline refers to the fact that the heating, ventilation, and air-conditioning (HVAC) system within the facility should have the capability to adjust airflow to meet the demands of each space.
The Spinning® and Indoor Cycling Studio
Mad Dogg Athletics and Spinning defers to the ACSM and ACE facility guidelines for temperature and ventilation of Spinning rooms. However, I feel that many indoor cycling rooms should be held at a temperature that is slightly lower than the 68–72 degrees F (20–23 degrees C) recommended by ACSM. In my role as a master instructor for Spinning for twelve years, I visited well over a hundred indoor cycling studios, and many of the studios are often smaller than the aerobics or other group fitness studios. Oftentimes they are an afterthought, especially in the older facilities, and are converted from a racquetball or squash court, which can mean there is insufficient ventilation. 
Intense indoor cycling sessions can raise the body temperature higher than many other forms of group exercise classes. Multiply that by 15, 20, or more participants and you can see how these smaller rooms packed to the maximum with sweaty bodies can become very hot and stuffy in a very short time. For this reason, a baseline temperature several degrees below the standard guidelines is warranted to allow for the expected increase once the class gets going.
Ample ventilation is extremely important. Providing fans is essential to the comfort and safety of students, although how many are available and where they are directed is a potential firestorm of discontent among students! (Another topic for another article!)
Summary
We are approaching late-summer right now (in the northern hemisphere, that is) and there have been record heat waves here in the US. It's still hot inside the cycling studio. However, it isn't only in the heat of summertime when one must be concerned about working out in a room that is too hot. Exercise studios, especially crowded Spinning or indoor cycling rooms, can get especially hot even in the middle of winter if there is improper ventilation and cooling. Therefore, this topic is not just for summer.
It is incumbent on the facility to provide an environment that is safe and comfortable for participants in regards to temperature and ventilation. Instructors who deny students air-conditioning or fans are putting their students at potentially serious risk while reducing the effectiveness of their workout.
Footnotes:
1. Exercise, Heat, Hydration, and the Brain. R.J. Maughan, S.M. Shirreffs, and P. Watson. Journal of the American College of Nutrition. October 2007.
2. Exercising in the Heat. Dr. Stephen D Ball, Ph.D., Nutrition and Exercise Physiology, University of Missouri Extension. Online article, http://missourifamilies.org/features/nutritionarticles/fit1.htm
3. National Weather Service, Online information on the heat index. 
4. ACSM Health/Fitness Facility Standards and Guidelines, ACSM (Human Kinetics, 2007), page 35
Resources
ACSM Health/Fitness Facility Standards and Guidelines, by Stephen J. Tharrett, Kyle J. McInnis, James A. Peterson, Human Kinetics, 2007, page 35
ACSM position stand on fluid replacement guidelines 
Are supporters of excess heat and sweat in yoga classes just full of hot air?  Dan Pitko, Elephant Journal, July 29, 2011. 
Exercising in the Heat. Dr. Stephen D Ball, Ph.D., Nutrition and Exercise Physiology, University of Missouri Extension. 
Exercise, Heat, Hydration, and the Brain. R.J. Maughan, S.M. Shirreffs and P. Watson. Journal of the American College of Nutrition. October 2007.
Foods, Nutrition and Sports Performance; C Willimas and J.T. Devlin, ed. (1994), pp 147-178