World Bike Day is June 3. Ride Your Bike to Work Day is June 28. We've got four bucket playlists of all things bicycle to create your own theme ride based on bikes or to pick and choose a few songs for certain playlists. Combine a few of these songs with your favorites to celebrate everything we love about indoor cycling classes—the joy, the challenge, the music, the camaraderie, the mind-body connection, our ability to set goals and overcome obstacles, and so much more!  
Our bicycle bucket playlist alone has over 130 tracks in it. Some are kind of silly, so you wouldn't use them for the main parts of your profile but rather use them as pre- or post-class music, warm-ups, recovery songs in between intervals, or during breaks if you are putting on a big event. And for an added laugh we've included a few bicycle bell sounds that you can play between tracks. A few are about motorcycles, but with the growing popularity of e-bikes, that line is getting blurry!  
When creating your bicycle-themed profile, you may want to include songs that are related to bicycling but may not necessarily have the word "bicycle" (or similar) in the lyrics. This is why we've added the additional bucket playlists for you to peruse on the themes of Ride, Mountain/Summit, and Miles/Distance/Speed. The four playlists together have a total of over 460 songs—you'll never run out of options!
Rather than you having to do all the heavy "listening," we thought we'd help you out by navigating some of them for you. As usual, if you've found a song we've missed in any of these categories, let us know in the comments. 
If you're looking for some classic rock artists, our bike playlist includes songs by Pink Floyd, Springsteen, the Pixies, and Queen. Looking for indie/alt-rock? The Decemberists and Vampire Weekend have got you covered.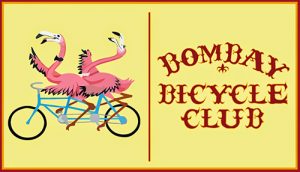 And if you want to stretch the theme a little bit, check out the band Bombay Bicycle Club, which is not included in our bike playlist. I tend to use them a lot in class. "Shuffle" is perfect for spin-ups. Or use "Revolution" by the Beatles.  
I can imagine greeting students and setting up to Early B. The Doctor's "Wheely Wheetie." (There's something about reggae music that sets my day off on the right foot.)
"Handlebars" by Flobots reminds me of the '90s band Cake. This songs starts off slow but quickly picks up for a hill at 71 rpm. It's very easy to climb to and you'll find yourself intrigued by the story Flobot tells. Ask your students to finish strong by adding some more resistance at 2:15 when the song's energy gets a little more aggressive.

"LDN" by Lily Allen is one of her less risque songs clocking in at 100 bpm. The track starts off with Lily riding through the city on her bike after she has her license taken away and follows the priceless sights she sees. (Note, the track on Spotify begins at 0:42 in this Youtube video.)