While the official start of summer may not be until June 21, we're feeling it now. The sun is shining, the days are longer, and the kids are counting down the number of days left in school. So grab your itsy-bitsy, teeny-weeny, yellow polka-dot bikini and some headphones and kick off your summer with not one, but three bucket playlists that will help you build a kicking' playlist for your celebratory theme ride..  
The first, School's Out, is perfect for celebrating the last day of school with classic hits like the one by Alice Cooper, to Pink Floyd's "Another Brick in the Wall."
We also have our Summer playlist that includes tracks that talk about sunshine, summer, or just those feel-good songs like "Happy" by Pharrell that make you feel, well, happy!
Our third bucket playlist is on the theme of vacations. As the Go-Go's sang, "Vacation, all I ever wanted. Vacation, had to get away." This is true for many of us, especially as the weather gets nicer and the countdown to school ending begins. Whether you spend your downtime alone, with a friend, or with family, you can use the vacation bucket playlist to jump-start your summer vacation countdown. 
Create two or three separate theme rides on these varied summer themes, or mix them together for your summer commencement ride. With so many goodies to choose from you might just be inspired to create a few week's worth profiles without repeating a single song!
No time to create a profile? We have two summer-themed profiles for you to choose from.
Karen created this profile called Jump in the Pool a few years ago, and it's been a big hit ever since.
From further back in our archives but still oh-so-fun, check out our Summer Surfin' Safari Interval Profile, chock-full of classic surf songs. (Don't be afraid to pull this one out again in the depths of winter when we're back to battling the polar vortex.) Here's some feedback from an instructor who used this profile: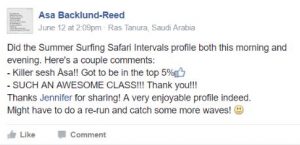 And now, "drums please…"