Wasn't that photo finish in today's stage in Nancy epic?
Ah, these three weeks in July are probably my favorite of the entire year! Few things get me more excited than the Tour de France, although admittedly, I find myself watching it mostly in recaps as I'm not so keen on getting up super early in the morning anymore to watch the entire stage! I happen to be in California at the moment for a family reunion and funeral, so it is even an hour earlier. I don't have television, but watch it on the NBC Tour Tracker app while simultaneously watching the play-by-play (pedal-by-pedal?) on Twitter. Since I follow almost two thousand cyclists, Twitter can be the greatest source of commentary, images, resources, and humor.
Here are a few of the fun things I've found over the past few days over social media and a few online searches. They can all add to your own TDF classes, by helping you make your classes and program more interesting with trivia or to spice up your coaching.
1. Daily Stage Recap Infographics. If you're on Twitter, follow this guy! @Hetiskoers creates a daily infographic recap of each stage which tells you where each major event took place. Here is the crash-filled timeline of the dangerous cobblestoned Stage 5. If you teach the stages after the fact, it will help you lay out where everything happened in your own narrative.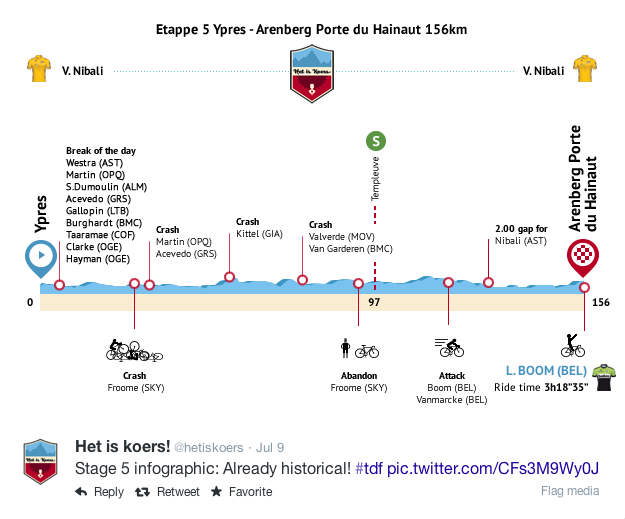 2. Post-Stage Analysis. Do you follow Chris Carmichael's CTS? Every year Carmichael gives some of the best post-stage analysis, and many times his words have ended up in my own profiles. Here is his analysis of Stage 5 over the cobblestones.
3. World War 1 Trivia. This year, the Tour de France pays homage to World War I. If you purchased the ICA TDF package, you know that I highlighted this in the text for Stage 5 that started in the Belgian village of Ypres. Stages 6 and 7 also rolled by famous battlefields dotted with endless white crosses. In this short video, James Startt remembers the battle of Verdun, one of the worst battles of the war with 700,000 casualties. As a humbling backdrop to your stages, show this video prior to teaching any of these three stages. Make sure to bookmark Bicycling magazine and check back daily for stage highlights and trivia.
4. More WWI Information. Here is another website connecting the Tour to WWI. Did you know the 1914 Tour de France ended on July 26, and World War I started two days later?
Irish writer Graham Healy describes what happened to those three and other cyclists in his richly detailed, well-researched new book, "The Shattered Peloton: The Devastating Effect of World War I on the Tour de France."
5. Have You Downloaded Your Top 7 Tips? Have you purchased the ICA Tour de France package yet? Can I ask you why not? If you teach any TDF stages, even if you fancy yourself an expert, we can help save you dozens of hours and impact your own teaching. Take it from Billy:
"Every year I look forward to the Tour de France. It provides a perfect platform to promote our indoor cycling program in a fresh, relevant program, as well as introduce many of our club members to the outdoor cycling world. But it is also a HUGE challenge to develop 8 to 10 ride profiles which coordinate with the Tour. So, this year, I decided to get help. And I'm happy to say, ICA did a fantastic job of doing my homework for me. Their "Lead the Tour" program provided me with route profiles, ride terrain descriptions, route history, music suggestions, team riding information, and more—essentially everything I needed to formulate outstanding, well presented rides. The purchase price of this resource was minimal compared to the hours I saved in research. I still spend a good amount of time preparing my personal profiles—but now my attention can be focused more specifically on the details of the race day, and how to bring those elements into the studio for my members to enjoy. This is an incredibly valuable resource for our indoor cycling community, provided by the fantastic contributors at ICA."
— Billy Coburn
6. YIKES! Is this not scary as heck, skidding at high speed in the rain? What bike handling skills! Good thing we can't do this indoors! 😉
7. More Highlights. Here is another excellent source for stage recaps.
8. Chris Froome is Not a Quitter! The cycling social media world blew up with accusations of "wimpiness" for abandoning Stage 5 even before the cobbles. However, MRIs later revealed a broken left wrist and a broken right hand. Can you imagine going over cobblestones with both hands in pain? It broke my heart to see him get into that team car; it was not a decision he took lightly. (Notice that his face also came into contact with the pavement.) Cyclists are some of the toughest athletes out there!