Jacque Wyatt is an instructor whose community is still reeling from a devastating hurricane less than three months ago in the panhandle of Florida. She recently shared a photo of herself teaching a class in her garage and reflected on the pain of their loss and the joy of being able to ride together again. I asked Jacque to share her story—it's one of resiliency and community.
---
I have been teaching indoor cycling for five years, and it is one of my greatest passions. I've had a strong relationship with my riders over the years and even have everyone's number so I can text them information about my classes.
After Hurricane Michael hit the panhandle of Florida on October 10, 2018, Panama City lost 90% of its businesses. Michael was the third-largest hurricane to hit the United States in 50 years. So many businesses here suffered severe damage, including Healthplex Fitness, where I teach my indoor cycling classes. All the other gyms in the area also suffered damages and are unable to open. That means the only facility left is Planet Fitness, which does not offer group classes. Many of you who teach group classes know that it is very important for many of our people to be in a group setting.  
After the hurricane, I contacted my supervisor and asked her if they were going to save the bikes. I told her I would try to buy them because I know how important it is for my riders to be able to continue this activity they love to do. One day I got a text asking me how many bikes I wanted, and the next thing I knew, I had 16 bikes in my garage! (11 new and 5 older Star Trac Spinners.) At the time, I wasn't exactly sure what I was going to do with them, and considered searching for a space to rent for a cycling studio.
After I got the bikes home, I discovered I was unable to find a place to lease at a reasonable cost because commercial space was so sparse due to the devastation brought by the hurricane. The extremely high lease rates meant I would have to charge far too much for gym memberships and require at least 500 people to sign up as members.     
The last cycling class I taught at Healthplex Fitness was October 9, the day before Hurricane Michael landed in Panama City. Two and a half months later, on the Tuesday before Christmas, I got on one of the bikes and rode for an hour in my garage. I found myself crying, realizing how much I miss teaching and being able to inspire people. In my grief, I had a revelation and later that same day, I texted my riders that live close by and asked if they wanted to come to a class in my garage. They all responded with a huge and emphatic YES!
I really did not expect this to happen so quickly but it was meant to be!
I then got to work cleaning the bikes to get them ready. At 8:00 the next morning, the participants all arrived with water bottles and towels in tow, so happy and grateful that I had decided to teach my classes, even if it was chilly in my garage! One woman who lost her house gave me a huge hug after class, thanking me for teaching because she really needed to do something productive after her devastating loss. This was something that finally made her feel good and in a place that she knows will help her survive this "new normal."     
Friday, December 21, was predicted to be windy and cold, but they still showed up early because they wanted to get one of the new bikes. My sweet daughter, who was home visiting for the holidays, took this photo of my class and posted it on her Facebook page.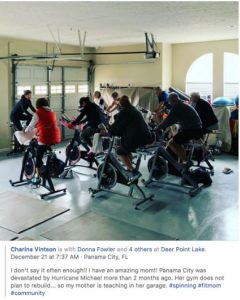 This picture was taken while warming up with our eyes closed, trying to forget the devastation we all had endured. During the warm-up, I explained my profile and began with "Silence…one thing we hated before, we now welcome into our lives…waking up every day hearing the chainsaws and the hammering of tarps on our roofs. Let's welcome the silence for once this hour; begin with a flat road and slowly progress into a hill."
I plan on teaching the same schedule that I used to teach at the gym: Mondays, Wednesdays, and Fridays at 8:30 a.m. and Tuesdays and Thursdays at 4 p.m., plus a senior class on Friday. At the moment, I am offering the classes at no charge but will begin charging a small fee next month. Since my daughter shared our story on Facebook and I've posted it on Instagram, the word has quickly spread. Many of my previous riders have expressed interest in coming to my classes in my garage.
As of this writing, it is now 71 days since Hurricane Michael touched down. According to the county, by the time they finish picking up the debris, they will have collected 44 years' worth of trash. Not to mention 2,000+ children are still homeless, and 20,000 people left because they lost their jobs and/or their homes. All the military personnel from nearby Tyndall Air Force Base are gone. Only those who are rebuilding the base are left.  
This is our story, this is my new normal. I share this story because it is real, it sucks, but it is good. Teaching again makes me feel good. Things will get better in time, but for now, I will be teaching in my garage until I find a place to locate a studio. I am hoping our gym will reopen, but since it is owned by the hospital they must focus first on rebuilding a 452-bed facility that was reduced to 75 beds. Doctors and nurses have lost their jobs.
I am honored to be able to help the citizens of Panama City during their recovery process. I am glad that coming to a cycling class gives them the opportunity to release and immerse themselves for an hour alone in class. One hour of sweating and burning calories is the best therapy there is.

Please, keep us in your thoughts and prayers.