Indoor cycling is among the safest and most effective forms of group exercise IF it is taught correctly using proper technique (i.e., no gimmicks). But injuries can, and do, happen. It is incumbent upon instructors and studios to reduce the risk of injury by adhering to best practices and exercise science principles.
Last week a lawsuit was filed in California by Carmen Farias, claiming that she was seriously injured while attending a SoulCycle class in July 2014. Unlike the majority of legal cases in the fitness industry, this one is not about equipment failure or poor maintenance; it is alleging negligence on the part of the instructor and studio. This is a case that every instructor, club manager, group fitness director, and studio owner should be watching closely.
Lawsuits do happen, but they rarely get the attention that this one is getting. Most of the time, they are settled behind closed doors and no one is allowed to discuss that it even happened, which is why you don't usually hear about them. Instructors and studios should do everything possible to ensure they aren't leaving themselves open for a legal challenge. The best way to do that is to follow industry best practices. Let's take a look at the details of this lawsuit, then examine ways to reduce your risk as an instructor or as a club or studio.
I had a couple of short e-mail exchanges with Carmen Farias last year so I know a little more about the case than is revealed in the online articles1. She had found the Indoor Cycling Association via Google searches for indoor cycling injuries and contacted me with some questions. It appears that she was seriously injured in a class that should not have had this kind of risk.
Consider these factors:
She had never taken a cycling class before.

This was a team-building class for her company and attendance was required.

She had not participated in any fitness classes for several years (in other words, she was pretty unfit).

She only had a very cursory setup on the bike.

They helped her clip her shoes in, but didn't tell her how to unclip.

She was not instructed about the brake and didn't know that you cannot simply stop pedaling (i.e., no coasting).

It was dark, the music was loud, and the instructor was screaming.

She was intimidated by the instructor and the class environment, and riders were allegedly mocked if they slowed down.

There was no way for her to raise her hand to ask a question or find out if the discomfort or pain was normal or if she could be doing something to make it better.

Allegedly, there were no verbal modifications given for less fit or new students; t

hey were told to go faster, and t

hey were told that "no one takes breaks."

The instructor did not see her fall off.
You can read the actual 40-page lawsuit posted in Club Industry magazine here. 
The Club Industry article says:
In this Farias' legs allegedly began to weaken during the session after a dumbbell exercise while on the bike. She attempted to stop pedaling, but the pedals on the SoulCycle flywheel-style bike continued to turn, according to the complaint. The instructor told riders "we don't take breaks," which caused embarrassment to Farias and a momentary attempt by her to pedal faster, according to the complaint.

Farias claims she did not know how to stop with her feet clipped in to the pedals with the cleated shoes provided by the studio. She allegedly was overcome with "fatigue and disorientation," fell off the bike and the momentum of the flywheel caused repeated dislocation of her left ankle with her feet locked into the pedals. Farias' injuries continue to cause her "great" pain and suffering, and she said that her injuries will result in some permanent disability, according to the complaint.
Three more articles about the suit can be found here, here, and here. 
As the comments in the articles can attest, many people cannot fathom how Carmen Farias could fall off a stationary bike. I assure you, it is possible. Throughout my twenty years as a master instructor I've heard numerous stories of riders falling off, including some that led to injury, and others that led to shame on the part of the rider and caused them never to return again. These incidents are often due to fatigue combined with high cadence. But if you add the fact that the flywheel is attached to the pedals, it's easy to see how it could happen with a new rider. Heck, I remember my very first time on a Spinning® bike back in 1996—I didn't know you couldn't stop pedaling, and felt a strong kick by the pedals when I tried to coast. Since I wasn't pedaling wildly, it was no more than a little jolt, but enough to wake me up.
I took a SoulCycle class last year (coincidentally at the same studio where this injury had happened), and at one point our instructor told everyone to pedal as fast as possible. She even got off her bike, stood in front of the class, and yelled, "Faster!" She suggested riders should turn the resistance knob all the way to the left—which means removing all the resistance—to allow them to pedal even faster.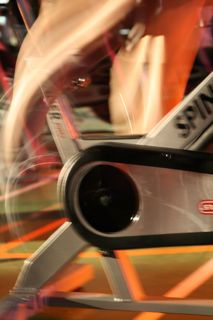 As I looked around the room, I noticed that many of the participants looked like they were about to fall off the bike. Legs were turning at 150 rpm, some even faster; butts were bouncing all over the saddles; spines looked like they were being jarred from the shaking. Pedaling this fast with no resistance is akin to trying to pedal a bicycle that has had the chain removed—the bike doesn't go anywhere (meaning power output is essentially zero), but the heart rate is driven very high, legs fatigue almost immediately, and almost no one can do this with control or good form. In my experience teaching Spinning and training instructors for two decades, I would never, ever allow anyone to pedal like that with such poor form.
I do not know what was going on in the class at the precise moment when Carmen Farias fell off the bike and dislocated her ankle. But, consider this hypothetical scenario: If an intimidated, unfit newbie to indoor cycling is yelled at to pedal at a very high cadence with very low resistance (which is known to be a common practice at these studios), it would be entirely conceivable that this rider could be overcome with fatigue and start bouncing around heavily in the saddle, causing her to lose control of the pedals. It's easy to see how she might react by trying to stop pedaling, not knowing that you cannot do that on these bikes. This person would quite literally be "bucked off" by the momentum of the high-speed pedals. Furthermore, at those pedal speeds, the fixed-gear, heavy flywheel would continue to turn with great momentum even with the rider's feet still attached to the pedals.
With this possible scenario in mind, it's easy to imagine an injury as bad as Carmen's.
While some will argue that the rider is personally responsible and that she signed a waiver, which should absolve the instructor and studio from any responsibility, I would argue that there are several best practices that, had they been employed, would have reduced the likelihood of an injury such as this.
The plaintiff is not wrong in assuming that there should have been instruction on how to use the shoes, on how to slow down or stop (i.e., use the brake in an emergency), or that she should have been given permission to take it at her own pace. She is correct in believing that the studio and the instructor should have the well-being of beginner riders in mind and not require them to push as hard as the experienced riders and give them permission to take it easy or sit out on an interval or challenging effort.
Let's all learn from this lawsuit moving forward. What follows is a list of thirteen industry best practices for indoor cycling instructors, clubs, and boutique studios—regardless of the bike or brand of program. By adhering to these practices, you can mitigate the chances of legal action. Not only that, these practices will also lead to happier participants who are more likely to meet their fitness goals and continue to come back, and who will tell their friends about your class or studio.
While most lawsuits in the fitness industry stem from equipment malfunction or poor maintenance, this list is not about equipment; it is about coaching and delivering the product of an indoor cycling class (of any brand) to paying customers.
13 Best Practices When Coaching Spinning or Indoor Cycling Classes
Clubs and studios should require that instructors have an updated, valid certification from one of the reputable certifying indoor cycling programs2 that offer ACE CECs for primary certifications. It should be at least a full day's certification and not a short, 4-hour training.
Have a handout available for first-time participants. It should tell them what to expect, what to wear, to bring a water bottle, and it should give them permission to take the class at their own pace and to take breaks as needed. It should explain basic technique and how to assess intensity. If you teach with heart rate, perceived exertion, and/or power, it should have a short explanation of how to use these metrics. If the studio provides cycling shoes, a diagram on how to clip in and out of the pedals should be included. This information should also be included on the studio website.
If at all possible, schedule a 30-minute

Introductory Cycling Class

at least once a month.
All instructors should be well versed in setting up riders correctly. Studios would be wise to have a goniometer available for more accurate setup. Instructors should be available for 5 to 10 minutes prior to class to help set up new riders. If you are a boutique studio that has assistants who set up new riders, they need excellent training as well. Far too many studios and instructors simply say to raise the saddle to your hip and slide the saddle to your elbow when your fingers are touching the stem of the handlebars. This is NOT a correct setup.
At the start of class, instructors should explain how the bikes and brakes work, encourage riders to work at their own pace, let them know they can choose to not work as hard as others, and remind them to hydrate frequently throughout the class. This is especially important in classes that have a frequent flow of new students. In classes with the same experienced participants, it's not necessary to explain the nuances of the bike every time, but riders should still be reminded to take responsibility for their effort, especially for higher-intensity classes.

As an example, this is the "safety speech" that new instructors are taught in the Spinning certification (printed with permission):

"Explain that the bikes have a fixed gear that does not allow coasting, with the resistance knob doubling as the brake. Demonstrate and explain that if riders need to stop for any reason they should press the knob/brake downward. Remind everyone to have water and a towel on hand and to be aware of their intensity. Describe your chosen intensity scale: heart rate percentage, rating of perceived exertion (RPE), etc. Remind riders to let you know if they need assistance during the class. If coaching off the bike, describe the techniques you will use so your riders are comfortable with you on the floor. Educate riders on the benefits of fully warming up and cooling down to encourage them to arrive on time and stay until the end."
Get to know your riders, their goals, their fears, and their limitations. Know their medical concerns. Find out the names of new students and help them feel welcome. Introduce new students to your regulars. When you do this, you create a community that values you, trusts you, and will keep coming back.
Instructors should always describe what the profile is going to be, and what intensity is expected. Modifications should always be given. It could be as simple as the following:

"After a 10-minute warm-up, we are going to do 6 sets of 3-minute high-intensity efforts just above your threshold, with 3-minute recoveries. While I will push you to give me your all during these intervals, only you will know if you need to sit a few of them out, or back off and ride easier today. There is never any shame in taking it easy when your body tells you to."

There are times when you observe that a new rider is not fit enough to work at higher intensities, or may be better off not even attempting to stand up. In these cases, the instructor should approach the  student in a welcoming way, turn off the mic, and suggest that they back off the effort or stay seated. Let them know you will be helping them throughout the class. Later, while the rest of the class is given a challenge, the instructor can approach the new rider and work with them one on one.
Excessively dark rooms can be dangerous. Low lights may add ambiance to the studio, but there should always be enough light so the instructor can see the face of every student clearly. If a rider appears in need of attention, the instructor should dismount, check in with the rider, and offer assistance, a quick form correction, or a word of encouragement.
Every instructor should be required to wear a mic. This ensures that instructions can be heard by every rider. There is no need to yell with a mic—instructors can speak in a normal tone of voice. Motivation through vocal inflection is fine, but outright screaming should be avoided. (Note: Microphones also help to preserve the vocal cords of an instructor, which should be covered by worker's compensation if injured from frequent yelling. This is a separate legal consideration.)
Adequate warm-up and cool-down should always be provided.
Music level should not exceed 85 decibels. (Per ACSM, ACE, AFAA.)
Never, ever intimidate riders. Coach them to understand the benefits of hard work and of pushing themselves, but also teach them to know their bodies well enough to know when to ease up. (See #7.)
Adhere to proper cycling techniques taught by the reputable indoor cycling programs. Cadence parameters should be 60 to 110 rpm for the general population, or 55 to 115 rpm for very strong, skilled, experienced riders.

 

Instructors should not teach techniques that are known to be contraindicated. This includes hovers, isolations, squats, tap-backs, push-ups, twists or other upper body contortions, crunches, usage of hand weights while riding, excessive cadence, and others.

If an injury occurs while a rider is performing any of these common but ineffective contraindicated techniques, and the injury leads to a lawsuit, there is enough available literature (as well as the manual of each program) that will show that these techniques are not taught or condoned by the vast majority of indoor cycling programs. A good lawyer may be able to prove that negligence has occurred. Do not take the risk of hurting your riders and harming your career or the studio's business by going against what your certification and common sense have taught you.
I hope this list of best practices proves helpful for instructors of all programs, and for studios and clubs around the world. For additional material on the safest and most effective methods for indoor cycling classes, read the e-book Keep it Real In Your Indoor Cycling Class. It has become the "bible" of thousands of instructors and studios around the world since 2008.  
You may also be interested in the following related articles on ICA:

Indoor Cycling Safety—Please Share (This article is an open letter to studios around the world, and has a list of numerous articles on safety at the end.)

Think Lawsuits Don't Happen in the Spinning Studio? Think Again.

The High-Cadence Disaster  
---
Notes:
I was not in any way consulted by Farias's lawyer about her claim, and never spoke with him. I did not hear back from her after our initial discussion when she told me what happened. In that e-mail exchange, I did give her my advice about best practices in cycling classes, which is essentially what I have written above. I e-mailed her after the lawsuit came out but was told she is unable to comment on the case.

Reputable indoor cycling certifications include Spinning, Schwinn, Stages Cycling, Keiser, RealRyder, C.O.R.E. Cycling, Indoor Cycling Group, and Keiser, among others.