Dear ICA,
I wanted to share with you a "Happy Birthday, Jules" cycle class that I had the privilege of teaching a few weeks ago at LA Fitness in Highland Park, IL. This ride (complete with balloons, banners, flowers & chocolate kisses) celebrated the 93rd birthday of a very beloved class member, Jules.
Jules was born in 1922…the same year as my own father (who passed away just before I became a certified cycling instructor eight years ago). From 1942 to 1946, Jules served as a WWII Army sergeant in the Pacific. After returning from service, Jules obtained a degree in Electronic Engineering and raised a family of three in the Chicago area. He now is a grandfather to eight. Some of his grandkids are local, but some live in Atlanta (which explains why I used a song called "Oh Atlanta" in the class).
Although he has always been very active with weight training and cardio, Jules started participating in indoor cycling classes at the age of 90! He looks wonderful and is an inspiration to every single class member. We had a packed class of 40 cyclists for the birthday celebration ride. I chose songs that reminded me of Jules and the last working song was "The Army Goes Rolling Along." In honor to Jules, we all clapped our hands to the march. Needless to say, there were tears in Jules' eyes (plus mine and many others!).
After every class, Jules gives me a hug and says, "You keep me vertical!"
The truth is…Jules is my hero and I am so honored to know him.
THANK YOU, JULES!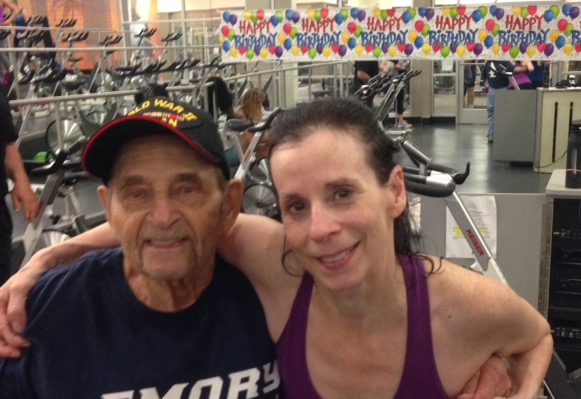 Playlist
Happy, Pharrell Williams
I Gotta Feeling, Black Eyed Peas
Sing, Sing, Sing, Benny Goodman
Birthday, The Beatles
Celebration, Kool & The Gang
Party, Boston
We're Having A Party, Rod Stewart
Oh Atlanta, Little Feat
One In A Million, Bosson
Beautiful Day, U2
Best Day of My Life, American Authors
Happy Feeling, Earth, Wind and Fire
Beautiful Life, Ace of Base
Army Goes Rolling Along, Clark Gault/Songs of the U.S. Armed Forces
You Are The Sunshine of My Life, Stevie Wonder
Thank You, Dido
My Next Thirty Years, Tim McGraw
Sincerely,
Carol King
Indoor Cycling Certified Instructor
AFAA Certified Group Exercise Instructor
NASM Certified Personal Trainer
NASM Corrective Exercise Specialist
AEA Certified Aquatics Instructor
MOSSA Group Power Instructor
Ph.D. Microbiology and Immunology