If you are one of those instructors who loves to bring the experience of riding outdoors to your indoor riders, now is the time to get them excited. Give them a taste of the Tour de France (TDF) and introduce them to some of the fun we enjoy during one of the greatest sporting events of all time. Here are some recommendations for learning TDF lingo, understanding strategy, visualizing the terrain and intensity, and connecting the experience of outdoor cycling to your indoor riders.
2015 marks the 102nd edition of the Tour de France (twitter: #TDF). It consists of twenty-one stages (days) of racing over three weeks. The riders will cover an astounding 3,360 kilometers (2,087 miles) which is even more amazing considering the speed at which they are traveling. Stages can average over 25 mph for 6+ hours of riding…Yikes! If you ride outside, you realize how hard that is.
I like to give my riders homework to get them excited about the Tour, even if they know nothing about bike racing. This will help them better understand how to ride during class. (And believe me, both Jennifer and I have had numerous non-cyclists who know zero about the Tour de France in our classes, and both of us can share stories of how we've converted them into fans and how excited they become about our Tour profiles!)
Here Are a Few of My Homework Assignments:
Watch just one complete stage of the TDF. (YouTube is OK for partial credit.)

Notice how riders stand (out of the saddle) and move their bikes back and forth when climbing. Let's imitate that! (This is when you teach your riders to compensate for lack of bike movement by subtly rocking side to side.)

Look at how balanced riders are between the handlebars and seat when they are standing. They are not leaning back over the seat or hanging forward over the bars.

Try to catch a glimpse of a rider's stomach from the side. Notice how it balloons out? One minute they look pregnant, and the next not. This is how our bellies should look during class—relaxed and moving in and out as we breathe.

Notice how relaxed they appear on the bike (shoulders, arms, and hands).

Watch how smooth their pedal stroke is. A gentle waving (ankling) movement where the heel of the foot is not dropped or forced down. Let's imitate that!
From Instructor to Exciting Race Announcer
Just listening to the voices of the Tour de France—the announcers, Phil Liggett and Paul Sherwen (here in North America; you may have other announcers where you live)—will give you enough knowledge of the race to fill a set of encyclopedias, but if you are craving more, I recommend the following:
Boy Racer: My Journey to Tour de France Record-Breaker (Book)
This is a great book that will not only get you to fall in love with Mark Cavendish, aka The Manx-Missile, from the Isle of Man, but will also teach you a great deal about the TDF. Mark not only mentions hundreds of aspects of the race, but takes the time to explain each one in laymen's terms. Get this book!
Chasing Legends (DVD)
This is a  two-DVD set that follows the team HTC Highroads through the TDF. You will get a unique perspective of what happens amongst the riders, in the team cars, and when the riders are off the bike.
ICA Tour de France Package

If you enjoy doing all the research and spending hours (and hours) pulling together profiles, the above will give you a running start. If you want access to a complete and meticulously organized TDF package including 6–7 stage profiles per year, playlists, inspiring cues, stories, and more, ICA has you covered. We teach you everything you need to know to lead exciting TDF stages in total confidence, so you sound like the expert! heck out our TDF packages and get ready to be blown away and very, very excited. Click here to download 20 FREE cues perfect for your profiles of Tour de France stages, and we'll let you know when our next TDF package is ready. 
You Don't Have to Wait Until the Tour!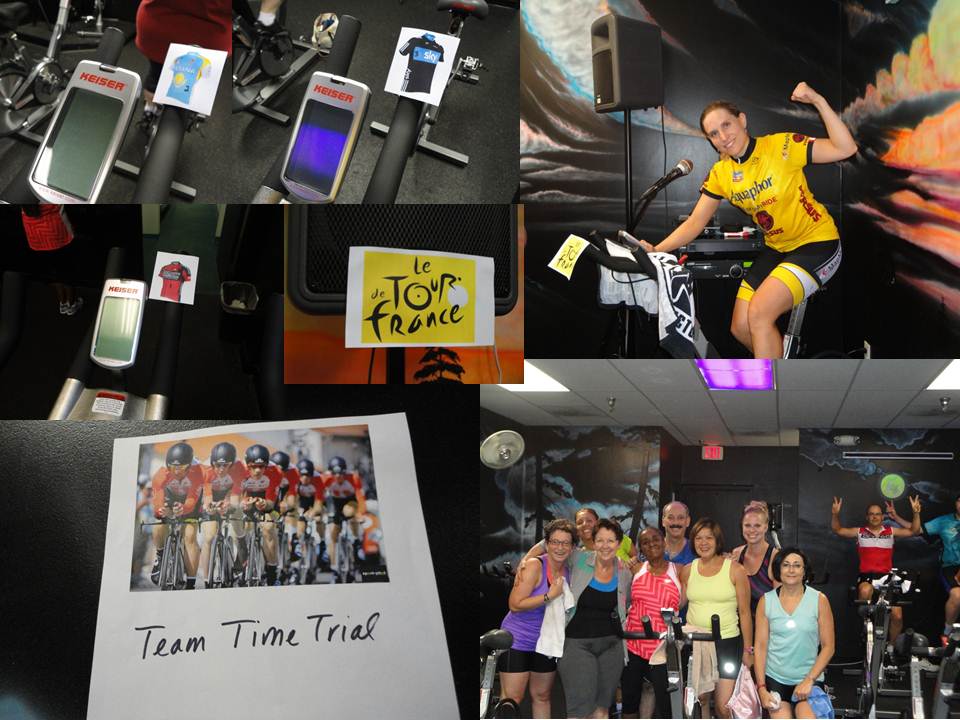 Teaching exciting stages of one of the three-week Grand Tours such as the Tour de France, the Giro d'Italia, the Vuelta d'Espana, or even one of the other shorter one-week stage races such as the Amgen Tour of California or the Tour Down Under does NOT have to be done at the same time as the actual race. Sure, it's really fun to put on a program at the same time, and we do recommend that, but these types of profiles can be used any time of the year in your classes. These profiles are plain and simple one of the most exciting ways to engage your classes. In fact, I recommend doing a Tour de France series for a few weeks in January as a way to introduce your classes to these types of profiles. Get them hooked when your classes are filled during the winter so that in the waning days of summer, you can attract them for the actual Tour in July! 
There is no greater time than the present to enjoy/learn about the Tour de France and share it with those in your classes. They will feed off your energy; if you are excited—they will be excited!
If you teach Tour de France (or Giro d'Italia or Vuelta d'Espana) stages in your classes, we would love to hear about your successes and strategies, and see your photos! Will you share them with us? Leave a comment below and/or send them to info@indoorcyclingassociation.com.