I am so thrilled to announce that we are reprinting the entire Power Training e-book written by Gene Nacey of Cycling Fusion here on the pages of the Indoor Cycling Association. We start tomorrow with chapter 1, which will define what power is and why it's important to both cyclists and the non-cyclist indoor cycling student. It also explains the benefit of training with power to instructors who faced with teaching on bikes with power. We will post an additional chapter about once per week.
Sally Edwards wrote the forward for Gene's book.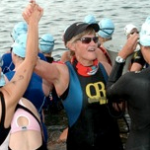 Forward to Gene Nacey's Power Training by Sally Edwards
First impressions are important – whether it is with your new power tool or a new friend. My first encounter with both Gene Nacey, the power training guy, and with my new outdoor, and subsequently my indoor power meter, prove that point.
Gene called me from his cell phone as in signature fashion; he was multi-tasking. Driving the film car in Maui, Hawaii, shooting the video for his first Global Ride DVD, while doing the business to launch his first indoor cycling studio. He was performing three tasks simultaneously. That is Gene Nacey's style. Our conversation then and still today launched with a positive disagreement – he was setting up a competitor's brand of indoor cycling (IC) program and had just purchased 30 brand spanking new studio bikes. He was very excited, talking a mile a minute about Global Ride. I suggested he had made a buying decision error, wasting tens of thousands of dollars on IC bikes and programming. He was undaunted. Fast forward one year later, and all of those bikes have been sold off and replaced with the latest in power meter IC bikes.
My first impression of a power meter met with the same fate. I was asked to meet with a company that manufactures both IC power meters and state-of-the-art, best of breed outdoor ones as well. As a cardiovascular expert and the creator of the first heart rate training, yes, the original heart rate training book, programs, health club certifications, school curriculum, and coaching programs, I was excited – a new tool. I love training tools and here was an opportunity to help them develop the same consumer successes that I had with heart rate, but for the indoor and outdoor world. Then they dropped the bomb, "power meters are better than heart rate monitors for training." That was the wrong thing to say to someone who has spent 20 years developing applications for cardiac monitoring. In fact, they are both valuable tools for improving performance and getting more fit.
Power training is just that – powerful. You need to discover that for yourself just like I did by getting on the power program with a power-meter equipped bike. Start riding and start discovering this amazing tool. It's exciting. It's fun. It's a new way to train and ride; for indoor and outdoor riders alike.
One of the best ways to get a true appreciation of this new tool is is to take one for a spin and just look at that one number – watts. It's a pure number – it's telling you how hard you are riding. Couple that experience with a read of this book, Cycling Fusions Power Training, The Power Training System for Indoor Cycling and you have combined a powerful tool with a practical approach to riding with watts. Gene's done a fabulous job of taking this tool and making it easy to use; with the power numbers easy to understand. Whether you are new to the indoor/outdoor scene, or you are like me, someone who rides both indoors and outdoors year round, this system will help you not only understand power, but improve your power generating ability as well.
Power Training is the first book to accomplish that goal. Everything else you read is focused for the outdoor rider but Gene knows that it is the combination of the two that builds fit cyclists. His unique approach targets specifically the IC rider as he shows you how the principals he uses inside, also work outside. Once reserved for only the elite cyclist, Gene has demystified training with power meters; distilling into a tool and a program the average recreational rider can easily understand.
He accomplishes this feat using an agnostic approach, inviting you to apply the information in this book to every manufacturers power meter on every power-meter equipped indoor bike. As long as you have the data from the power meter, you can follow his comprehensive system. You'll love the charts and the workout tools in the book; each providing a way to translate the numbers on an IC power-meter bike into something tangible and easy to use for both the IC instructor or for you, the rider.
Like many authors, Gene saved the best for last. When you do arrive at the end of the book, you get the frosting on the cake – 8 power training IC rides that help you get up and riding with your power meter without the frustration of having to figure it out for yourself or read technical cycle-speak.
If you are an outdoor cyclist riding indoors or you are a pure studio cyclist, this is the book for you, written by the "power training guy" and delivered to you in a way that anyone can follow. Get ready to experience power training the best way I know how, fusing the training and the tools of indoor and outdoor cycling together; to get the most out of every rpm and out of every watt of effort.
Sally Edwards, MA, MBA
1. Sally Edwards, MA, MBA is one of America 's leading experts in business, exercise science, and lifestyle living
2. Best-selling author with more than 20 books and 500 articles on health and fitness
3. Former professional triathlete – a 16-time Ironman finisher
4. Inducted into the Triathlon Hall of Fame, and the Ironman Hall of Fame
5. Past winner of the ultra-marathon, one hundred mile Western States Endurance Run
6. Set the standard for cardiovascular training (CVT) with The Heart Zones® Training system now used by Cycling Fusion®
7. Race Across America (RAAM) team winner