This may be one of my most favorite profiles. It was a blast to put together and a blast to teach. I used all rock 'n' roll songs for this profile—and my class loved it. While you can certainly use a rock 'n' roll ride any time of the year, it's especially fun to do it as a Rocktober ride in the month of October.
Fair warning about this profile…it is definitely a very challenging ride. The intervals are in Zone 5 and Zone 6, very hard to very, very hard…not for the faint-hearted. In the profile, I include a fair amount of cueing suggestions on how to give permission for riders to back off or sit one (or two or three) of the intervals out. 
It's called Three-Peat Intervals because you repeat each of the intervals three times in each set. That's your three-peat—rock 'n' roll version. 
Because some of you have power and some do not, I have provided two downloadable versions for coaching this profile. One is with power cues and the other is using solely perceived exertion for when you don't have power meters. The power-based profile is long-form with lots of cueing suggestions and more in-depth detail in the introduction. The RPE-based profile is our Quick Profile (shorter) format. I suggest that you download and read both of them even if you don't have power so you can expand your cueing; I believe you'll gain great coaching tips from each of them.
The power profile is presented as if riders are new to power and have not yet taken an FTP test (or haven't taken one recently). While zones are given for each segment, they are not provided as a target in the cueing. Instead, average power in the first interval of each set is used as a target to meet on subsequent reps.
Because of that, this power-based profile is perfect for those who are new to teaching with watts (but not new to working very hard). It will help you introduce your riders to their wattage potential and how their effort—as demonstrated in their average wattage for each interval—can increase when the duration of the interval decreases. It will also teach them to focus on their need to take a break if it's necessary. I think this is one of those things that is often left out when instructors coach HIIT classes—reminding riders to pay attention to the signs they should take a break and remembering that no one else cares or is judging if they do.
Of course, if you and your riders have already done FTP testing and have training zones, you will still enjoy teaching this profile. Simply cue the targeted zone for each effort and augment your coaching with the provided cues. Your riders will already know what their Zone 5 watts are; they will still be challenged to increase their average as the duration decreases.
Please let me know in the comments what you think of this profile. If you create your own playlist, we'd love to hear what songs you used. It could be fun if we had a version of this profile with all pop music, all retro music, all electronic, etc.! 
Would you like to ride this profile as a virtual ride with me? ICA members can find the video here.
Here is a promo I created in Canva in October 2020 for this ride: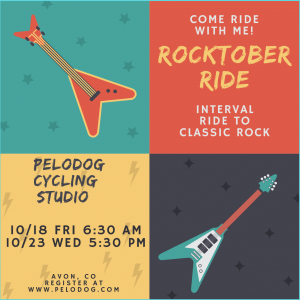 We also have another rock 'n roll ride in our archives that is good for Rocktober. It's called "Rock 'n' Roll Tempo Climbs," a profile with high-cadence hill repeats.