Riding "rollers" on a bicycle can be a thrill, especially when they are short and continuous. Because of this, they also translate very well into indoor cycling classes. But teaching rolling hills is more than just alternating a climb with a "downhill." To coach them in an authentic way, it's important to understand how a cyclist would approach them, how gravity will affect the speed of ascent, and how cyclists take the descent. Then you need to know how that can translate to a bike that doesn't go anywhere and has a fixed drivetrain that doesn't allow coasting. 
I have recently started teaching livestream virtual rides (it's 2021…I know, I'm a little late to the party!) and am planning a rolling hills ride. I created this promotion in Canva and when I posted it, an instructor ask me for tips on teaching rolling hills. They are such a fun way to add variety and challenge to your classes, so I thought I'd bring this popular article back from the archives (first posted November, 2017). If you missed it back then, I hope you get a lot out of this lesson in coaching rollers effectively and how to use the music to help define your terrain.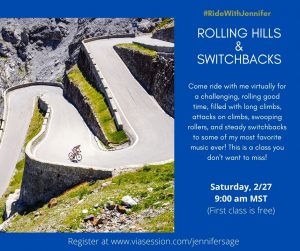 Let's dive into how to coach rolling hills in a way that will get your riders to ask for them by name!
Rolling hills are characterized by two or more successive short climbs interspersed with a downhill. There may or may not be a flat section between the climbs. The road simply follows the terrain of the countryside, and like any hill in the real world, rollers can vary in length and steepness. Sometimes, as in these images, there are many in a row and it feels kind of like a roller coaster!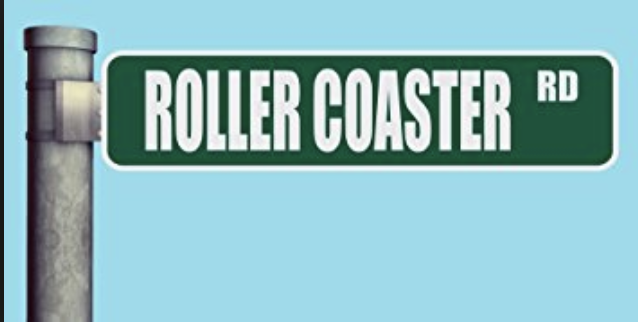 Before I discuss how to authentically put together these short climbing intervals indoors and how to use the music to help define your ascents and descents, let's discuss how they feel to an outdoor cyclist. We will start with the downhill first.


Homework!
Now, find one of your own favorite trance songs, listen to it with a pen and paper and note the timing of the breaks, the builds, the crescendos, and the releases to determine how you might turn it into rolling hills. Then practice riding it a few times. The tops of the climbs will always correspond to the crescendos of the songs, but where you add more resistance and where you stand may change every time you use this song in a profile as you allow yourself the freedom to be inspired by the music.
A few popular trance/dance artists to listen to are Tiesto, Armin van Buuren, Paul Oakenfold, Atmos, Paul van Dyke, and Hardwell. For longer tracks, look for the "club remixes" of their songs. 
There's More! In addition to the two songs above, I have three more favorite rolling hills songs, all of which are timeless classics. You can find all three, along with the timing of the ascents, attacks, and descents, in this Wednesday Timeless Classics.
Do you have a favorite song you like to use for rolling hills? Please let us know in the comments!