This morning, "Spotify Wrapped" was released. It's a collection of your most-played songs, artists, and genres on Spotify over the year. Since I play such a huge variety on genres and groups, I always look forward to seeing who comes out on top in my musical quiver. 
I've been doing a lot of playlists that include classic rock songs since I started teaching at a club in August. Our most loyal rider, Troy, who takes classes four to six times a week, is a passionate classic rock fan, so I try to include at least one or more rock songs in almost every playlist. In October, I did three different Rocktober rides. 
One constant you'll find in my classic rock playlists is Fleetwood Mac. In fact Spotify let me know this morning that they were my second-most-played group this year!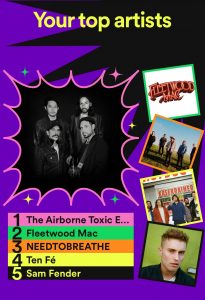 Only an hour after getting my Spotify Wrapped came the devastating news about Christine McVie's passing. 
I'm not gonna lie, this one hit me hard. Fleetwood Mac was a big part of my growing up. In the 1970s, we had a cat named Stevie, named after Stevie Nicks. I couldn't stop the tears from falling as I played some of my favorite Fleetwood Mac songs sung by McVie this morning. Only a few days ago, after adding Irene Cara (of Flashdance fame) to my RIP 2022 Tribute playlist, I was thinking there's one more month to 2022, please let there not be any more artists to have to add to this playlist! 
Alas, my wish was for naught.
Here are a few of the announcements posted on Twitter today.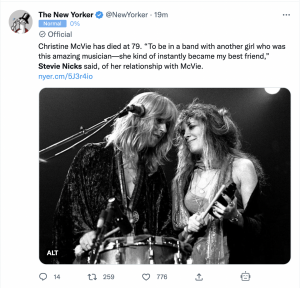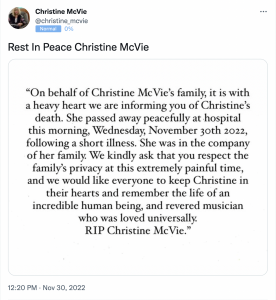 For you there will be no more crying,
For you the sun will be shining.
~Christine McVie, "Songbird"
During her time with Fleetwood Mac, Christine wrote some of the band's most beloved classics. You can be sure I'll be adding many of these to my class playlist tomorrow morning. (Note: Except for the most recently released song below, "Feel About You," I was unable to embed the songs from Spotify; I kept getting error messages—something tells me that is due to the sheer number of people around the world trying to do the same thing!)
Don't Stop, 3:13. 117 bpm. Climb.
Everywhere, 3:43, 116 bpm. Climb.
Over My Head, 3:34, 97 bpm. Warm-up, cool-down, easy flat.
You Make Loving Fun, 3:36, 126 bpm. Climb.
Little Lies, 3:38. 125 bpm. Climb.
Say You Love Me, 4:14, 129 bpm. Climb.
Think About Me, 2:44, 118 bpm. Climb.
Hold Me, 3:45, 125 bpm. Climb.
Songbird, 3:20. 92 bpm. Without question, make this your cool-down song! 
And finally, for something more recent…
Feel About You, 3:27. 124 bpm. Released in 2017 on a collaboration album with Lindsey Buckingham.
What is your favorite Christine McVie song?