With the holidays right around the corner, it's time to start planning our Christmas-themed class, right? Aren't all indoor cycling instructors spending the next few weeks listening to their favorite carols to decide which ones to use in class? Perhaps we've already begun mixing our favorite Christmas-themed playlists. Aren't we all thinking about how we're going to decorate the cycling room to create holiday cheer in our December classes?
Whether we're doing any of these activities certainly depends on our circumstances, our clientele, and the policies of the club or studio. In our increasingly multicultural society, we need to be sensitive to the possibility that our clients may not celebrate Christmas or even be Christian. I'm not; I'm Jewish. I have regulars who are Christian, Hindi, Jewish, and Muslim. And there are probably some agnostics and atheists pedaling right alongside them.
Like politics, religion is something that needs to be handled delicately when you've got a wide variety of participants. Does that mean that you shouldn't even acknowledge the holidays in your classes? No, as long as you're sensitive about it. Depending on your audience, you can use this as an opportunity to celebrate. The celebration could be the festive holiday season, the friendships that you've developed with your members, or even a thank you for a great year of participation. It shouldn't be a celebration of anything overtly religious, like the birth of Christ. That's best done in church, not the cycling room. (Unless you happen to work at a Christian facility, as I know some do.)
I've traditionally done a ride incorporating some of the secular aspects of the holidays at the end of each year. My "Ridin' for Rudolph and the Reindeer Holiday Profile" was published by ICA a few years ago. It includes the non-religious customs associated with the holidays, such as Santa, reindeer, and gifts. I use it to allow me to give gifts to my riders as a token of my appreciation for their support during the previous 12 months. Selfishly, it also is an opportunity for my riders to give me an end-of-year gift, which many have graciously done over the years.  As with all of my rides, there is a purpose, a profile which fits the purpose, and a playlist which complements the profile. In this case, the playlist consists of holiday songs, which are all non-religious (and non-traditional, since that's my style).
One of the enjoyable things about the holiday season is the music. There are so many songs that rejoice in the spirit without touching on religion. And I'm not talking about Christmas carols. Many popular artists have released holiday songs that are well suited for indoor cycling playlists, including Ariana Grande, The Beatles, Bruce Springsteen, and Mariah Carey. My tastes tend toward indie and alternative rock, so I've used songs by The Killers, Sufjan Stevens, and Julian Casablancas from The Strokes. All of these artists offer festive and fun songs that don't mention Jesus, the manger, Bethlehem, or any other religious items.
If you're thinking that it would be all right to play religious songs as long as you're inclusive and include everyone's religion, you should give that further consideration. What do you know about other religions? For example, did you know that Hanukkah is a minor Jewish holiday, made more important in western society because it coincides with Christmas? If you're considering playing that insipid Adam Sandler Hanukkah song, don't. It's terrible and I'd probably walk out of your class if I heard it. I might even punch you in the face for it on my way out. Since I know very little about the holiday of Diwali, it would be disingenuous (and probably insulting) if I played Bollywood music as part of my holiday playlist to placate my Hindi riders.
If you've come to the conclusion after reading this article that Bill the Grinch has stolen your Christmas, that's not the case. Ultimately, your name is on the schedule and it's your class. If you want to do a Christmas-themed class to end the year, go ahead and do it. If you know your demographics and feel that it won't be offensive to anyone to have a religious bent to your class, do it. Just be sensitive about it.
In my case, two of my locations are at gyms with mixed demographics. So, I will be providing my "Ridin' for Rudolph and the Reindeer Holiday Profile" for my riders. However, I start a new gig at the local Jewish Community Center in December. Although I don't yet know any of the members, I can assume that some of them may not appreciate even a secular holiday-themed ride, so I won't be doing "Ridin' for Rudolph…" there. Plus, it doesn't make sense for me to show my appreciation for the past year of support from riders that will only have ridden with me for a couple of weeks. I'm not sure what I'll do with my class at the JCC when I'm doing my secular holiday-themed ride with my other classes. I know one thing that I won't be doing. I won't be playing that stupid Adam Sandler Hannukah song. If I did, I'd end up walking out of my own class and punching myself in the face.
Happy Holidays!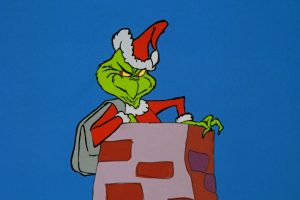 ---
While this originally posted in 2017, it's a timeless article that we like to recirculate around the holiday season.