Ukraine has long had an eclectic and vibrant music scene. Understandably, it's taking a big hit right now as Russian bombs continue to fall all over the country. But behind the scenes, bands, singers, and songwriters are continuing to put out material, much of which is to support the war efforts of their compatriots.
In this article in Pitchfork magazine, "musicians who just a few weeks ago were playing all-night sets and tending to their Bandcamp pages are now forced to fend for their very survival. Clubs are shuttered. Some musicians have fled the country; others are delivering food and medicine to besieged residents, working as shelter coordinators, and shouldering weapons on the front lines."
I'm not currently teaching, but if I were, I would put on a fundraiser for World Central Kitchen to raise money to support their efforts to feed refugees, even in cities that are at risk of being bombed. (See the end of this post for information about this amazing organization and how you can donate.) I have been collecting as many Ukrainian songs as I can find and wanted to share them with instructors around the world who may want to simply play a Ukrainian track or two in their classes in solidarity with the country, or for those who want to put on their own fundraising event and include Ukrainian artists.
Below is my playlist so far. Let me tell you how I collected these songs and give you some tips on finding even more great Ukrainian artists. To be sure, I'm no expert on Ukrainian music! Of course, if you know more about Ukrainian music, let me know in the comments. If I am missing some of the most famous musical artists, I want to know. Obviously, for my audience, I am (mostly) limiting this collection to tracks that would be good for a cycling class, though some might be better before or after a class.
Researching Ukrainian Music
To begin my search, I Googled "popular Ukrainian musical artists" and other similar terms, including by genre (see links at the end of this post for groups by genre). Then, once I found the group on Spotify and added the songs I thought would be good for cycling, I scrolled down to the segment in Spotify called "Fans also like" and "Appears on" to find similar artists.
One challenge with foreign alphabets is when the artist's name and/or song is written in the Ukrainian or Russian language (many of them speak Russian though they are native Ukrainians). You will notice many of the tracks in my playlist are not written in English…I can't very well type that on my keyboard when I find the song from a source outside of Spotify. What you do is copy the artist or song name on your phone or computer (highlight, then "Control C"), then paste it into the Spotify search bar to find them ("Control V"). If I find it via Shazam on my phone, I will then text or Airdrop the link to myself on my computer so I can better search for the track. 
Current events and social media also led me to some amazing tracks for this playlist.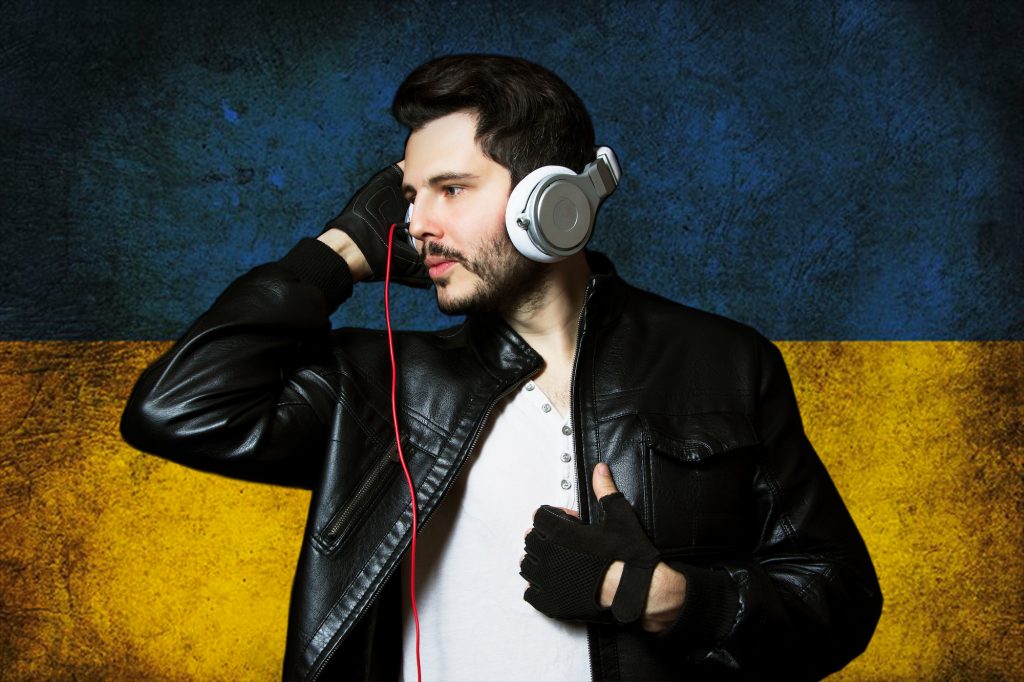 Eurovision
The world watched the Eurovision competition in Turin, Italy, last week as Ukraine handily won the iconic music event with a record amount of televotes (votes submitted by viewers). The winning song, "Stefania" by Kalush Orchestra, was written about the lead singer's mother but the song took on new meaning after the war broke out, with many replacing his mother with the metaphorical "mother Ukraine." Eurovision entries are not allowed to be political, and there is no mention of the war in the lyrics, but Kalush Orchestra put out this powerful video for the song after they won the event and it now has over 18 million views. Lead singer Oleh Psiuk is auctioning off his signature pink bucket hat worn in the video, along with their Eurovision trophy, to raise money for the Ukrainian military. 
This was Ukraine's third time winning Eurovision. The country also won in 2004 with "Wild Dances" by Ruslana, and in 2016 with "1944" by Jamala. These songs are included in my playlist as well.
Ukrainian Protest Song, Boombox, and Pink Floyd
Just after the war broke out, Andriy Khlyvnyuk, lead singer of the popular Ukrainian rock band Boombox, posted a video on Instagram of him in Kyiv's Sofiyskaya Square singing "The Red Viburnum In The Meadow," a rousing Ukrainian protest song written during the First World War. Khlyvnyuk had recently abandoned his world tour (at the time the war broke out, Boombox was touring the United States) to return to join the Ukrainian military. This amazing video went viral. 
One person who saw that video was David Gilmore, guitarist for the rock group Pink Floyd. Gilmore, who has a Ukrainian daughter-in-law and grandchildren, was so troubled by the war and moved by the video he wanted to do something. He tracked Khlyvnyuk down in Ukraine—he was in a hospital at the time with a shrapnel injury—and shared with him his idea. The following song—the first release by Pink Floyd in 30 years—is the result.
That Ukrainian protest song, "The Red Vibernum in the Meadow," has been remixed in numerous songs since the start of the war, including this excellent version (great for a cycling class!) I've included in my playlist:
Ukrainian Warfare Videos
An unlikely and interesting source for some of the tracks is a Twitter (also on Tik Tok) account called Ukraine Weapons Tracker. They post about vetted acquisition of foreign weapons and usage of those weapons in this war along with confirmed destruction of Russian tanks, helicopters, and other military weapons. (Yeah…it's hard to watch for those who are sensitive to war; I can only get past it knowing that this is the only way Ukraine can reclaim their freedom.) Many of the videos are from drone footage or cellphone footage from the soldiers who destroyed the enemy weapons, and are almost always accompanied by a rousing or sometimes comical musical track. The music used is extremely eclectic, from the Pink Panther, Star Wars, and Mission Impossible theme songs, to powerful symphonic soundtracks, to rock and roll or electronic drum and bass groups such as AC/DC and Pendulum, to the theme for Curb Your Enthusiasm. They tend to lean toward electronica, the kind that works extremely well in a high-intensity interval session on a bike (which is what initially piqued my interest). Not all are Ukrainian musicians but I've gotten quite a few of the tracks in my Ukrainian playlist by using Shazam on these videos, not to mention some additional great non-Ukrainian tracks for my other cycling bucket playlists. 
The following are a few examples of these video clips (not all are Ukrainian artists): here, here, here, here, here, here, here, and here. Scroll through their account for more; have your Shazam app ready. I found Shazam was able to identify about 75% of the foreign tracks.
This is how I discovered fun songs and groups like these:
If you dare!! 
This is one of my favorites, a truly beautiful song that would work as a recovery or cool-down. I Googled the title and it means "I still haven't come up with it." Make sure to check out more by this artist. 
To research more Ukrainian artists, check out the following links, and be sure to share your favorites in the comments. 
Top Ukrainian electronic music artists.
Top Ukrainian pop music artists.
Top Ukrainian hip-hop artists.
Top Ukrainian rock music artists.
Do a charity event! 
Here is a list of organizations on the ground in Ukraine and neighboring countries offering aid to the millions of refugees fleeing the country, now close to 7 million people. My favorite is World Central Kitchen, run by the amazing Chef José Andrés. Since the war started, they have served over 25 million meals, often the first hot meal a refugee receives after hiding out in basements for weeks, sheltering from the incessant bombing. From the WCK website:
Working at a 24-hour pedestrian border crossing in southern Poland, WCK began serving hot, nourishing meals within hours of the initial invasion, and we are now serving round-the-clock dishes at eight border crossings across the country. Additionally, we are supporting local restaurants preparing meals in cities across Ukrainian including in Odessa, Lviv, and Kyiv. WCK teams are also on the ground serving thousands of meals every day in Romania, Moldova, Hungary, Slovakia, Spain and Germany.
Slava Ukraine!