The attacks in Paris had a profound effect on me, as I'm sure they did many people. I have been to Paris many times and have many friends there and in other parts of France. I rode my bike solo around France in 1988, then moved to Nice for a year with my French boyfriend at the time.
From 1989 to 2000, I led bicycle tours in France for several companies, then started my own bicycle tour company in 2003. I know and love the language, the culture, the history, the savoir faire, and the joie de vivre. My bicycle tires have explored thousands of miles through Provence, Dordogne, Loire Valley, Bordeaux, Burgundy, the Alps, and the Pyrenees. Most of my journeys there over the years began or ended with a few days in Paris, sometimes on my bike. Paris is one of my favorite places on earth.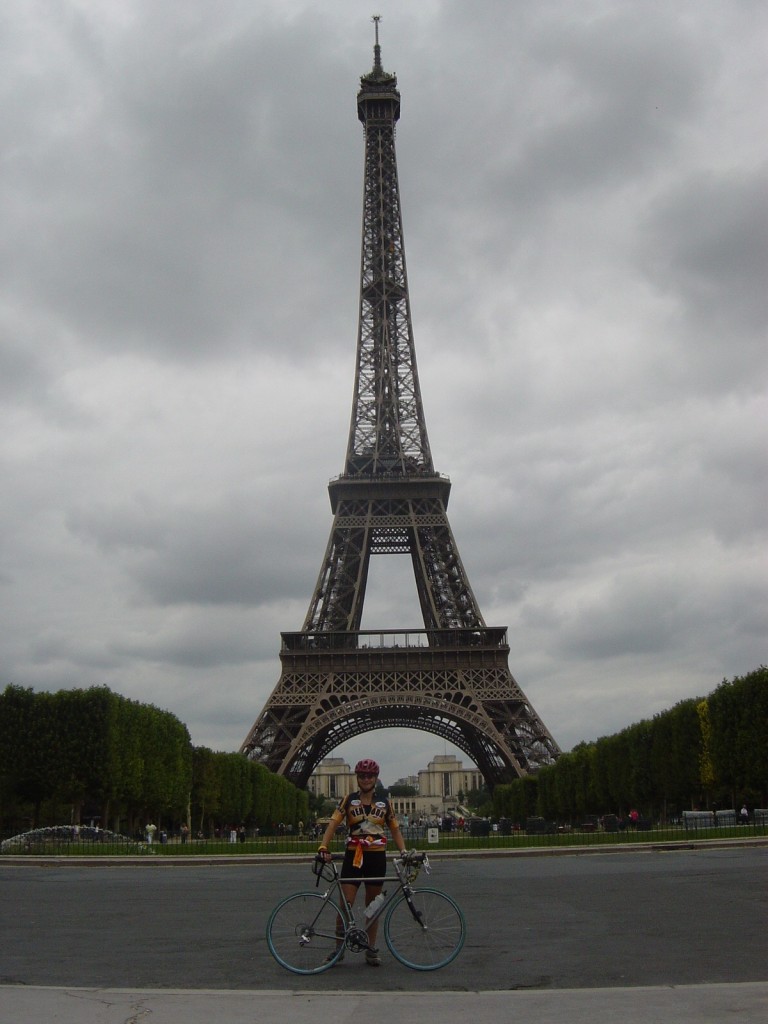 So I spent Friday and Saturday with a grieving heart following the horrendous events.
ICA member Mark Fiddler posted on Facebook that he was going to play La Marseillaise (the French national anthem) in his class to honor Paris. 
That fired me up to search my playlists for some French songs that would be good for a tribute, plus powerful songs about hope and peace. Below is what I've come up with so far. Would you add your suggestions in the comments?
The list is divided into French classics, modern French songs, and non-French tunes. Songs are listed as Title, Artist, Album. When needed, I give the translation of the title or some of the lyrics.
EDIT: Here is the Spotify playlist for this list. Thanks to Laura Iwan for putting it together!
French Classics: Most are about Paris and how wonderful the city is, many from the album Chansons de Paris. They are good ambiance songs before or after class, or for a recovery.
Paris, Voici Paris, Tino Rossi, Chansons de Paris 

Ca, C'est Paris, Mistinguett, Chansons de Paris 

Sous les Tois de Paris, Berthe Sylva, Chansons de Paris 

Fleur de Paris, Maurice Chevalier, Chansons de Paris 

Non, Je Ne Regrette Bien, Edith Piaf, The Collection 

Le Romance de Paris, Charles Trénet, Chansons de Paris

La Vie en Rose, Edith Piaf, The Collection 

Sous le Ciel de Paris, Juliette Gréco, Radio Tour de France (Modern)

I Love Paris, Vanessa Paradis, Best Of (Modern classics)
Other French Songs
Ma Libérté de Penser, Florent Pagny, Ma Libérté de Penser, 3:26, 89 bpm




Great warm-up or fast flat. Translation: My freedom to think.

H.O.N.N.E.U.R, Numéro, Sport de Combat, 88 bpm 




Hip-hop. Translation: Honor.

J'Aime la Vie, Telex, How Do You Dance?

,

3:10 139 bpm.




Translation: I love life.

Je Veux Vivre, Faudel, L'Essentiel Faudel, 3:11, 116 bpm




Translation: I want to live.

Alive, Kate Ryan, Alive, 3:32, 130 bpm




Great climb. Words are "I am free, no matter what happens."

Ne Partez Pas Sans Moi, Céline Dion, Radio Tour de France, 3:07




Good cool-down. Translation: Don't leave without me.

Je Donnerais Tout, Kate Ryan, Alive, 3:09, 125 bpm




Climb.

French

version of the song "All for you."

La Route de la Paix, Alpha Blondy, Jah Victory, 3:52, 102 bpm




Reggae. Translation: The road of peace.

Waving Flag (French Version), K'Naan ft. Féfé. 3:39, 152




***Really great song.

Ne Cedez Jamais, Angelique Kidjo, Black Ivory Soul, 3:57, 100 bpm




Translation: Never give up.

Je Suis, Zebda, Essence Ordinaire, 4:44, 94 bpm




Great flat road. Hip-Hop. Translation: I am.




Lyrics: "It's me. I am, but it will get better."

C'est Une Belle Journée, Mylene Farmer, Remixes 2003, 5:13, 130 bpm




Good climb. Translation: It's a beautiful day.

La Vie En Rose, Grace Jones, Island Life, 7:26, 88 bpm




Good first song. Translation: Life through rose-colored glasses.

Le Ciel Est Triste, Emou, Still…Pretty Good Year, 9:13, 110 bpm




Emotional slow climb. Translation: The sky is sad.

Le Vent Nous Portera, Noir Désir, Des Visages des Figures, 4:49, 105 bpm
Translation: The wind will carry us.

Tilted, Christine and the Queens, Saint Claude, 3:53, 100 bpm




Just a nice song, half French, half English
Songs of Inspiration, Victory and Hope (non-French)
Wisdom, Justice, and Love, Linkin Park, A Thousand Suns, 1:39

Hope, Shaggy, Hot Shot, 4:04, 103 bpm

Lanterns, Birds of Tokyo, Lanterns, 3:57

This is the Day, The The, Soul Mining, 4:59, 142 bpm

Brave, Sara Bareilles, Brave, 3:39, 92 bpm

The World, Karmadelic, Flip Your Mind, 5:31, 136 bpm

Don't Give Up (Original Mix), Chicane, Behind the Sun, 8:24, 131 bpm

Free, Rudimental (Monti Remix), Rudimental, 5:05, 125 bpm

Wake Me Up, Avicii, Wake Me Up, 4:10, 123 bpm

This Too Shall Pass, OK Go, Of the Blue Colour of the Sky, 3:08, 160 bpm

Lift Your Spirit, Aloe Blacc, Lift Your Spirit, 3:26, 95 bpm

Alive, Sia, Alive, 4:24, 100 bpm

Give Peace a Chance, John Lennon, John Lennon Collection, 4:54, 85 bpm

Rise Up, Yves Larock feat. Jaba, Yves Larock's Classics, 2:52, 127 bpm

The Phoenix, Fall Out Boy, Save Rock and Roll, 4:05, 138 bpm

Fight Song, Rachel Platten, Fight Song, 3:24, 87 bpm

Stronger, Kelly Clarkson, Stronger, 3:42, 116 bpm

Holding on for Life, Broken Bells, Holding on for Life, 3:57, 84 bpm

Light Up the Sky, Thousand Foot Krutch, The End is Where We Begin, 4:00, 89 bpm

Love Generation, Bob Sinclair with Gary Pine, Western Dream, 3:38, 128 bpm
I also saw this Peace for Paris playlist on Spotify. 
EDIT: Make sure you check all the comments below for other great suggestions. Kathy reminded me that a pianist brought his portable piano and played Imagine by John Lennon near the Bataclan the day after the attacks. So that song for SURE is going in my playlist! It's also very special because that pianist brought his piano towed behind his bicycle!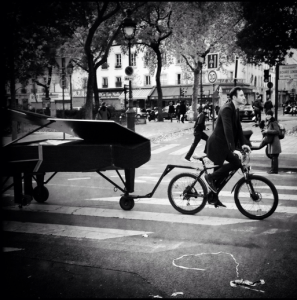 EDIT: Adding this one to the list!! Love it!