Who watched Stage 1 of the Tour de France today? Edge of your seat exciting!! Sorry that Cavendish is most likely out, but happy for Kittel's win and, of course, that my very favorite Jens Voigt is in red and white. The British fans are proving that they are truly some of the biggest cycling fans out there. I hope all of our ICA members and readers from the UK has a chance to make to one of the first three stages. Take it from me, you will not regret it! (I've been to probably about 35 stages in my life.) If you do go, please share your photos with us!
There are perhaps few things more fun than simulating Tour de France stages in your indoor cycling and Spinning classes! Those of you who regularly teach them know what I am talking about. There is so much fodder for everything an indoor cycling class has to offer: fun, excitement, challenge, emotion, disappointment, overcoming doubt and fear, attacks, sprinting, long climbing efforts, surges, sitting, standing, fast cadence, slow cadence, commitment, lung-busting efforts, recovery, surpassing self-imposed limits, mind-body connection, mental strength, unbridled joy, winning, almost winning, giving your all for your teammate…the list is endless!
If you have not taught a Tour de France stage in your cycling class, the time has come!
We believe that ICA offers the single greatest collection of Tour de France profiles for cycling instructors anywhere in the world. Anywhere. We've been told that year after year by instructors who have purchased the program, but we still need to convince you!
We'd like to give you some free tips for making your TDF classes even better than ever. Click here to access the Top Seven Tips to Rule the Tour de France. Please share this link with your peers. We want the entire world of indoor cycling studios and gyms to join in the fun!
Here are a few more resources that will add to your quiver of trivia and fun things to tell your riders: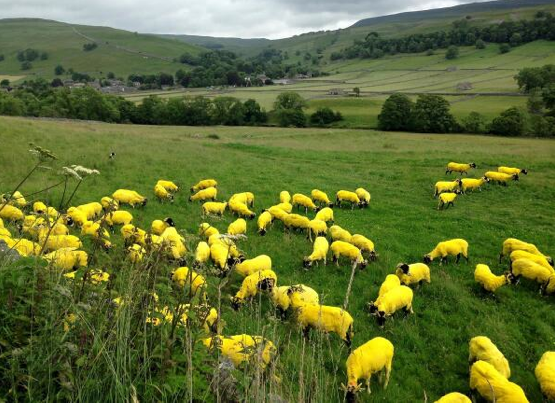 As I mentioned above, today's stage of the Tour de France through Yorkshire was stunning, replete with yellow sheep! Don't miss the next two stages, before it returns to French soil. Robert Baldi, ICA contributor extraordinaire, has created an endurance profile around Stage 3 into London. One thing I hear every year is that instructors are challenged with how to teach endurance rides; well, Robert hands this one to you on a silver (or should I say "yellow"?) platter. Of course, there is a bunch sprint at the finish in London, but it is optional.
And for goodness sake, don't miss Stage 5, one of the single most challenging and important stages of the entire 2014 Tour de France. It starts in Ypres in Belgium, a village completely obliterated 100 years ago in WWI, and rides through some of the most treacherous cobblestones, infamous in the Paris–Roubaix, a race referred to as the Hell of the North (named so after reconnaissance of the area in 1919 to see if they could get the race started back up after the war. The scouts reported that the area of northern France and southern Belgium was so devastated, it resembled hell). This is one of the stages you'll find in the ICA package, replete with some historical tidbits, impassioned coaching, and music to match the emotional message.
I'm sure you think that you can teach your own time trial. Me too. Actually, most good instructors can (well, those who understand riding at threshold intensity for 15–30 minutes). But when I read Tom Scotto's time trial profile for Stage 20, I was dumbstruck. I've taught well over a hundred time trials in my indoor cycling teaching career, and never have I seen one so emotional and so hard as this year's Stage 20. Tom goes into the mind of the rider, his struggles and doubts and fears. And every lyric of every song is reflected in what the rider is thinking. It's uncanny! You may even have a roomful of riders in tears. Don't blame us, though…blame your impassioned coaching.
Many of these stories that you read about the drama and emotion of each stage can be used to help you create more authentic cueing for your profiles. In the ICA Tour de France packages, we provide even more resources to bolster your stages and your coaching.
If you already teach stages of the Tour, we salute you. We can make your life a lot easier by doing most of the work for you (and you know that we will deliver top of the line profiles)!
If you are scared of teaching stages because you don't know what to say, or how to describe the racing and the riders, then we will hold your hand and give you the step-by-step details on how to do so.
We've got instructors who have purchased the ICA TDF program from the very beginning (this is our fourth year), who come back year after year because they know they will get the most authentic cueing and the most exciting realistic stages anywhere. And they know they'll save dozens of hours of work.
What are you waiting for? What is your time worth? Download your preferred Tour de France package here.
[Have you purchased the Tour de France package in the past? Anyone who ever purchases the ICA TDF package can purchase yearly updates for only $20. Forever! It's a fabulous deal. We've sent all past purchasers a special e-mail with the link to the special price, but if you haven't received yours, make sure to contact us at info@indoorcyclingassociation.com.]