From the archives: We've updated our Canada Day playlist with even more great Canadian artists! New for 2023, we have added a profile.
---
Background
Canada Day, or Fête du Canada, celebrates the anniversary of the July 1 enactment of the Constitution Act, 1867. The Act united the three separate colonies of Canada, Nova Scotia, and New Brunswick into a single Dominion within the British Empire called Canada. Although Canada existed prior to 1867 within both the French and British empires, Canada Day is the anniversary of this one important national milestone on the way to the country's full independence in 1982.  
Celebrations
Much like July 4 for the United States, July 1 is a day of celebration for Canadians; it's an opportunity to celebrate our country and our Canadian-ness. Most communities across the country will host organized celebrations for Canada Day, typically parades, carnivals, festivals, barbecues, air and maritime shows, free musical concerts, and citizenship ceremonies, all topped off with a magnificent fireworks display. Celebrations are also planned in other countries for patriots living abroad, while many will celebrate at home with backyard barbecues; sharing a drink with family, friends, and neighbors is very popular. You will find Canadian flags draped from windows, hanging over fences, and attached to cars. There is no standard mode of celebration for Canada Day.  
Her Majesty Queen Elizabeth II was the Queen of Canada and Head of State and attended celebrations held at Parliament Hill in Ottawa, our capital city. This may explain our fascination with the royal family. Now these duties will fall to King Charles III.

Things That Are Uniquely Canadian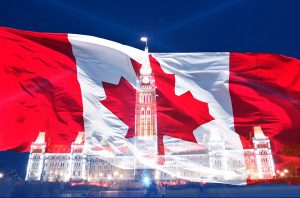 When people think of Canadians they think of a group of very polite folks who say "I'm Sorry" and "Eh" a lot. These stereotypes are true! We do apologize all the time; if you bump into me, I will automatically apologize to you. And "Eh" can indicate puzzlement or confusion, it can be a statement or express indifference, it can be a question, a hello, or a confirmation, among other many other things. And yes, we really are very polite and reasonable. 
But what other things are uniquely Canadian or bring Canada to mind? Maple syrup. Yes, the majority of the world's maple syrup is produced in Canada (by the way, it goes great with Canadian bacon); we even have a maple leaf on our flag. Hockey. We do love "the good ol' hockey game"! Many Canadians still remember the day that Wayne Gretzky left the Edmonton Oilers for the Los Angeles Kings; it was a difficult day for Canadians. Beavers. Those little destructive creatures clogging our waterways with their dams—they are our national animal. And did you know that we replaced our one- and two-dollar bills with coins and now call them "loonies" and "toonies"?
Don't forget about bagged milk; ketchup and all dressed chips; beavertails (a classic Canadian carnival treat); poutine—fries with squeaky cheese and gravy (yes, please!); "Caesars" instead of Bloody Marys; strong beer (need some hair on your chest?); sweet treats such as Coffee Crisp and Kinder Surprise; coffee giant Tim Horton's; and the little red-haired girl from Prince Edward Island, Anne of Green Gables. Although, it's likely not true that we all know how to make love in a canoe. 
But we did take care of 7,000 strangers on 9/11. 
Canada has an eclectic music scene with artists from all genres. A small collection of popular Canadian artists consists of Great Big Sea, the Barenaked Ladies, the Tragically Hip, Neil Young, the Guess Who, Justin Bieber (we really are sorry), Anne Murray, Celine Dion, Gordon Lightfoot, Rush, Shawn Mendes, Drake, Leonard Cohen, Bryan Adams, Joni Mitchell, Shania Twain, Alanis Morissette, Serena Ryder, Sarah McLachlan, Loverboy, k.d. Lang, and the Weeknd. The world's most hated band, Nickelback, belongs to us, and who can forget Carly Rae Jepsen and "Call Me Maybe"? (But c'mon…Nickelback has some really great tunes for indoor cycling, dontcha think?)
Canadians are very prevalent in Hollywood as well. Everyone knows our Ryans, Gosling and Reynolds, but did you know that the following actors are also Canadian: Dan Aykroyd, Mike Meyers, Michael J. Fox, Rachel McAdams, Elliot Page, Anna Paquin, Pamela Anderson, Seth Rogan, Jim Carrey, Donald and Kiefer Sutherland, William Shatner, Leslie Nielsen, Nathan Fillion, Howie Mandel, Keanu Reeves, and the list goes on! Canadians are everywhere.  
If you'd like to consider adding some Canadian music or songs about Canada into your classes to celebrate Canada Day, please consider some tracks from the bucket playlists below. The first playlist contains songs from some iconic Canadian artists, while some are more obscure. These songs should easily slide into a playlist; maybe some are already in your rotation. The second bucket playlist consists of songs that are silly, unique, quirky, or funny and perhaps you can use a few of them as warm-ups, recoveries, cool-downs, or just songs to play before and after your class. I'd be delighted if you gave a little shout-out to "the Great White North" on July 1.
If we are missing your favorite Canadian artist or track, be sure to let us know in the comments so we can add them. 
---
New for 2023! An Express Profile called "O Canada," created by Fern Stancer, our resident Canadian contributor*. 
This profile contains all Canadian artists and is a great way to celebrate. Make sure you wear red and white, the national Canadian colours (yes, this is how Canadians spell it).
The ride consists of three challenging sections. The first section starts with several resistance intervals followed by a 7-minute climb; the second section consists of short high-intensity intervals with increasing duration from 20 seconds to 30 seconds and then to 40 seconds each. The third section includes over 9 minutes of climbing. Download the profile below and let us know how your riders enjoy it!
*Fern is our second contributor at ICA from Canada, along with Julianne Lafleur!
---
OK, hosers, I hope you find something you like! If you have any other favorites to add, please let us know in the comments below. And as Bob and Doug would say, "Take off, eh!"