World Party Day, you say? I mean, who doesn't want to celebrate on World Party Day?! 
Allegedly, the (unofficial) holiday is inspired by the ending of the 1995 novel Flight: A Quantum Fiction Novel, by Vanna Bonta, where a countdown is set to April 3, 2000, when a worldwide synchronized celebration occurs. The first Party Day was held around the world in 1996.
But I have a better explanation for World Party Day on April 3…
They must have heard it was my birthday and decided to make it an (unofficial) world celebration! I mean, it has to be…amiright?!
I put together a really fun profile for World Party Day/Jennifer's Birthday called "Put On Your Party Pants."  I know you're going to enjoy this party-themed profile and so are your riders—I had some really great comments that were posted after that class (at the time I was only teaching virtually due to the pandemic). Now, I can't wait to teach this profile at the new club where my riders have yet to experience it!
You will always need a solid catalog of celebration songs for a wide variety of reasons. You might be celebrating one of your riders' birthdays, or wedding, or their retirement; your studio or club might have an anniversary or other special event; your favorite team might have just won the (insert sport here) championship. So many reasons to party!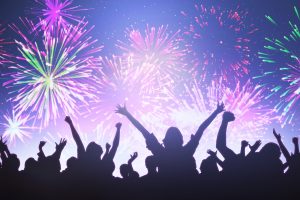 Something tells me you'll be dipping into this joyous bucket playlist full of happy and celebratory songs quite a bit in the coming year. You can create one entire theme ride of just party songs, or just sprinkle them through your profiles when you want to make your class smile. 
If you want, you can combine these songs of celebration with songs from this playlist I curated in the summer of 2020 for the first class after lockdown. 
Here are a few of my favorite party tunes: 
Party Out of Bounds, B52s, 3:21, 81 rpm
No theme ride about parties would be complete without "Party Out of Bounds"! 
Life's a Party, 7kingZ, 2:55, 116 bpm
You'll want to turn this one up. It's a slow, hard climb but feel free to speed the legs up on the chorus. 
Gonna Celebrate, The Phantoms, 2:56, 98 bpm
Fun, fast, hard effort.
Gonna Celebrate, M.A.R.K. Universe, 3:23, 90 bpm
This one isn't on YouTube, but it has some great lyrics. 
Enjoy this party-themed playlist below. Currently it has about 165 songs. If you can suggest ones that I'm missing, please leave a comment and I'll add them to the playlist.