In April, I went to Tucson, AZ, on a cycling vacation. I live near a ski area in Colorado and when the ski mountain closes down, many locals leave town in search of sunshine and warm weather…so I set off with a bunch of girlfriends for sun and cycling in Arizona.
It was sunny and warm with temps in the high 80s to low 90s F (30–33 degrees C). You have to get out early to beat the heat. Or alternatively, ride up and up and up to higher elevations where it's cooler.
I did that twice and accomplished one of my longtime bucket list rides by cycling up Mount Lemmon.
Where I live there is snow on the ground almost all winter. It's not cycling friendly unless you load your bike on your car and drive east or west an hour or two (or if you aren't a cold weather wimp like me). Prior to my trip, every single day of my training was done indoors in a cycling class or about 10 days on my trainer. I train with power, using a periodized training plan to progressively increase my intensity with the goal of improving my functional threshold power (FTP). I employ those principles in all of the classes I teach.
There is no way I could have done what I did on that mountain in Arizona without that indoor preparation.
Let me rephrase that…there was no way I could have done what I did without PROPER indoor preparation. If I had done gimmicks on my bike instead and filled my time with super high-cadence/super low-resistance pedaling, push-ups, tap-backs, and lifting 1 lb weights while riding, I would not have had the fitness to do what I did.
THIS STUFF WORKS!!
KEEP DOING WHAT YOU ARE DOING!
Ah, but you know some instructors will say, "Well, my students don't ride outside so this doesn't mean anything. They're not training for riding up hills so we'll keep on doing these things because they're fun."
Sigh…
I hope everyone realizes that even if your participants do not ride bicycles outside, the kind of training we teach here at ICA (and what the reputable programs like Spinning, Stages, Schwinn, Keiser, ICG, and a few others teach) will translate to far greater overall fitness than any of the non-traditional cycle classes. This includes cardiovascular fitness, strength, muscular endurance, power, and weight loss/weight management.
Even if you never turn a pedal on an outdoor bike.
OK, now let me tell you about my amazing rides up Mount Lemmon and who I got to do it with!
I arrived in Tucson on a Wednesday. On day one, I rode 25 easy flat miles, and then the very next day, I rode halfway up Mount Lemmon, one of the more famous cycling climbs in the United States. I was only going to go about 7 or 8 miles, but I felt pretty good so I kept going. At 10 miles I thought, why not a little more? At mile 12, nothing could stop me. I waved to the 13-mile sign as I rode past. Then at 14 miles, something DID stop me…the cold wind! Yes, Mount Lemmon makes its own weather and can get very cold and windy. In fact, my arms were shaking from the cold on the first few miles of downhill.
This was only my second day on an outdoor bike since early November, almost 6 months before. Even better, three days later, I got to ride the entire mountain with Caesar Russell. Some of you know him from the indoor cycling forums online. He's a former cycling master trainer for Wellbeats and now lives in Morenci, AZ, and is the fitness director of the Morenci Community Center. Caesar is very successful at inspiring newbies to take their indoor training outdoors. He's also very successful at teaching people how to climb on their bikes. 
We met for coffee at the base of the mountain. (Seriously, Caesar drove 3 hours to meet me at 8 a.m.!)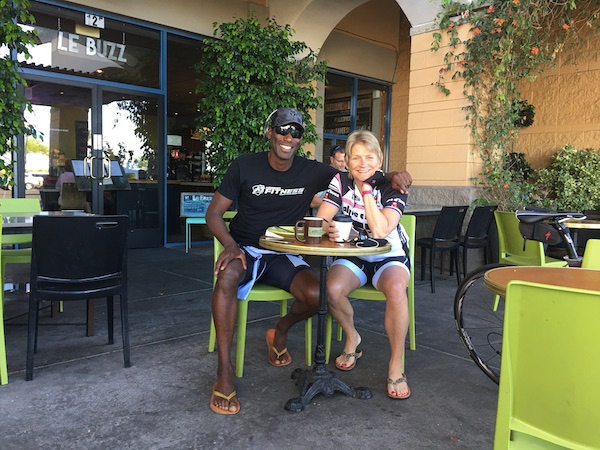 It was an honor to ride up with Caesar. He could have ridden circles around me, he could have time-trialed up the mountain, but he patiently rode next to me the whole way.
It took about 3 hours (with stops to stretch, refill water, cool off my feet, or find a bathroom). Fortunately it was not windy like my partial attempt three days earlier.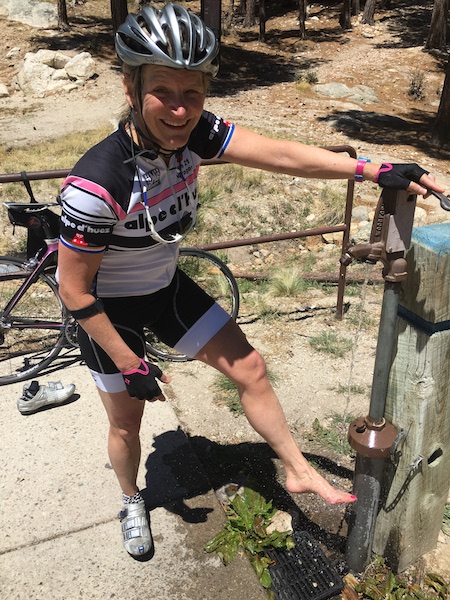 25 miles of climbing, 7,100 feet elevation gain. All told, a 60-mile day. Stunning views, perfect weather.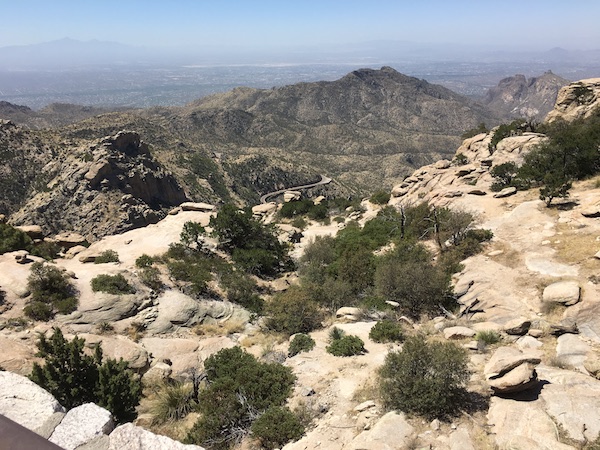 At the top (8,000 feet, which is incidentally the elevation where I live), we got to celebrate with the largest cookie you've ever seen. There is a ski resort at the top!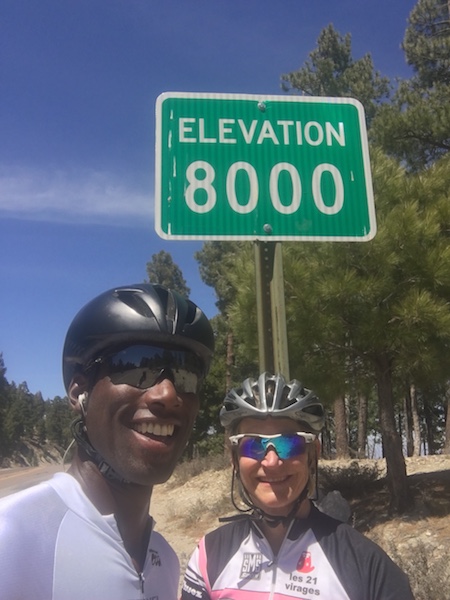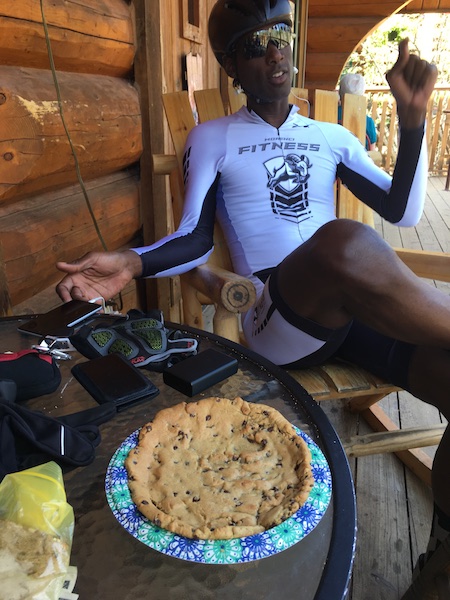 In my cycling classes, I spend a lot of time focusing on mental strength skills and the mind-body connection. I used all of those skills on this climb, including mantras, affirmations, and dispelling doubts as I rode. And yeah, I did have doubts, lots of them!
I'm grateful for this opportunity, I'm grateful for the lessons moments like these teach me, and I'm grateful for Caesar spending the day climbing with me! 
The takeaway message is, always remember, whether your cycling goals are a bucket list item like Mount Lemmon, a bike tour, a metric century, a 25-mile ride, or a 1- or 2-mile climb, indoor training can and will help you get there.
But also, if your non-cycling goals are general fitness, greater cardiovascular conditioning, mental strength and learning greater commitment, or weight loss or weight maintenance, indoor cycling is one of the best group fitness choices you can make. It's always a good idea to combine it with some weight and core training for a balanced body.
What's on your bucket list?