I asked Angela Amedio of Saratoga Cycling Studio to share with ICA how she created a successful program for local teens at her studio in Saratoga Springs, New York.
---
I was approached a few years ago by a high school biology teacher who was the coach of the junior varsity girls soccer team. She had been a member at my studio for quite a while and realized quickly the benefits of Spinning®. We began brainstorming ways it could benefit her team and give them an edge on the competition. It was my first experience discussing a class (or training session) with 25 teenagers, so needless to say, I had a lot of questions!
We first discussed what her end goal is for this team. She really wanted to work on their endurance up and down the field, so we started there. I asked next how many girls were on the team, what was their time frame/frequency, and how soon could we get started. Together, we came up with a 4-week training plan that included two 60-minute classes per week, right before their official season started.
We trained mostly in the aerobic zone, 65%–75% MHR, sometimes up to 80% (which corresponds to Zone 2–3, occasionally into low Zone 4, all below anaerobic threshold). This helped them concentrate on breathing, being able to sustain their running power for longer periods of time, and to not feel fatigued as quickly.
Next, I had to figure out a way to not only train these teenagers, but to keep them engaged while mostly seated for 60 minutes. The answer is MUSIC! I got their email addresses from the coach and asked them all to submit 5–10 of their favorite songs they would like to hear. A great breathing technique is to have them sing out loud to their favorite song. It was a huge success!
They went into their season stronger than ever and had a very successful season. After that, their coach shared our training program with other coaches and we have been hosting numerous teams since then.
My tips and tricks:
Ask the right questions so that you can build a training plan that works with their goals in mind.

Do not try to begin to understand what is going on inside a teenager's mind! Stay on task, do not allow for disruptions, and keep your cool. Remember, maturity is a BIG factor.

Music, music, music!

Educate a little bit each time. No one, especially a teenager, wants a long lesson in exercise science or heart rate training. I like to throw in some facts about why and how we are doing what we are doing on the bike, but keep them to small, digestible snippets.

Encourage their parents to join them in class outside of their scheduled training sessions. It is great for family bonding and gets more people active.

Social media is their BFF, so encourage them to Snapchat, Facebook post, tweet, etc. all of the sessions!

Don't just look for athletic teams. We have hosted a group of kids that were designing a 3D printer at their school and were looking for fun ways to help raise money for their project.

Go to any fair they may be hosting at a middle school, high school, or college.
---
Angela is a master instructor for the Spinning® program. Her passion for Spinning began more than 10 years ago when she took her very first class. During her journey from rider to master instructor, Angela turned this powerful program into a fitness career. In 2012, she and her husband opened the Saratoga Cycling Studio, a licensed Spinning studio in Saratoga Springs, New York. Each year, the studio proudly hosts the Tour de Cure charity event and has raised over $20,000 to help fight diabetes. 
Angela holds numerous fitness certifications including AFAA group fitness, ACE group fitness, and TRX® suspension training. Prior to her career with Mad Dogg Athletics®, she attended Syracuse University where she studied hospitality management.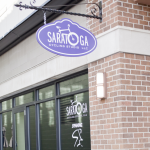 The Saratoga Cycling Studio is owned and operated by Angela and Jerry Amedio and is a licensed Spinning® studio through Mad Dogg Athletics. Angela had been a fitness professional for many years in big box gyms, personal training studios, and boutique fitness facilities. All of those locations seemed to lack in excellent customer service and a feeling of "belonging." You won't find black walls or ceilings, but cheerful and inviting purple everywhere you look. The motto at the studio is that of the Spinning program: "It's Your Ride!" Everyone is greeted at the door and professionally set up on their Spinner® bike to ensure a great and safe ride. The studio welcomes anyone from an elite athlete to a beginner with the attitude that everyone can achieve their goals. Angela and her team are there to help all riders along the way.