Our Paris–Roubaix profile is one of the favorites in our roster of race rides. It's certainly one of the more unique profiles you can teach—it's not like you get to describe riding over cobblestones every day! This year's the men's Paris–Roubaix takes place on April 9 and the women's on April 8.
For the original ICA Paris–Roubaix profile back in 2014, we looked to someone who is a fanatic about the Spring Classics bicycle races and is also an exceptional indoor cycling instructor, Matt Scheffer, to create this amazing ride. Put the two together and you have an emotional, challenging, yet very fun ride to offer your students, even those who might never have heard of the Paris–Roubaix. This will be a profile that piques their interest, as you explain the unique history of this race. 
A few years ago, I took Matt's profile and changed up the music and added a few additional cues—but most of my cueing is based on Matt's suggestions from that original profile. I also added some great quotes about this race that you can sprinkle throughout your profile and add to your promotional class flyer if you create one. 
Then in 2021, I created a new version for the inaugural women's race, changing it up just a bit with some fresh music and it's my favorite version to date. This profile is perfect for the 2023 route as well (men's or women's). You can find this Express Profile and playlist below. 
This race is so full of history and drama, you can't help but have a great time as you visualize the pavé (the rugged cobbled sections of the brutal 160-mile race). Since the weather is sometimes challenging and the course very muddy, you can have some fun with your visuals.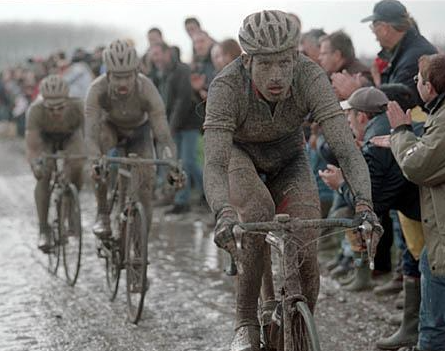 The Paris–Roubaix route changes somewhat every year. Here is the official route and profile for 2023. It includes all the most famous cobbled sectors of the infamous past races. For this reason, you can always reuse the ICA profile as is since it focuses on the most important cobbled sectors; no need to modify it from year to year (unless you want to change up a few songs). 
As noted above, in 2021, the very first women's Paris–Roubaix was held. It was delayed until October due to covid. Then in 2022, it was held in the spring, the day before the men's race, which is when it's scheduled this year. You can absolutely take this profile and turn it into a description of the women's race. If you do that, you might even want to sprinkle in some of the great women's empowerment songs we have in our Women's Day playlist. Why? BECAUSE FEMALE CYCLISTS ARE BADASSES! You can read about last year's women's race results here and this year's race route here. 
Every year they have to inspect, trim, and, if necessary, repair the cobbled sectors. One bit of fun trivia I found in Cycling News magazine for this year is the fact that they brought in a herd of goats to trim the most infamous cobbled sector of the Arenberg Forest! From the article:
Every year, the cobblestone roads used in Paris-Roubaix must be unearthed from the mud, grass and weeds that envelop them over the winter. This year, the race organisers hired a new crew to do the hard labor for peanuts: goats.
Not GOATs like Marianne Vos or Eddy Merckx.
Specifically, a herd of goats and sheep who performed the duties in a much more eco-friendly way than humans with gas-powered trimmers. The animals chewed their way across the 2,300 metres of pavé and revealing the Trouée d' Arenberg sector.
Here is a photo of repairs being made last month on one of the famous cobbled sectors.
Below are a few of the most memorable quotes you'll find in the 2017 profile.
"Don't hunt around for other expressions; for the eighty years this race has existed, its chroniclers have used these words and these alone. By necessity. What words, you ask? Beauty, sadness, pain, courage, injustice."
Yves Berger, 1982
"It's a circus, and I don't want to be one of the clowns"
Chris Boardman, on why he never took part
"Paris–Roubaix starts like a party and ends as a bad dream."
Guy Lagorce, a journalist for l'Equipe
"Paris–Roubaix is bullshit."
The often unprintable, always entertaining Bernard Hinault
Now you have three options for music—Matt's rock-and-roll classics, my 2017 version, and my 2021 version (half of which are French tunes). I didn't change up the profile itself; it still contains six pavé sections and a vicious final drive to the finish in the Vélodrome. 
Here is a fantastic video you can use for your Paris–Roubaix introduction if you have video capabilities. You can also search in YouTube for full race coverage from past years. Sometimes it's fun to show footage from 20 or 30 years ago. 
This ICA post gives you additional resources and videos to spice up your presentation of your ride.
This year, I have the opportunity to project images on a screen at the front of the room. I am going to combine images of both women and men in the race as well as all the quotes listed in the 2017 version below. I'll be teaching it on the day after the women's and men's races, on April 10.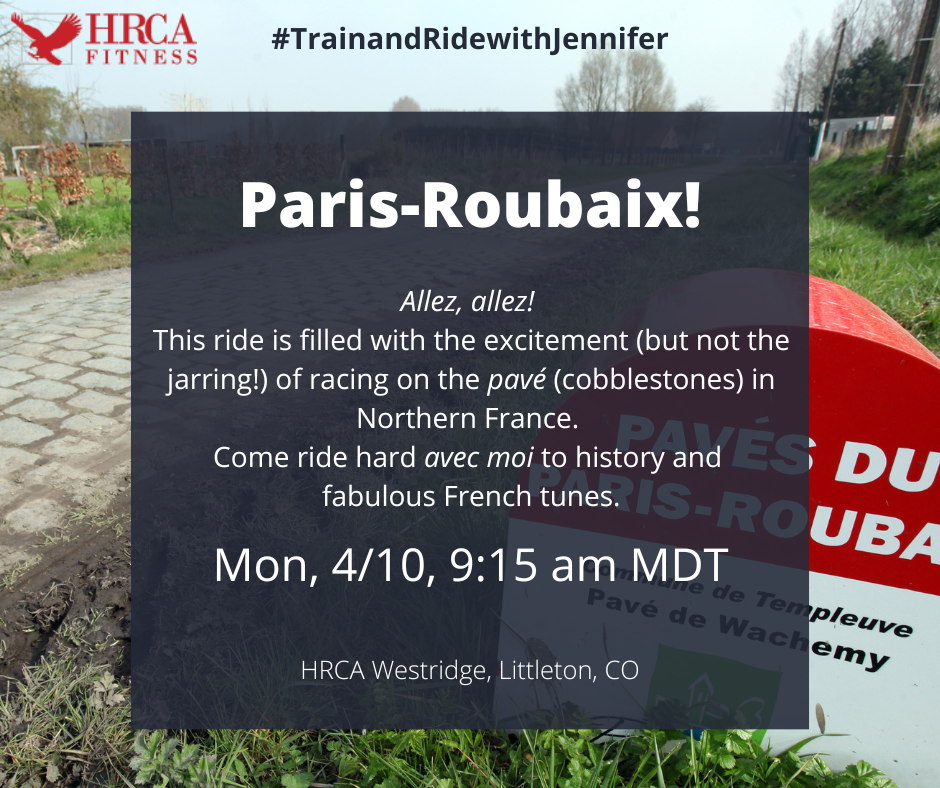 Below you will find the Spotify playlists for all three profiles. Matt's is all rock and roll; both of mine are a combination of rock, alternative, and French tracks. You can mix and match as you see fit.
Please leave your comments below about how you enjoyed this profile or if you have any suggestions for songs you use when you lead this ride.