We've had a Paris–Roubaix profile at ICA since 2014, one that I've modified over the years with some new cues and a different playlist. You can see the links to those profiles below, as well as my most recent version I taught as a virtual ride back in April when the Paris–Roubaix is normally scheduled to take place (due to Covid, it was rescheduled to October after having been canceled entirely in 2020).
But here's the biggest news…the iconic bicycle race now includes a women's version! And it's this weekend, along with the men's race. Weather forecasts show that it will be an epic first edition with heavy rain on the horizon—one of the things that makes this race so iconic and challenging on the slippery pavé (cobbles).
Here is the announcement in Cyclingnews:
The cycling world has patiently awaited one of the most historical moments in cycling's history, and the day has finally arrived, with the first-ever women's Paris-Roubaix to be held on October 2 in France.
The Hell of the North has been the most celebrated Monument on the men's racing calendar for 117 editions, with the inaugural race held in 1896. The UCI along with organisers ASO made the decision to add an inaugural women's event to the late-season revised calendar in COVID-hit 2020. It was a historical moment for women's cycling, as one of the world's most iconic Spring Classics had opened its doors to the women's peloton.
The inaugural edition was cancelled last October, and then cancelled again, and rescheduled this spring due to the pandemic.
The first edition of the event this Saturday will be a day written into the history books for both women's cycling and for the rider who will be crowned the first-ever champion of the Paris-Roubaix Femmes, 125 years after the crowning of the inaugural men's champion Josef Fischer of Germany.
The 116 km women's route includes 17 segments of pavé, beginning after just 20 km. The men's route is largely unchanged from the last three years, 259 km with 30 segments of pavé. 2018 was the biggest change in the route in years.  
Don't miss this CyclingTips article entitled "Paris-Roubaix is more than just a race. It's a statement." Gracie Elvin writes about why this race carries such symbolic weight. This is the perfect excerpt to read to your riders at the start of your class:
This race is not just a race that is finally offered to women. It is a statement about what a woman can be. The images of riders during and after the race tell other women that it's OK to try hard. It's OK to be rough. It's OK to be masculine or feminine or however you want to be. It's OK to suffer. It's OK to care.
This post has links to the two different ICA profiles and playlists as well as links for additional resources and videos you can use to liven up your ride. Unfortunately, some songs disappear from the Spotify library from time to time and a few of my tracks from 2018 are no longer available. I updated my playlist and created a new Paris–Roubaix Express Profile when I taught this profile virtually this past spring. You can find those below, but the profile is bare-bones—you'll still need to print out the longer, more detailed profile to have all the ride descriptions and cues for this ride. 
Here is my promotion for my Paris–Roubaix ride (created in Canva; the image is from Adobe Stock images):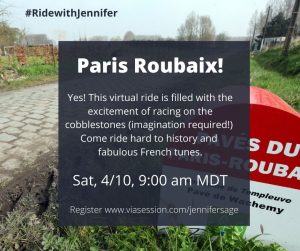 Do you want to highlight the women's Paris–Roubaix in your ride? You don't need to do anything to change the actual profile (except when describing it), but if you want to add more female artists to the five women French artists I have in mine, here are some options for playlists to select from:
This ROCKtober post has a playlist of ~200 tracks from women who rock. Hard-driving rock seems to work well for the most challenging parts of a race simulation!
Our International Women's Day playlist has over 260 tracks to select from. 
And if you simply want more French songs to choose from—any gender—don't miss this amazing eclectic selection of 500 French songs of all genres. Like all my ICA playlists, this one gets updated regularly as I find more great French tracks. 
As usual, if you have an awesome song to suggest, or just want to tell us how your Paris–Roubaix ride went, please leave a comment! Allez, allez!