2019 was another year of losing far too many musical artists, some as young as 21 and 30 years old. Here is a partial list of artists we lost this past year: Ric Ocasek (The Cars), Eddie Money, Jake Black (Alabama 3), Marie Fredriksson (Roxette), Art Neville (The Neville Brothers), Keith Flint (The Prodigy), Juice WRLD (21-year-old rapper), Rankin' Roger (The English Beat and General Public), Mark Hollis (Talk Talk), Larry Junstrom (Lynyrd Skynyrd and .38 Special), Phil McCormack (Molly Hatchet), Peter Tork (The Monkees), Kylie Rae Harris (30-year-old country singer), Johnny Clegg (South African singer and apartheid activist), Kim English (48-year-old dance and gospel singer), Dick Dale (the king of surf rock), and more.
I have created a 2019 Tribute Spotify playlist in which you'll find many of each artist's best-known tracks. I didn't include every artist who passed away, only the ones who I thought had tracks that could be used in a cycling class (about 100 songs). If interested, you can learn more about the artists lost in 2019 from this article in Thisdayinmusic.com. 
From that playlist, I put together a tribute ride to artists lost in 2019. It was hard to narrow it down—there are so many great songs from far too many great artists. I'm sure I could create several totally different profiles without repeating any songs!
This profile consists of longer intervals of 7–10 minutes. Putting it together, I simply grouped two songs from the tribute playlist that were fairly close in bpm. 
Here is the promotion I created in Canva for this class.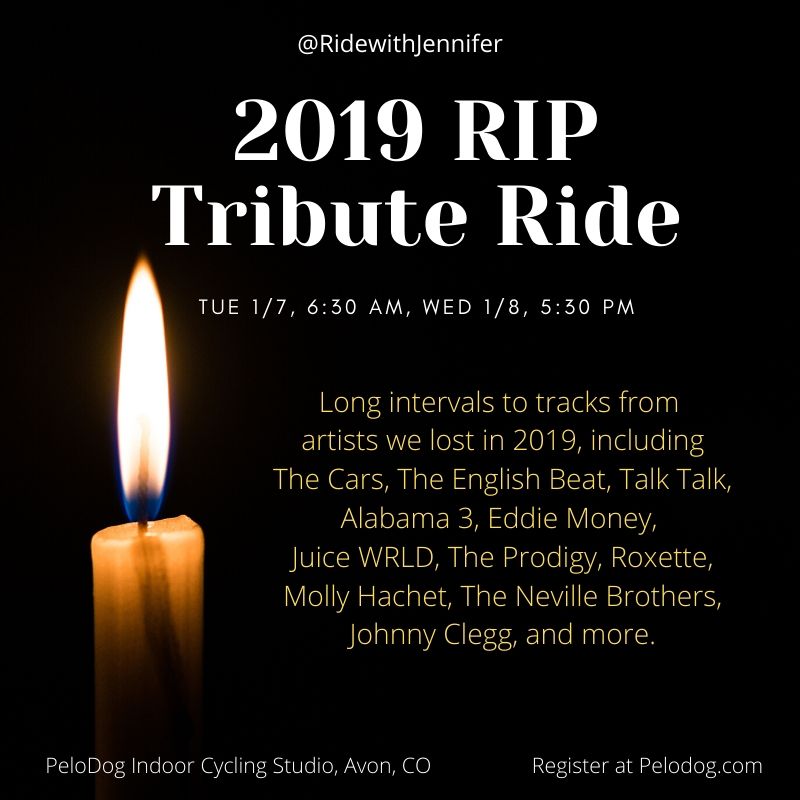 I hope you enjoy the profile and playlist below. It turned out to be a wonderful compilation of songs from a wide range of genres sincluding classic rock, dance, alternative, hip-hop, country, 1980s pop, surf rock, and more. Many of the songs will be familiar to your riders; others will be brand new to them. 
If you want to put together a profile with artists we lost the past decade (oh, that's a big one!), here is an article that lists them all. Here at ICA, we've done RIP tribute playlists in 2016, 2017, and 2018.